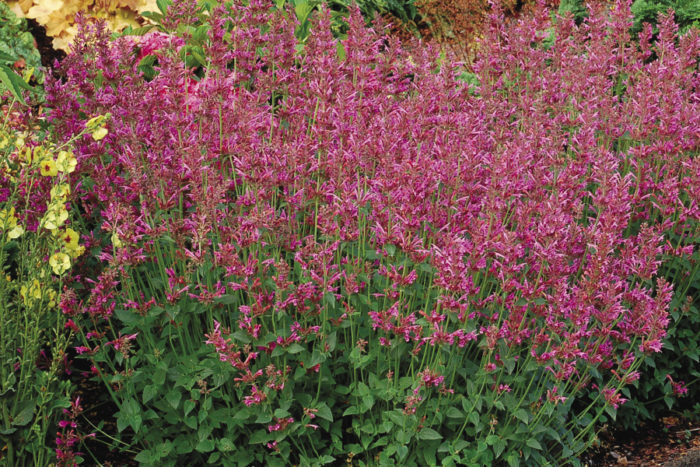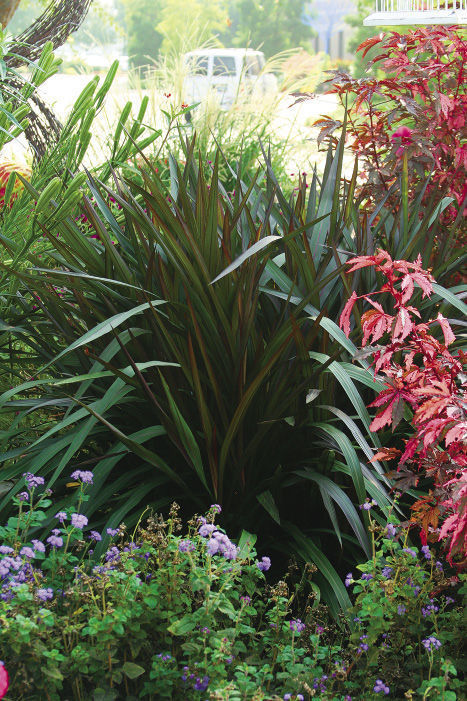 'Princess' purple fountain grass
Name:

Pennisetum purpureum

'Princess'
USDA Hardiness Zones: 8 to 11
Size: 3 to 4 feet tall and 3 feet wide
Conditions: Full sun to partial shade; well-drained soil; drought tolerant
With its beautiful color and strong, architectural, arching mounds, 'Princess' stands out like true royalty. Deer and other pests wouldn't dare disturb Her Highness. The foliage of this incredible purple-maroon grass becomes even darker and more stunning with hot temperatures and sunny days. This grass is equally comfortable as a focal point in containers or courting in groups as a backdrop for annual plantings or perennial borders. 'Princess' reaches its mature size easily in one season, but you won't see flowers unless you live in Zone 9 or warmer. No deadheading is required.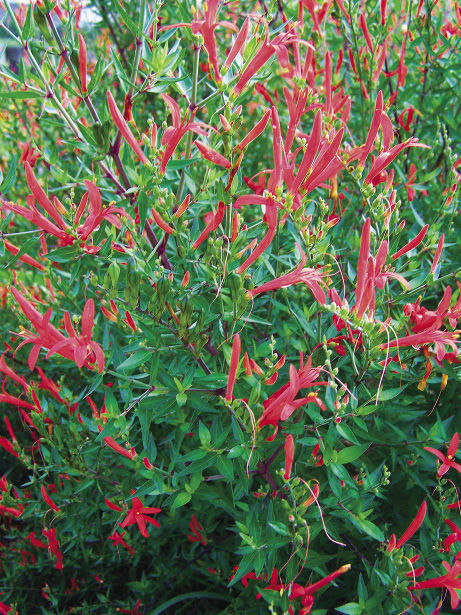 Hummingbird bush
Name:
Anisacanthus wrightii
Zones: 7 to 10
Size: 3 feet tall and 4 feet wide
Conditions: Full sun to light shade; drought tolerant
From summer until fall, 2-inch-long trumpets of vivid scarlet to orange-red flowers cover this mounding, bright green plant. Though deer avoid it, hummingbirds zoom to it in profusion. Hummingbird bush looks best with an occasional shearing to keep it compact and inbounds; other­wise, it can smother surrounding plants. This versatile perennial is able to survive in dry, rocky soils or heavy clay, and is equally at home in the back of the perennial border or in a large container.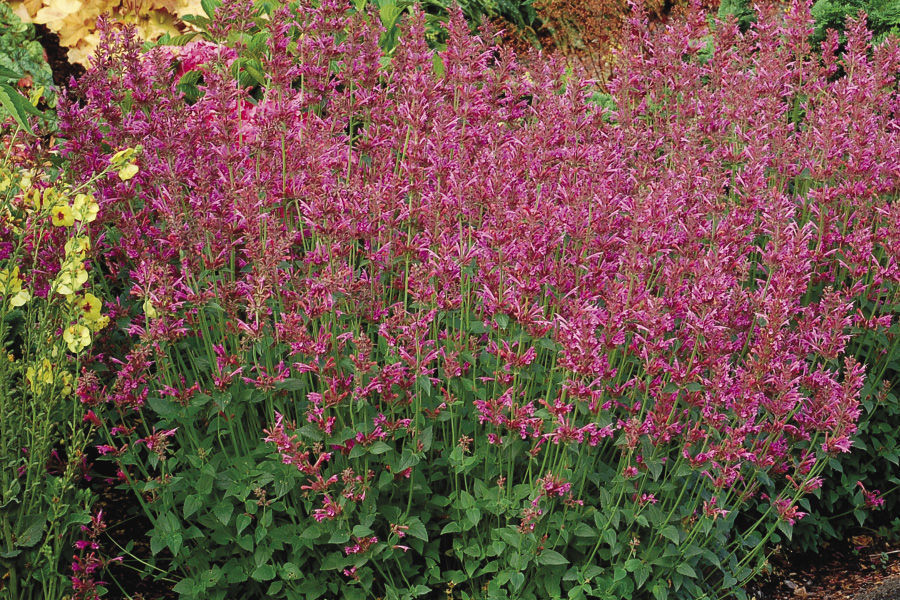 'Summer Love' giant hyssop
Name:

Agastache

'Summer Love'

Zones: 6 to 9

Size: 3 feet tall and 2 feet wide

Conditions: Full sun; well-drained soil; drought tolerant

This easy and fast-growing perennial is known for its pleasant mint licorice–scented foliage and flowers, which bloom even on the hottest summer days. Deer, however, aren't enticed by the sight or smell of this plant. 'Summer Love' stood out in our recent plant trials because of its profusion of large rose-purple flower spikes, which bloomed from early summer until first frost. This new cultivar also has a nice compact habit and doesn't need staking, even in the high winds of the Southern Plains. As a bonus, hummingbirds swarm the flowers of this plant.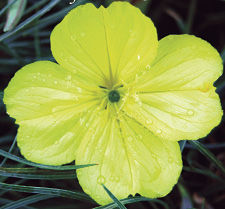 'Shimmer' evening primrose
Name:

Oenothera fremontii

'Shimmer'

Zones: 4 to 8

Size: 10 inches tall and 15 inches wide

Conditions: Full sun; drought tolerant

Though butterflies and hummingbirds flock to this evening primrose, deer and rabbits avoid its foliage and flowers. 'Shimmer' has clumping, needlelike silvery foliage that doesn't resemble that of any other evening primrose. In late spring, the foliage is crowned with 3-inch-wide, glowing lemon yellow cups, which continue to appear throughout summer and into fall. This Texas native is tough enough to handle extreme temperatures and is exceptionally drought tolerant due to its long taproot. Try 'Shimmer' massed at the front of the border or as an edging.
Jimmy Turner is senior director of gardens at the Dallas Arboretum in Dallas, Texas.
Photos: courtesy of Jimmy Turner; Michelle Gervais; courtesy of McMahan's Nursery; courtesy of Terra Nova Nurseries, Inc.; courtesy of Red Butte Garden