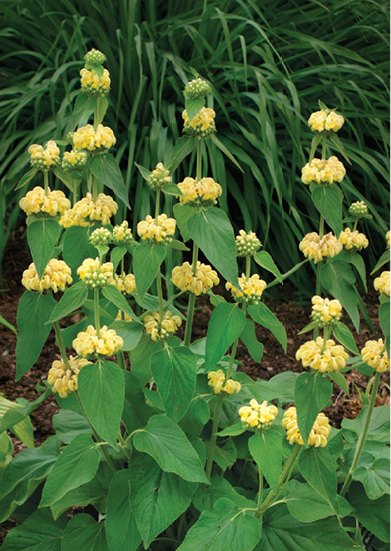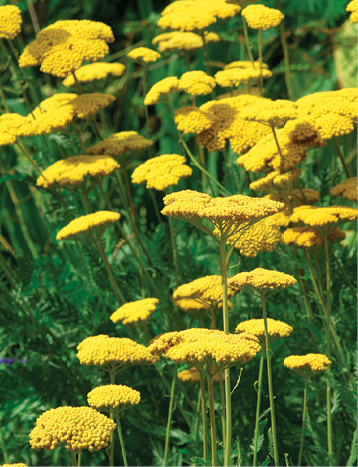 'Coronation Gold' fern-leaf yarrow
Name:
Achillea
'Coronation Gold'
USDA Hardiness Zones: 3 to 9
Size: 2 to 3 feet tall and 1 to 3 feet wide, clumping
Conditions: Full sun; drought tolerant
Deer eat some yarrow, but 'Coronation Gold' is left untouched. In early summer, woody stalks culminate in large flat-topped clusters of long-lasting, golden yellow flowers. The seed heads add fall and winter interest, though snow usually breaks the stalks. Because the foliage is attractive for months, a clump of this yarrow is a focal plant by itself and a strong addition to the perennial border. It is ideal for meadow gardens, easily holding its own with grasses and other strong perennials. Though drought tolerant, it will grow larger in rich soil with watering every two to three weeks.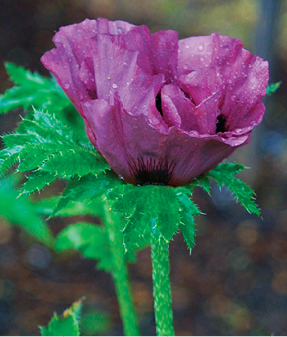 Oriental poppy
Name:
Papaver orientale
and cvs.
Zones: 3 to 9
Size: 1 to 4 feet tall and 3 to 4 feet wide
Conditions: Full sun to light shade; rich, well-drained soil but tolerates rocky soil
Oriental poppy ('Patty's Plum', pictured) blooms in a wide range of bold colors—all left untouched by deer. Watching the spring bud swell and pop off its outer shield adds to the fun of growing this perennial. After the shield is gone, an exquisite flower emerges. The foliage is attractive before the flowers form but fades soon after bloom, disappearing by midsummer. This situation is easily resolved by growing the plant near late-blooming perennials or in meadow gardens. Oriental poppy needs winter chill to grow and bloom well.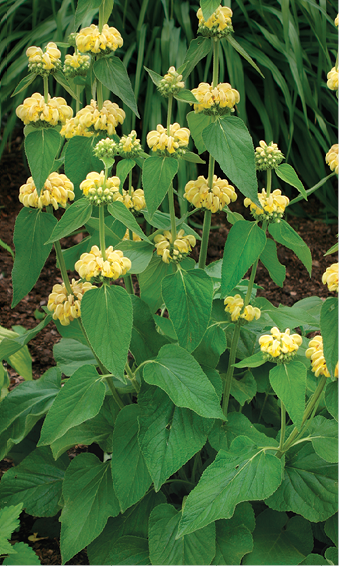 Sticky Jerusalem sage
Name:
Phlomis russeliana
Zones: 3 to 9
Size: 1 to 3 feet tall and wide
Conditions: Full sun to partial shade; fertile, well-drained soil
Sticky Jerusalem sage is a strong perennial with large heart-shaped leaves that deer pass by even when there is little else to eat. Because the plant grows together tightly and does not die back in winter, it's also great for suppressing weeds. Each year, the clump of plants increases in size, spreading—though not aggressively—by short rhizomes. In early summer, tall stalks blossom with clusters of pale yellow flowers along the stem, lasting several weeks. The light brown seed heads are an interesting fall and winter accent, remaining upright even with heavy rain, wind, and snow.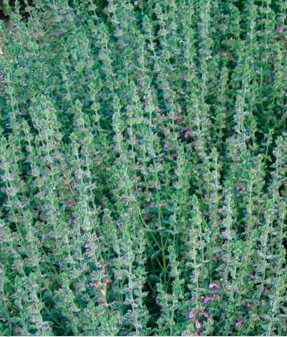 Wall germander
Name:
Teucrium chamaedrys
Zones: 4 to 9
Size: 1 foot tall and 2 feet wide
Conditions: Full sun to light shade; well-drained soil
Wall germander is a great substitute for boxwood, a deer favorite. This attractive, vigorous ground cover can be used in an informal garden or trimmed to fit a more formal area. Upright stalks with small, dark green leaves bloom in mid- to late summer with small red-purple flowers on the upper few inches of the stalk. It requires water once every two to three weeks during summer but will tolerate more frequent irrigation. Seed heads are of textural interest in fall and winter. Wall germander should be cut back in late winter to encourage new growth.
Carolyn Singer, author of Deer in My Garden, volumes 1 and 2, gardens near Grass Valley, California.
Photos, except where noted: courtesy of Carolyn Singer; top right and center left, Michelle Gervais; bottom right, Jennifer Benner