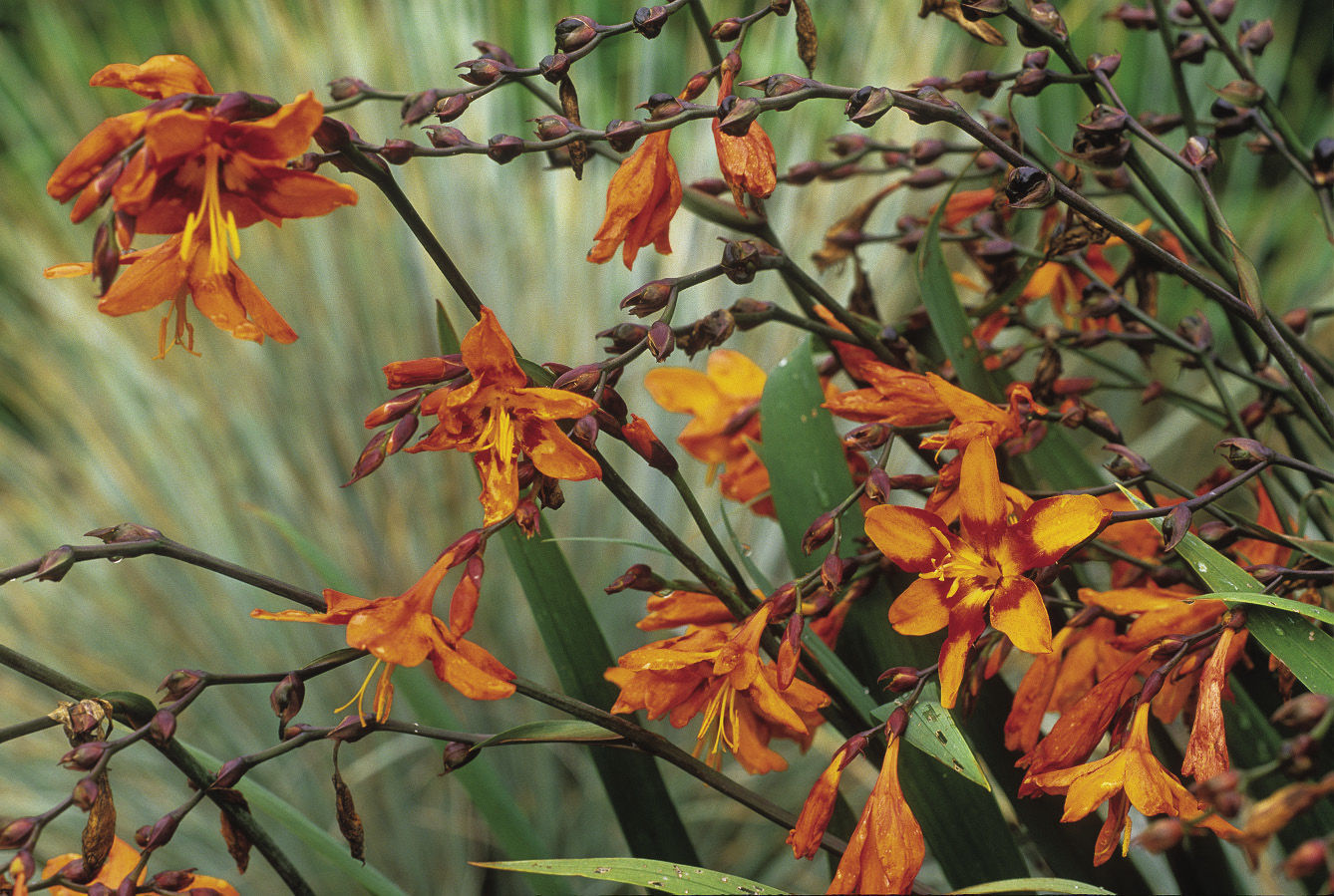 1. 'Emily McKenzie' crocosmia
Name:

Crocosmia

'Emily McKenzie'
Zones: 5 to 9
Size: 2 to 3 feet tall and 12 to 18 inches wide
Conditions: Full sun to partial shade; moist, well-drained soil; drought tolerant
This perennial bulb is easy to grow and can form a large stand as it multiplies. The graceful flowers open slowly, extending the use of this cut flower for up to two weeks. Blooms are present as early as July but generally appear in August and September, making them a great companion for fall arrangements with coneflowers (Rudbeckia spp. and cvs., Zones 3–11) and asters (Aster spp. and cvs., Zones 4–8).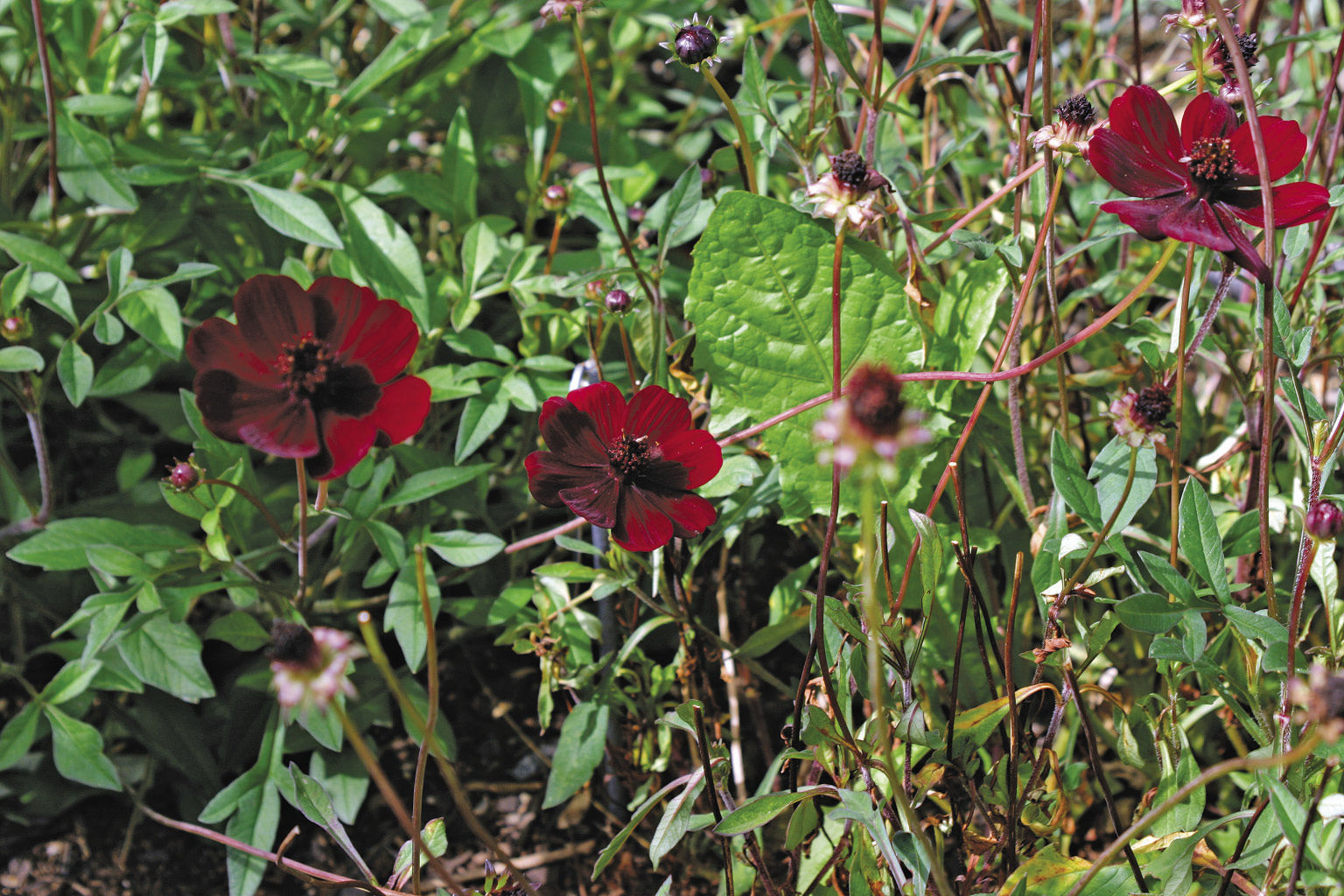 2. Chocolate cosmos
Name:

Cosmos atrosanguineus
USDA Hardiness Zones: 7 to 11
Size: 2 feet tall and 1 foot wide
Conditions: Full sun; moist, well-drained soil
Chocolate cosmos is a beautiful flower that looks more like a single dahlia than a traditional cosmos. Though the rich, deep color is appealing in arrangements, it is the bewitching scent of chocolate that makes this a must-have peren­nial for the cutting garden. This native ofMexico can be grown in the Pacific Northwest by offering it well-drained soil and a warm, sunny spot. Planting it near stones or cement walkways will give it the extra bit of heat it prefers during our cool summer days.
3. 'Purple Emperor' sedum
Name:

Sedum

'Purple Emperor'
Zones: 3 to 9
Size: 18 inches tall and 1 to 2 feet wide
Conditions: Full sun; well-drained soil; drought tolerant
'Purple Emperor' sedum is a deep purple succulent that sports bright fuchsia flowers in fall. As with all sedums, it requires little care and thrives in a well-drained, sunny spot. The stems, leaves, and flowers of the plant are ornamental and long lasting in arrangements. In fact, stems left in water and a sunny window will sprout roots, resulting in new transplants for the garden.
4. 'White Swan' coneflowe

r
Name:

Echinacea purpurea

'White Swan'
Zones: 3 to 9
Size: 24 to 40 inches tall and 18 inches wide
Conditions: Full sun; well-drained soil; drought tolerant
'White Swan' coneflower is a versatile plant that adapts to many different growing conditions. People living outside of our rain-soaked region might think it odd that such a drought-tolerant plant would be desirable here. But when the hot, dry season starts, this coneflower is content to sit neglected in a warm corner, farthest from the hose. In addition to being low maintenance, its decorative use is threefold: From bud to flower to seed head, this perennial is a star, both indoors and out.
---
Jean Ann Van Krevelen is a garden coach who tends perennials for her bouquets in her Portland, Oregon, garden.
Photos: courtesy of Jean Ann Van Krevelen, Colleen Fitzpatrick, Saxon Holt, Michelle Gervais, Bill Johnson