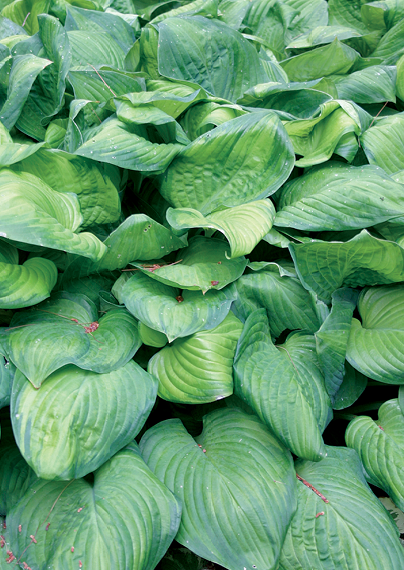 1. 'Guacamole' hosta
Name: Hosta 'Guacamole'
USDA Hardiness Zones: 3 to 9
Size: 2 feet tall and 4 feet wide
Conditions: Partial to full shade; moist, well-drained soil
'Guacamole' is by far my favorite hosta cultivar, because its chartreuse leaves can complement every flower in an arrangement. It also happens to have a tall white summer bloom that is deliciously honeysuckle scented and makes a nice cut flower. Hostas are notorious for being slug food, so be sure to protect the leaves.
2. 'Jacob Kline' bee balm
Name: Monarda 'Jacob Kline'
Zones: 4 to 8
Size: 3 to 4 feet tall and wide
Conditions: Full sun; well-drained soil
I like plants that make a statement in the ground and in a bouquet. 'Jacob Kline' bee balm provides that bold presence because it grows into a tall mass adorned with deep red flowers. Unlike other bee balms, 'Jacob Kline' is long lasting in the garden if the plant is given adequate and consistent water. The red blossoms, aside from being beautiful in a vase, attract hummingbirds and honeybees.
3. 'Black Adder' hyssop
Name: Agastache 'Black Adder'
Zones: 6 to 9
Size: 2 to 3 feet tall and 15 inches wide
Conditions: Full sun; well-drained soil
This variety of hyssop is a long bloomer and has a deeper, darker color than the more common 'Blue Fortune'. 'Black Adder' has clusters of tall, spiky, midnight blue flowers, which look great anywhere. This plant is also a favorite of honeybees, butterflies, and hummingbirds. Combine it with any daisylike yellow flower, such as 'Moonbeam' coreopsis (Coreopsis verticillata 'Moonbeam', Zones 3–8) or 'Goldsturm' black-eyed Susan (Rudbeckia fulgida var. sullivantii 'Goldsturm', Zones 4–9).
4. 'Six Hills Giant' catmint
Name: Nepeta 'Six Hills Giant'
Zones: 3 to 8
Size: 3 feet tall and 30 inches wide
Conditions: Full sun; well-drained soil
Everyone in my neighborhood asks about this plant because of its spectacular flowers. I have two huge clumps flanking my front door, which start blooming in May and are still blooming in September with one little mid­summer trim. 'Six Hills Giant' catmint is a nice filler flower for arrangements. Pair it with blue hydrangeas (Hydrangea macrophylla cvs., Zones 6–9) and some ornamental-grass foliage for a simple, eye-catching bouquet.
---
Jen McMahon is a horticulturist and floral designer at Smith's Acres garden center in Niantic, Connecticut.
Photos: Michelle Gervais; courtesy of Kim Tyler; courtesy of www.estabrooksonline.com; courtesy of Wayside Gardens