Invasive: Purple Loosestrife
(Lythrum salicaria)
1.

Hummingbird Hyssop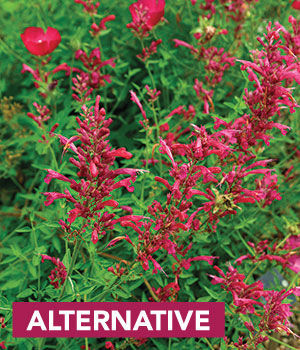 Name:
Agastache cana
USDA Hardiness Zones: 5 to 9
Size: Up to 3 feet tall and 18 inches wide
Conditions: Full sun; well-drained soil
This tall, xeric perennial adds a deep rose color to the garden in the heat of summer. Spikes of tubular flowers attract many varieties of hummingbirds throughout summer, making this is a must-have plant. Minimal maintenance is required. Do not cut hummingbird hyssop back in fall because leaving the foliage intact for winter allows it to catch leaves and other garden debris for insulation, helping the plant survive.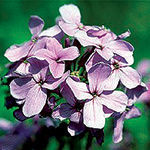 Invasive: Dame's Rocket
(Hesperus matronalis)
2. 'David's Lavender' Tall Garden Phlox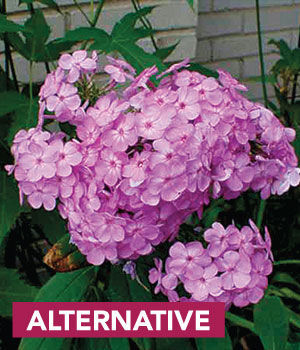 Name:
Phlox paniculata
'David's Lavender'
Zones: 4 to 8
Size: 3 to 4 feet tall and 2 to 3 feet wide
Conditions: Full sun to partial shade; moist, rich soil
A sport of the popular 'David' phlox (P. paniculata 'David', Zones 4–8), this cultivar has large, fragrant blooms. Here in the Mountain West, phlox generally blooms from early summer through early fall. While mildew is not a serious issue in our dry Colorado climate, 'David's Lavender' is known for its mildew resistance. This plant is low maintenance, likes to be mulched, and requires moderate moisture.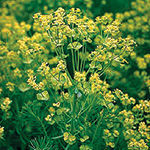 Invasive: Cyprus Spurge
(Euphorbia cyparissias)
3. Creeping Basket of Gold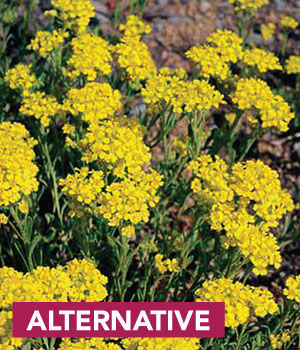 Name: Alyssum montanum
'Mountain Gold'
Zones: 4 to 9
Size: 6 inches tall and up to 18 inches wide
Conditions: Full sun; well-drained soil
Creeping basket of gold is a harbinger of springtime here in the Mountain West. This ground cover is blanketed in yellow-gold blossoms and is one of the earliest plants to bloom. Spring bulbs are a perfect complement. The only maintenance required is to shear off the flowers after blooming, leaving behind gray-green foliage that provides interest and color for the rest of the season.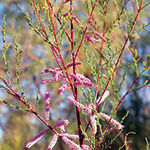 Invasive: Salt Cedar
(Tamarix ramosissima)
4. Apache Plume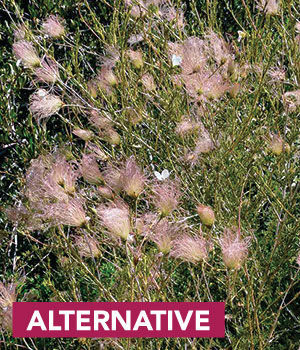 Name: Fallugia paradoxa
Zones: 4 to 9
Size: 3 to 5 feet tall and wide
Conditions: Full sun; well-drained soil
A western native shrub, apache plume provides continual interest throughout the growing season. In spring, small white blossoms appear and continue into summer. Shortly after, striking feathery pink seed heads form, giving the plant a plumelike appearance. Its finely textured foliage is semi-evergreen, though inconspicuous, in winter. This shrub is extremely drought tolerant and requires little maintenance if not overwatered.
—Michelle Provaznik is director of The Gardens on Spring Creek in Fort Collins, Colorado.
Photos: #1 (invasive), Gary A. Monroe; #1 (alternative), Michelle Gervais; #2 (invasive), James L. Reveal, Smithsonian Institution, Dept. of Systematic Biology-Botany; #2 (alternative) #3 (alternative) and #4 (alternative), www.millettephotomedia.com; #3 (invasive), William S. Justice, Smithsonian Institution, Dept. of Systematic Biology-Botany; #4 (invasive), Steven Perkins