Invasive – Norway Maple
(Acer platanoides)
1. Celebration

®

Maple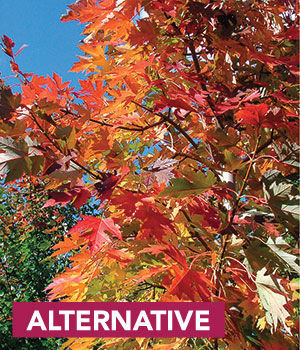 Name:

Acer

freemanii

'Celzam'

USDA Hardiness Zones: 4 to 9

Size: 45 to 50 feet tall and 20 to 25 feet wide

Conditions: Full sun; moist, well-drained soil

Unlike a Norway maple, Celebration® maple is virtually seedless, meaning you can spend more time relaxing in your backyard instead of cleaning up those darn "bunny ears." The inwardly cupped limbs and strong branch angles withstand snow loads and storms without shattering. And it has a fibrous root system, so you won't have to deal with the root upheaval that can cause sidewalk or driveway damage. A good choice for urban gardens, Celebration® has dense green foliage that is disease resistant, looks good during high summer, and is tolerant of salt spray. Autumn color begins in midfall.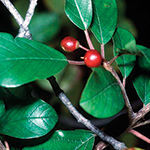 Invasive – Glossy Buckthorn
(Rhamnus frangula)
2. Tiger Eyes

®

Cutleaf Sumac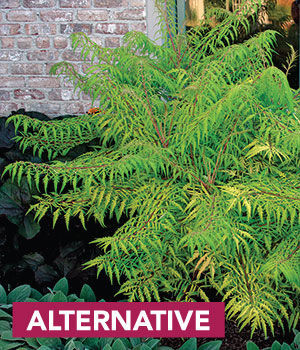 Name:

Rhus typhina

'Bailtiger'
Zones: 4 to 8
Size: 6 feet tall and 8 feet wide
Conditions: Full sun to partial shade; moist, well-drained soil
Unlike other sumacs, Tiger Eyes® is a small, sterile cultivar that spreads slowly. It can be used as a single specimen or in masses, but in either scenario, this sumac provides a stunning silhouette. The branches angle up, while its leaves droop down, giving it  an Asian look. Its new growth is chartreuse green and eventually matures to an almost neon lemon-lime color. Spectacular in fall, Tiger Eyes® cutleaf sumac turns a combination of yellow, orange, and scarlet. Adaptable to most soil types, it is also drought tolerant once established.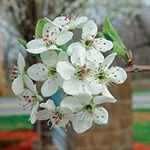 Invasive – Callery Pear
(Pyrus calleryana)
3. Samaritan

®

Chinese Dogwood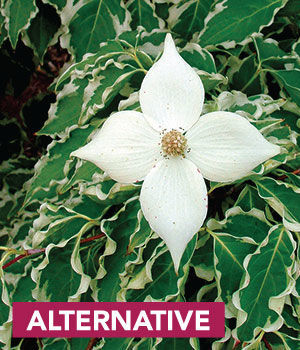 Name:

Cornus kousa

var.

chinensis

'Samzam'

Zones: 5 to 8

Size: 20 to 25 feet tall and 15 to 20 feet wide

Conditions: Full sun to partial shade; moist, well-drained soil

Samaritan® is an extremely hardy variegated dogwood. The creamy-white-and-green leaves have wavy margins, won't scorch in the hot summer sun, and turn a radiant pinkish bur­gundy in fall. Its abundant, star-shaped flowers can put on a show for up to three weeks or more. Samaritan® Chinese dogwood also resists anthracnose, unlike other flowering dogwoods.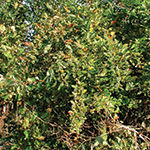 Invasive – Common Privet
(Ligustrum obtusifolium)
4. Nordic

™

Inkberry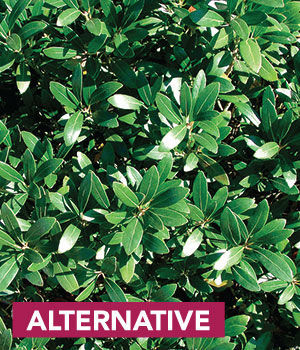 Name:

Ilex glabra

'Chamzin'

Zones: 3 to 9

Size: 3 to 4 feet tall and wide

Conditions: Full sun to full shade; moist, well-drained soil

This evergreen cultivar stands out from the species because of its compact habit and shiny, deep green foliage, which provides winter interest. Nordic™ inkberry is easily maintained and takes shearing well. Although similar in appearance to Japanese holly (I. crenata, Zones 5–7), this inkberry can take full sun or shade and has ironclad hardiness.
Maria Zampini owns Lake County New Plants in Madison, Ohio.
Photos: #1 (alternative) #3 (alternative) and #4 (alternative), courtesy of Maria Zampini; #1 (invasive), Paul Wray, Iowa State University/www.bugwood.org; #2 (invasive), Robert H. Mohlenbrock/USDA-NRCS Plants Database; #2 (alternative), Michelle Gervais; #3 (invasive), Dan Tenaglia, Missouriplants/www.bugwood.org; #4 (invasive), Leslie J. Mehrhoff, University of Connecticut/www.bugwood.org