Invasive – Bradford Pear
(Pyrus calleryana cvs.)
1. 'Okame' Cherry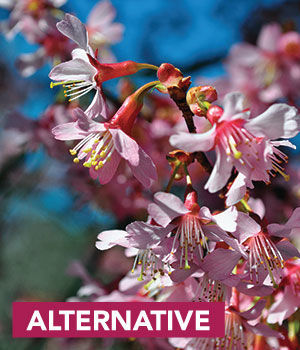 Name: Prunus
'Okame'
USDA Hardiness Zones: 6 to 9
Size: Up to 20 feet tall and wide
Conditions: Full sun to partial shade; tolerant of various soil conditions
It is not difficult to find a plethora of rene­gade Bradford pears littering the shoulders of southern interstates. 'Okame' cherry has many of the attributes we love about Bradford pear without the lia­bilities. This cherry mimics the beautiful structure of Bradford pear, but it rarely breaks during ice storms. It shares the same early-spring bloom season with Bradford pear, with cheerful, delicate pink blossoms that are less susceptible to frost damage.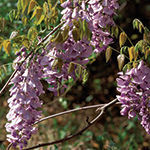 Invasive – Chinese Wisteria
(Wisteria sinensis)
2. 'Morning Calm' Trumpet Vine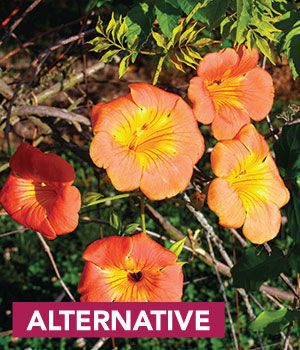 Name:
Campsis grandiflora
'Morning Calm'
Zones: 6 to 9
Size: Climbing to 15 feet
Conditions: Full sun to partial shade; well-drained soil
Here in the South, imported Chinese wisteria is everywhere except where you want it to stay. I came across 'Morning Calm' trumpet vine a year ago and fell in love. The flowers are large and flat compared to its cousins. It is a strong grower but not aggressive. It is also a favorite of hummingbirds as it blooms throughout the summer. It was introduced by the JC Raulston Arboretum in Raleigh, North Carolina.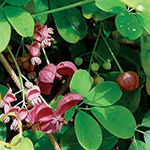 Invasive – Chocolate Vine
(Akebia quinata)
3. Magnolia Vine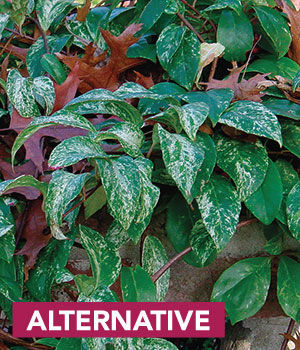 Name:
Kadsura japonica
and cvs.
Zones: 7 to 11
Size: Climbing to 15 feet
Conditions: Partial shade; well-drained soil
I searched for an evergreen vine that would climb a shady arbor in my garden without taking over like chocolate vine is known to do. Magnolia vine came to my rescue. It is adaptable to southeastern weather, has an evergreen twining habit, and is easily removed if necessary. It produces beautiful, small, lightly fragrant, white spring flowers. If you have both male and female vines, it will produce clusters of bright red berries in fall.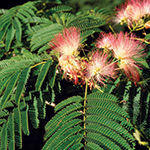 Invasive – Mimosa
(Albizia julibrissin)
4. 'Sunburst' Honeylocust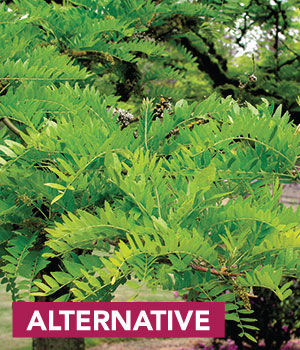 Name:
Gleditsia triancanthos
'Sunburst'
Zones: 5 to 9
Size: 40 feet tall and 35 feet wide
Conditions: Full sun to partial shade; moist to dry, well-drained soil
Mimosa is the quintessential southern tree, but where there is one, there will soon be hundreds. 'Sunburst' honeylocust is a great alternative. The foliage has the same fernlike appearance as the mimosa but is one notch above by emerging a brilliant yellow, fading to light green. This cultivar is thornless, seedless, deer resistant, and tolerant of urban pollution as well as salty coastal environments.
Jay Sifford is the owner of Sifford Garden Design in Charlotte, North Carolina.
Photos: #1 (alternative) #2 (alternative) #3 (alternative) and #4 (alternative), www.millettephotomedia.com; #1 (invasive) and #4 (invasive), James H. Miller, USDA Forest Service/www.bugwood.org; #2 (invasive), Ted Bodner, Southern Weed Science Society/www.bugwood.org; #3 (invasive), Nancy Fraley, USDI National Park Service/www.bugwood.org