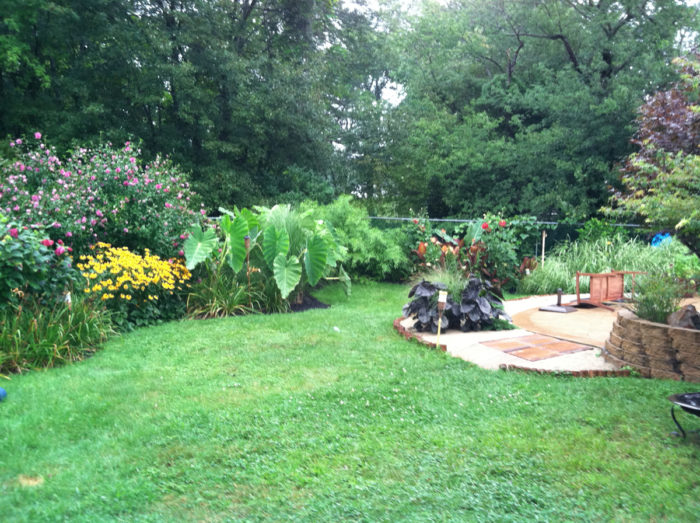 Today's photos are from Stacey Preble from just south of Boston, Massachusetts. Stacey says, "The basis behind my garden is that I wanted something that was big, colorful and tropical looking, but that was sustainable up here in zone 5.
"I researched quite a bit and read every magazine/book/article that I could get my hands on. My 12 foot Japanese fiber bananas were the catalyst that I could make this happen, and the rest they say, is history. My husband and I travel to the tropics every winter and I just love the lush jungle feel that one gets in Hawaii or the Caribbean. I wanted to emulate that experience and build a garden where you feel that you are but a bug in that garden.
"I guess you could say I love a challenge. My garden is like going on vacation every time I walk out to the backyard. The front of my house is innocuous in its landscaping. Traditional pastel colored New England landscaping that doesn't shout at the neighbors as they walk by – but come out back and get assaulted by hot colors of red, orange and yellow! Leaves as long as your legs, giant dinner plate dahlias, and hardy Disco Belle hibiscus continue the experience. It all coincides with the outdoor kitchen/dining area/bar that my husband so expertly built around my tropical theme.
"We have a terrible coyote problem, so we have a 6-foot-tall fence surrounding the immediate backyard. I know they are a protected species, but I have been chased down 3 times while mowing the lawn, and I don't need a fourth time to know they mean business! In order to hide the fence I grow grapes along the fencing and it expertly disguises the ugliness of the fence, while providing fruit. I also intersperse tomato plants and pepper plants along with whatever else I am growing that year in with my garden plants. This takes care of the issue of rotating crops, because where ever they are now won't be available next year due to the growth of the perennials!
"I am currently uprooting 1/3 of my garden and moving it back 25 feet where we pushed out the fence and expanded it. It never looks the same two years in a row, and I love to spend winters rearranging in my mind where everything is going to be placed. I also add a few real tropicals just for a pop of color such as Tropicanna cannas and elephant ears.
The best compliment I have ever received was from one of my brother-in-laws, who remarked "If someone told me that I was in Hawaii right now, I would honestly believe them!" Mission accomplished."
So cool, Stacey–it really does look like a tropical garden! But wait. Hold up. CHASED BY COYOTES?? What the heck is up with that?? Scary!
Want us to feature YOUR garden in the Garden Photo of the Day? CLICK HERE!
Want to see every post ever published? CLICK HERE!

**Check out the GPOD Pinterest page, where you can browse all the post in categories…fun! CLICK HERE!**