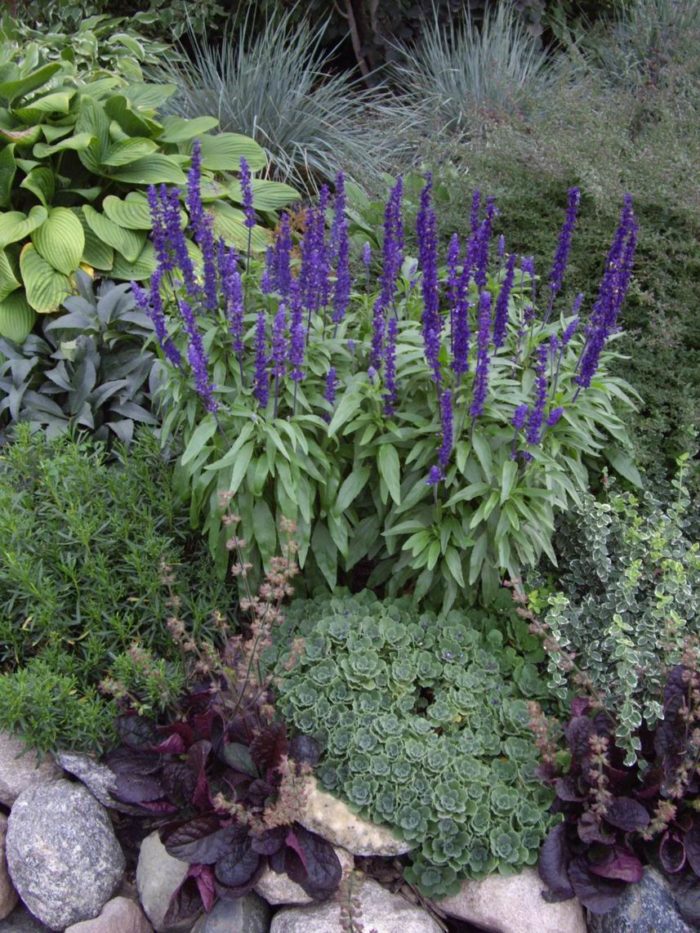 Today's GPOD is from Michelle Van Heuvelen. She says: "I garden on a farm in Iowa.  I have a number of gardens spread out around the farm, including a small, formal potager, a long border, raised stone beds, a patio garden, and a Secret Garden just for my granddaughter. One thing that's great about this plant combo is that, although this photo was taken later in the season, most of the plants are evergreen, so it even looks good early in spring." Thanks, Michelle!
The plants in this combo include:
Blue oat grass (Helictotrichon sempervirens, USDA Hardiness Zones 4-9)
Hosta (Hosta cv., Zones 3-9)
Ivory Prince hellebore (Helleborus 'Walhelivor', Zones 4-9)
Candytuft (Iberis sempervirens, Zones 5-9)
'Purple Knockout' lyre-leaved sage (Salvia lyrata 'Purple Knockout', Zones 6-9)
'Snowcap' alpine rock cress (Arabis alpina 'Snowcap', Zones 4-8)
'Emerald Gaiety' wintercreeper (Euonymus fortunei 'Emerald Gaiety', Zones 5-9)
'Lady in Black' aster (Aster lateriflorus 'Lady in Black', Zones 4-8)
'Victoria Blue' salvia (Salvia farinacea 'Victoria Blue', Zones 8-11)
Welcome to the Fine Gardening Garden Photo of the Day blog! Every weekday we post a new photo of a great garden, a spectacular plant, a stunning plant combination, or any number of other subjects. Think of it as your morning jolt of green.
Sign up to get new posts delivered to your inbox each morning, so you'll always remember to take a look. We look forward to sharing our garden travels with you.
If you think you have a photo that we should share on the Garden Photo of the Day, email us. Send hi-res images to [email protected] with GPOD in the subject line. We'll only respond if we plan to use your photo