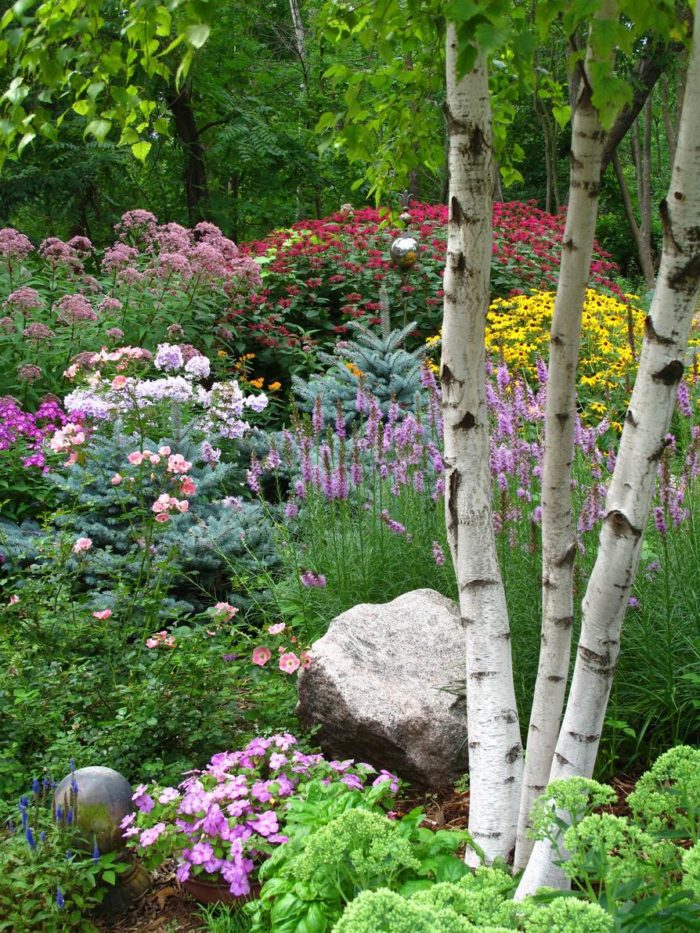 Today's photo is from Tricia Frostad in Chanhassen, Minnesota. She says, "My garden was planted about 8 years ago and it's amazing how it's all filled in so nicely and that everything just works together.  I believe I have nearly every color in the rainbow in my garden.  In the foreground is 'Autumn Joy' sedum (Sedum 'Autumn Joy', USDA Hardiness Zones 3-11),  a Carefree Delight(TM) shrub rose (Rosa 'Meipotal', Zones 4-11), and a large stand of 'Kobold' blazing star (Liatris spicata 'Kobold', Zones 4-9).  Three small blue spruce shrubs (Picea sp., Zones 2-8) give the garden an unexpected dimension.  Other perennials include coneflowers (Rudbeckia spp. and cvs., Zones 3-11), garden phlox (Phlox paniculata cvs., Zones 4-8), Joe Pye weed (Eupatorium spp. and cvs., Zones 3-11), butterfly weed (Asclepias spp. and cvs., Zones 3-11) and 'Jacob Cline' bee balm (Monarda 'Jacob Cline', Zones 4-9), which I take divisions from every year, as otherwise it would take over my entire garden!  Of course I always throw in some annuals for their constant color, especially impatiens, which have never failed me.  Because it's now so full, I have a lot less problem with weeds, which is a great thing! I am currently a master gardener intern in Carver County.  I'm hoping this will be a good outlet to share my love of gardening with others." Thanks, Tricia, for sharing your beautiful garden with us!
Welcome to the Fine Gardening GARDEN PHOTO OF THE DAY blog! Every weekday we post a new photo of a great garden, a spectacular plant, a stunning plant combination, or any number of other subjects. Think of it as your morning jolt of green.
Sign up to get new posts delivered to your inbox each morning so you'll always remember to take a look, or subscribe to our RSS feed. We look forward to sharing our garden travels with you.
READER PHOTOS: We love featuring your photos, too. If you think you have a photo that we should share on the Garden Photo of the day, email us. Send hi-res images if possible. We'll only respond if we plan to use your photo.