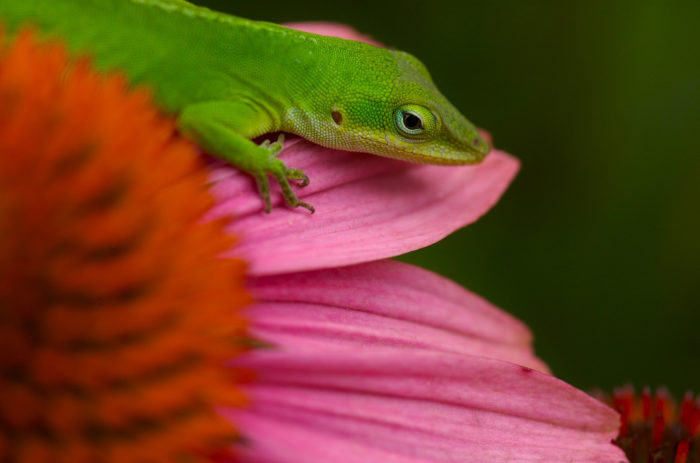 Today's photo is from Marc Opperman in Austin, Texas. He says, "I have a yard of mixed Central Texas native wildflowers, shrubs, and grasses, as well as an ever-increasing set of vegetable beds. And although my yard is small and suburban, it is definitely testament to planting natives to foster diverse wildlife. I regularly skulk about the yard looking for fun shots with which to use my 60mm micro lens. This little green anole is just one of a thousand or more to be found in my garden. I found him resting on the petals of an echinacea as if they were a bed. He seemed pretty amenable to a giant lens inching up." Thanks, Marc, for sharing!
Welcome to the Fine Gardening GARDEN PHOTO OF THE DAY blog! Every weekday we post a new photo of a great garden, a spectacular plant, a stunning plant combination, or any number of other subjects. Think of it as your morning jolt of green.
Sign up to get new posts delivered to your inbox each morning so you'll always remember to take a look, or subscribe to our RSS feed. We look forward to sharing our garden travels with you.
If you think you have a photo that we should share on the Garden Photo of the day, email us. Send hi-res images to [email protected] with GPOD in the subject line. We'll only respond if we plan to use your photo.