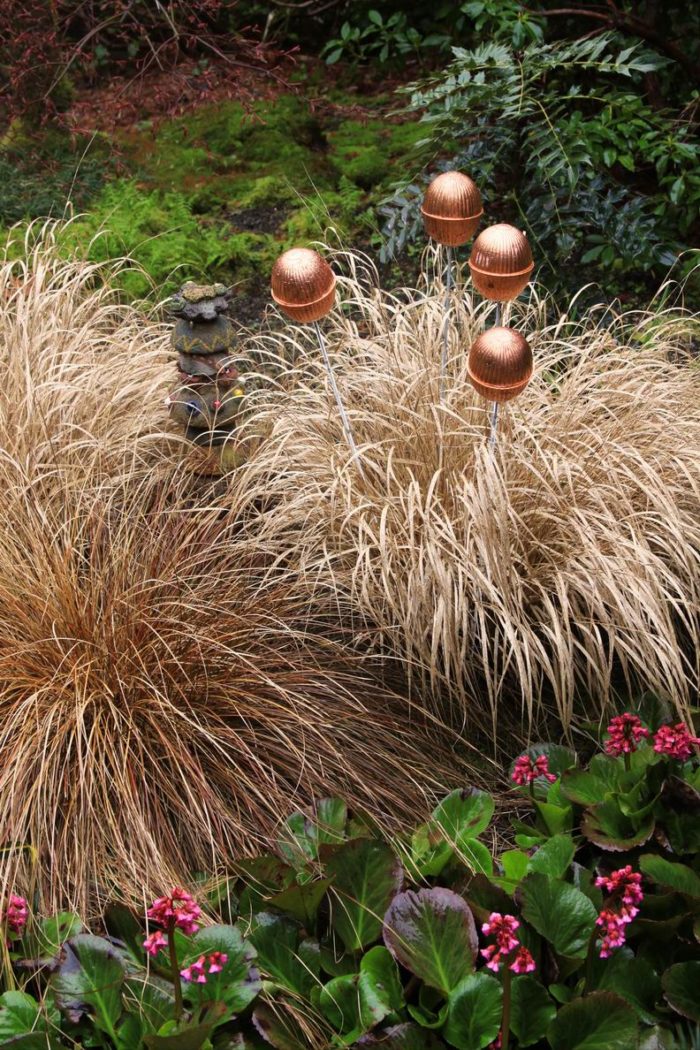 When Mary Palmer from near Monroe, Washington, sent in this photo a couple of days ago, I had an inkling of what these gardening ornaments were, and I begged her to tell me I was right. Mary says, "They are indeed toilet tank floats. I had purchased two for a project that I never finished so they remained stuffed in a paper sack for several years. When I got the idea to use them as odd flowers on the lovely dead grass (Anemanthele lessoniana, USDA Hardiness Zones 8-11), two were not enough. I finally located a few more and found they had nearly doubled in price! The dead grasses have now been replaced with live ones and their funky flowers now adorn a potted palm in the summer. Alas, the brilliant copper color has tarnished so now they are tastefully understated. Also in the photo are Mahonia x media 'Arthur Menzies' (Zones 8-9), Bergenia 'Bressingham Ruby' (Zones 4-8), and Carex tenuiculmis 'Cappuccino' (Zones 7-9)." Thanks, Mary, for sharing!
Welcome to the Fine Gardening GARDEN PHOTO OF THE DAY blog! Every weekday we post a new photo of a great garden, a spectacular plant, a stunning plant combination, or any number of other subjects. Think of it as your morning jolt of green.
Sign up to get new posts delivered to your inbox each morning so you'll always remember to take a look, or subscribe to our RSS feed. We look forward to sharing our garden travels with you.
READER PHOTOS: We love featuring your photos, too. If you think you have a photo that we should share on the Garden Photo of the Day, email us. Send hi-res images if possible. We'll only respond if we plan to use your photo.