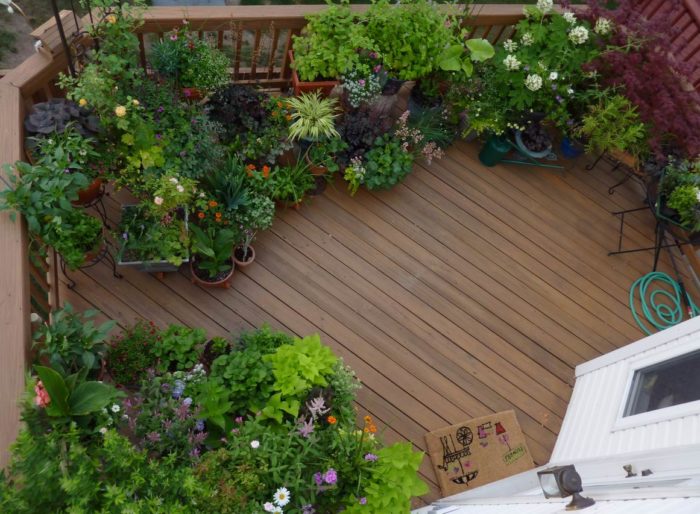 Today's photo is from Miriam Settles in northern Virginia. She says, "I started a container garden about 8 years ago because I don't have much land around our townhouse for flower beds, but I do have a deck.  This is a view from one floor above.  The garden contains quite a few perennials including trees and shrubs like Japanese maple, oakleaf hydrangea, and butterfly bush.  I also grow black raspberries, tomatillos, bell peppers, and all kinds of herbs.  There are two trellises to add vertical interest, so climbing flowers like mandevilla and a 'Graham Thomas' rose have a home here too.  I fill in the gaps every year with different types of annuals.  This is an eastern exposure so it's ideally suited for nearly everything but deep-shade-loving plants. This garden provides the perfect oasis for my husband and I to enjoy after a long workday and on the weekends." Thanks, Miriam, for sharing your deck garden with us!
Welcome to the Fine Gardening GARDEN PHOTO OF THE DAY blog! Every weekday we post a new photo of a great garden, a spectacular plant, a stunning plant combination, or any number of other subjects. Think of it as your morning jolt of green.
Sign up to get new posts delivered to your inbox each morning so you'll always remember to take a look, or subscribe to our RSS feed. We look forward to sharing our garden travels with you.
If you think you have a photo that we should share on the Garden Photo of the day, email us. Send hi-res images to [email protected] with GPOD in the subject line. We'll only respond if we plan to use your photo.