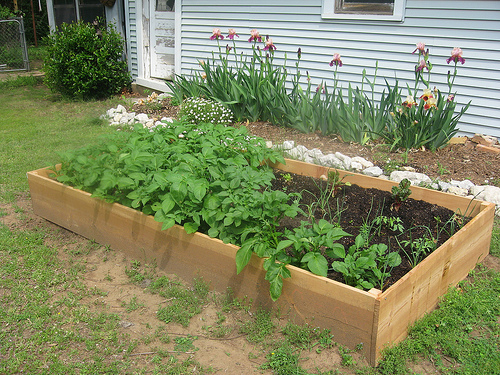 There are many ways to go about framing a raised bed and ideas for materials are endless. There's only a few things that deserve some consideration before you put one or two together this spring. Bed location, the size, and what you're going to use to build it. The majority of raised beds are constructed from lumber.
I'll talk about the treated lumber from the get-go because for many years, the CCA-treated wood was used until we discovered that the arsenic, chromium, and copper was leaching into soils. At that point the EPA stopped arsenic from being used in lumber.
Pressure-treated wood is now processed in a more ecologically-friendly way and is deemed to have no ill effects on people or animals. The new treatments (ACQ or CA) have dropped the arsenic but are higher in copper. As with all chemically-treated wood you should still avoid the dust particles by wearing a mask you're cutting it to and it still shouldn't be burned, but rather, brought to a landfill.
Raised Bed Lumber Alternatives:
Pressure-Treated Wood – Currently a safer product than in years past. But be sure to use steel screws as the copper will react to aluminum ones, which will become corroded quickly.

Raw lumber – it's a little more expensive and it won't last as long as pressure-treated lumber, but then there's something to be said about peace of mind. Both red cedar and redwood are naturally rot-resistant.
Composite timber – Made with a few different material depending on the company, it's commonly made of polypropylene and wood fiber. Some are made from recycled materials and can have UV ray protection to give it longer life.
Recycled Plastic – Another long-lasting choice and it's nice to know it puts old plastic to the very best use, in my opinion.
Cinderblocks – Okay, not as attractive as wood. But very inexpensive and fast!
Logs – I've made a raised herb bed from some logs I had lying around about 3 years ago. It's still holding that bed together and only part of the logs that shows any signs of breaking down is the outside bark. Some of it has peeled away and broken off; but the structure is still sound. Talk about cheap.
Rock – Maybe not the fastest way considering that there's mortar and drying time involved. But, raised beds made of rock are quite permanent and beautiful to boot.
Brick – Brick beds turn out just as lovely as the rock kind, it just gives a different look. Also a forever bed.
Concrete and Concrete Blocks – Both of these offer a less formal look – but permanent beds. Regular concrete will take longer depending on your skill and drying time. But some concrete blocks are the interlocking type which can be set up in no time.
Beds made of lumber are usually attached joined at the corners with galvanized or stainless steel screws or bolts. But there are some new products on the market that allow you to join lumber together without digging into the tool bucket. One of these products are corner brackets that allow you to slide the wood into position. Don't forget to check this helpful hardware before you purchase.
I have to mention that some (okay, all) of the best raised beds that I've seen feature a ledge or cap that's been mounted to the top board of the bed. These sitting areas can keep you out in the garden longer by making garden chores like weeding, cutting flowers, or harvesting more comfortable for you. So, keep that in the back of your mind.
What materials have you used for constructing raised garden beds?
*Special Note: Thanks to my readers who pointed out that there is no longer arsenic in pressure-treated wood. Once in a while I slip into old-school. My bad.
For raised-bed design inspiration, see raised beds from the VegetableGardener.com community.