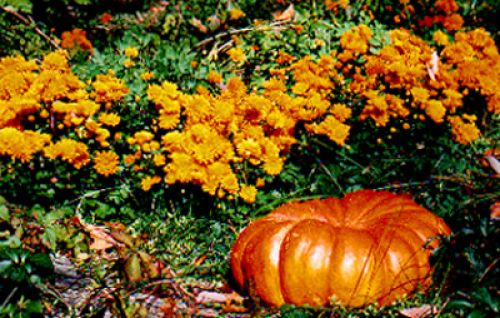 Pumpkins bring color and flair to the fall garden, and their uses go way beyond jack o'lanterns. I like to use them in soup, bread, cookies, and of course pie fillings. I've even dehydrated some pie filling into "cookies" for backpacking fare.
Pumpkins come in sizes from wee to gigantic; there are heirlooms and hybrids. Lately I've stuck to two kinds: small sugar and rouge vif d'etampes. Small sugar is a typical New England pie pumpkin; rouge vif d'Etampes, an heirloom French variety, looks a lot like Cinderella's coach.
Grow pumpkins the same way you grow squash: in hills (or depressions, as I do). I plant mine the first or second week in June. Unless you get a bush variety, pumpkins take up a lot of space; it's not unusual for the vines to run 10 or 12 feet from their hill.
There's no rush to harvest pumpkins. They can sit in the field until well after frost, and around my place, that's what they do. When I do bring them in, they keep for months in my drafty old house, though they should be checked periodically for deterioration. At the first sign of rot, I cut it out and process the rest, as described below.
Pumpkin can be prepared just like winter squash
Before Thanksgiving (or whenever I want to prepare a pumpkin dish), I select my pumpkin and cut it into large chunks, reserving the pulp and seeds for sorting later. I put the chunks flesh side up on a buttered baking sheet and roast at 350°F or 400°F until soft (about an hour). Once the flesh has cooled, I scrape it into a bowl, mash it, and store in the fridge to use in the next few days or freeze it to use later in soup, pies, purées, or sweet breads.
Toasted pumpkin seeds make a nice snack. Start by separating the seeds from the pulp, discarding the latter. Put the seeds into a bowl and float them in water, then pick out any remaining debris. Dry thoroughly, first in a colander and then on a plate or baking sheet. You can toast the seeds in the oven or on top of the stove in a cast iron skillet. Stir from time to time, and add salt at the end if you wish. Seeds can also be toasted on a woodstove.
My 2008 pumpkin crop was a pale shadow of what I usually get. For that I can probably thank a cooler than normal summer. Also, my resident woodchuck was looking very sleek, and I saw evidence of gnawing and nibbling. I had enough for my trademark Thanksgiving pie, but not much more.