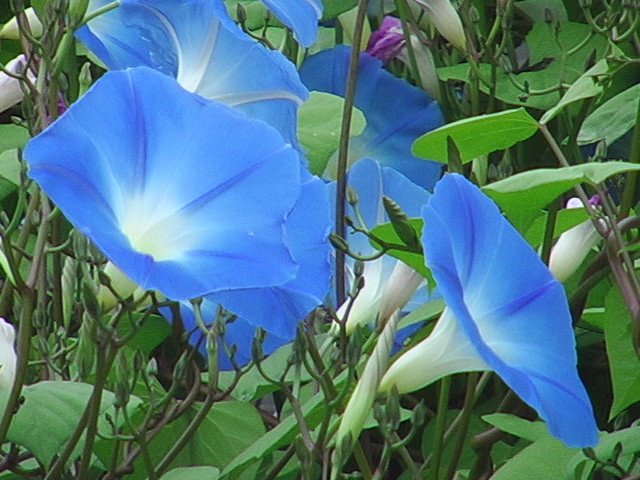 Kriss' garden has a rich 30 year history, proving that a garden is never truly finished!
"My name is Kriss Gandier. I have enjoyed the Fine Gardening pictures for many years, especially during the cold winter months when I have more time and can't enjoy my own gardening. I am from Cambridge, Ontario, Canada. I have been gardening for the past 30 years at this present location. When we moved here in 1985 there was one variegated euonymus in front of our front picture window and a wooden triangle which framed 3 young spruce trees. The back yard was all grass, no fence, and a field with 5 foot tall thistles along our property line. I started digging out flower beds and kept going that first year into November, until it started to snow. Now I have garden beds around every side of the house and also all along all sides of the fence. I'm afraid I've run out of room now, so I continue to make improvements and try to squeeze new plants in where there is still space. I can hardly wait for spring every year as I have many bulbs and love to see the lush foliage of young plants and my many Hostas starting to unfurl and my primroses and columbines and heucheras in bloom. There have been many changes over the years and I would love to share my garden's evolution with you. I have many early printed photos of my garden in its early stages, but I will have to try to scan them onto my computer. I will send some pictures I have on computer discs starting in 2007 and make further submissions of other years. The picture with the cement patio stones and fire pit used to be an area for 2 fenced in kennel runs for my daughters Jack Russell terriers. Today that is all dug out and a pondless waterfall and garden is in its place."
Have a garden you'd like to share? Please email 5-10 photos (and a brief story about your garden) to [email protected], or tag your photos on Instagram or Twitter with #FineGardening!
Whether you've never shared before or you've been featured multiple times, we want to see your garden! You don't have to be a professional garden photographer – check out our garden photography tips!
Do you receive the GPOD by email yet? Sign up here!
Hey, is anyone going to the Northwest Flower & Garden show? If so, please stop by our booth (in the seminar space) and say hi!