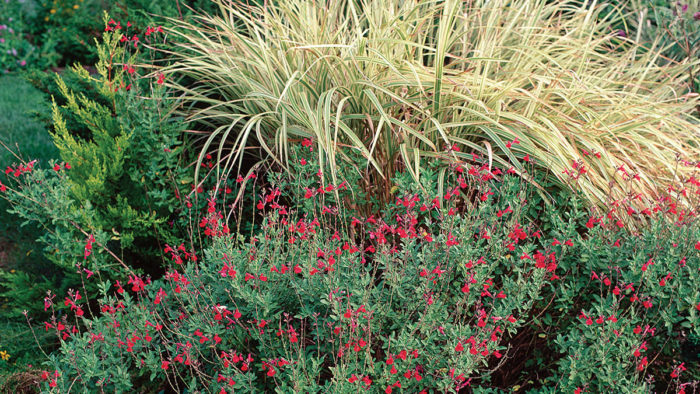 When the going gets hot and the "Sunbelt" turns into the "sweatband," smart gardeners avoid the heat by working outdoors during the cooler morning hours. The plants they tend, however, don't have that luxury. They must endure the heat of summer all day long, even if the gardener does not. There are, fortunately, some hotshot plants, typically grown as perennials in the South and as annuals in cooler climes, that blossom with aplomb during the dog days of summer.
Some gardeners have to contend with humidity or excessive rain, but here in the South, we have heat. I'm not talking about Fourth of July picnics, beach balls, and sunbathing weather but, rather, the nastier, fry-an-egg-on-the-sidewalk type of hot. There are plenty of plants that will tolerate some extreme heat, but they usually can't tolerate several months of such conditions. Moreover, the very warm night temperatures (75°F to 90°F) accompanying the hot days really take a toll because there is no respite at night for suffering plants. Nevertheless, we would all like our gardens to perform unflinchingly during the heat of summer, yielding floral color despite the inferno. And they can—if we prepare our beds properly and choose the right plants.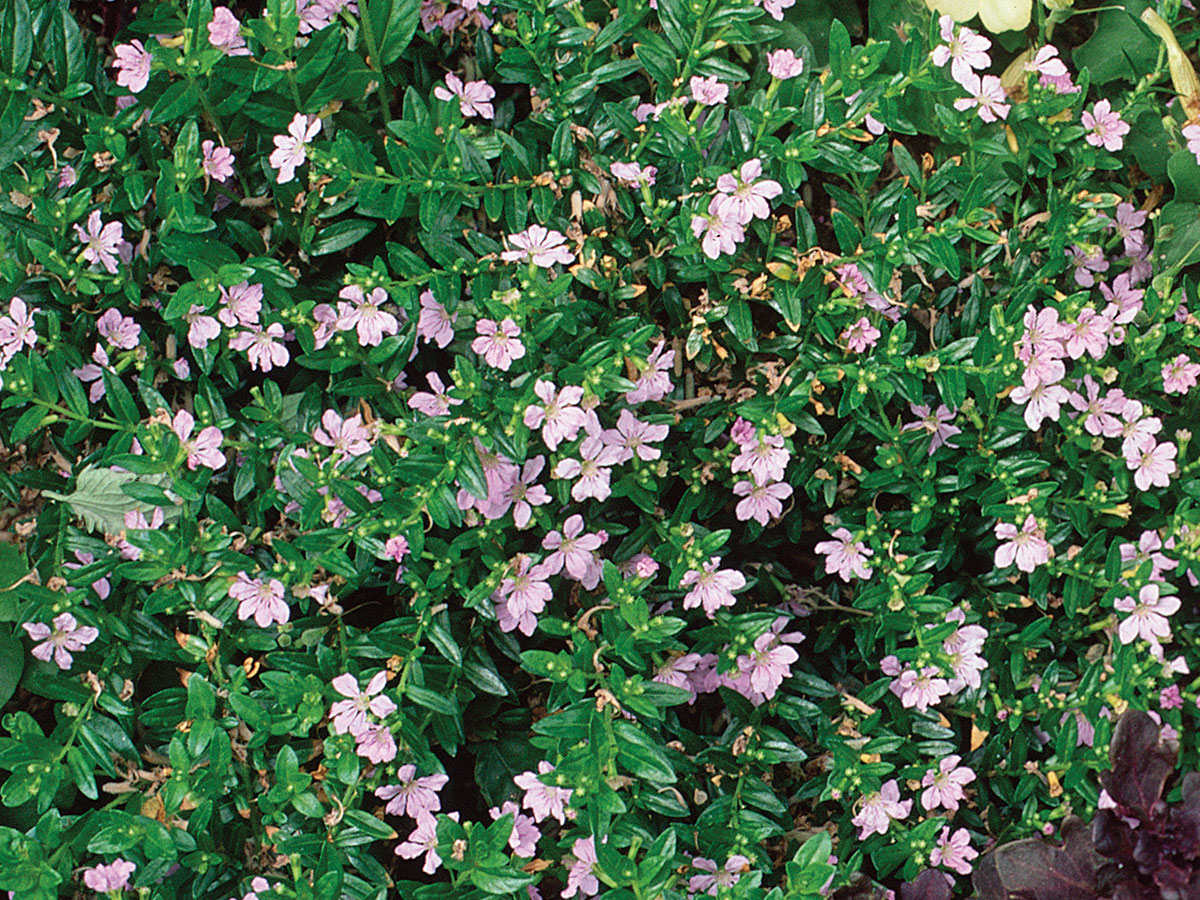 Verbena offers a kaleidoscope of colors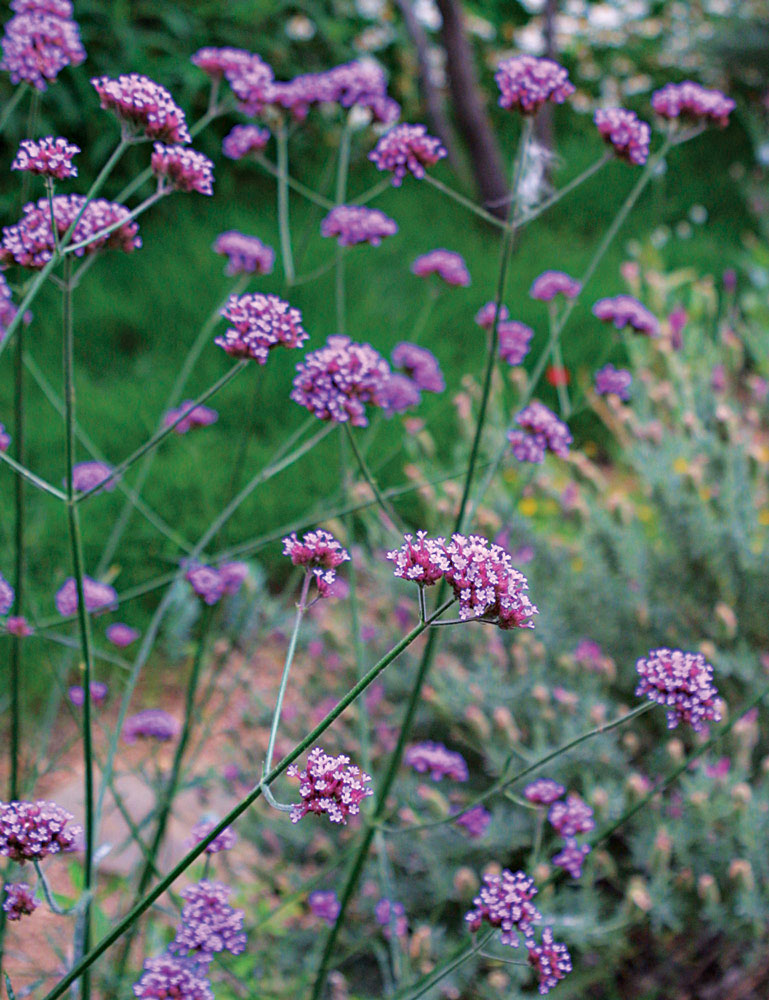 One of the best groups of plants for hot areas is verbenas (Verbena spp. and cvs., USDA Hardiness Zones 3–11), which bloom almost nonstop all summer. The most diverse of all verbenas, the moisture-loving rose vervain (V. canadensis and cvs., Z 4–10) comes in a kaleidoscope of colors, from bright, rich purple, magenta, and burgundy to pastel lavender, lilac, coral, and pink. This low-growing plant reaches 8 to 10 inches tall and can be a sprawling clump or a vigorous spreader, depending on the variety. Because of their height, these verbenas are the perfect "shoes-and-socks" companions to taller hot-weather plants that are naked at their base. The more compact and drought-adaptive Peruvian verbenas (V. peruviana and cvs., Z 7–11) play the same role in the garden but perform best in drier climates. The ruby red species and bright pink or coral-colored cultivars make neat carpets of color.
A treasured plant in many gardens is tall verbena (V. bonariensis, Z 6–11). The bright, rosy lavender flowers of this moisture-loving perennial can reach its 4-to-6-foot height in just a couple of months. Tall verbena is thin and airy, holding its tight flower heads high above its base in a cloud-like fashion.
Butterfly weed boasts beautiful blooms and seedpods
The Mexican butterfly weed (Asclepias curassavica, Z 8–11) is such an incredible performer that it's a pity that it's hardy only through Zone 8. Nonetheless, it makes a dandy annual in areas with colder winters and demands nothing more than consistent moisture, food, and sun. The plant, which grows up to 4 feet tall, is somewhat leggy but produces a nonstop show of bicolored red-and-gold blooms and decorative seedpods. An all-gold cultivar (A. curassavica 'Silky Gold') is also available for those put off by the fiesta colors of the species.
For drier venues, try the hardy butterfly weed (A. tuber­osa, Z 4–9), a native with bright golden, orange, or yellow flower clusters and beautiful seedpods in autumn. This drought-loving perennial gets only 1 to 2 feet tall, but with age, it forms significant clumps that look stunning in bloom.
Cuphea shines as a tireless performer
Most of the members of the genus Cuphea (Z 8–11) are known only in places with mild winter climates because they rarely survive anything colder than a Zone 8 winter. These tender perennials, however, make dynamite hot-weather annuals when grown outside their cold-hardiness range. Although they prefer moist heat, any of these plants are perfect for the mini-oases I create for them in my dry garden in Texas.
The firecracker flower (C. ignea, Z 9–11), also called the cigar flower, is a small, multibranched plant with 1-inch-long leaves and a steady stream of black-tipped, tubular orange blossoms produced along the branches. A related plant that's tougher and larger in leaf, flower size, and overall plant size is the hybrid 'David Verity' (C. 'David Verity', Z 8–11), which is robust and quite the workhorse under in the worst heat, as long as there is ample moisture.
Mexican heather, also called Florida heather (C. hyssopifolia, Z 8–11), makes a dense mound of layered branches neatly bedecked with tiny leaves and small crepe-paper flowers of violet, lavender, or white. A cliché in southern gardens, it is a tireless performer and is now being grown as an annual farther north. In either venue, it is best used as resilient filler, playing second fiddle to plants with more foliar or floral flair.
Hot, yes. But what about dry or wet?
---
Salvia produces a steady supply of vibrant hues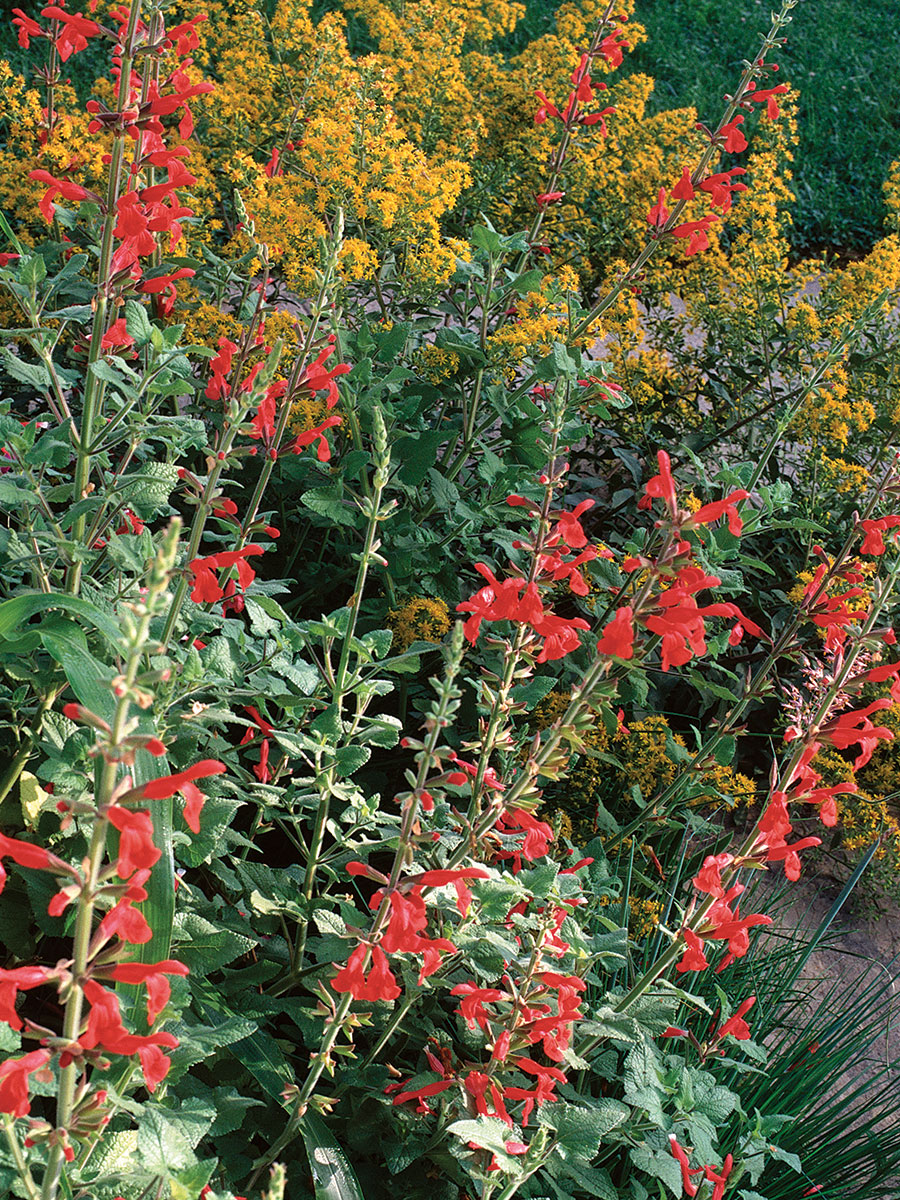 Native to the mountains of Mexico and the southwestern United States, salvias (Salvia spp. and cvs., Z 3–11), also known as sages, have become a staple of arid hot-weather gardens, although they are adaptable enough to thrive in even the humid Southeast. Autumn sage (S. greggii and cvs., Z 6–10), with its steady supply of modest yet brilliant flowers, is the most commonly cultivated sage in the West. This 2- to 3-foot-tall, small-leaved perennial shrublet comes in a range of colors, including white, hot pink, red, coral, orange, magenta, peach, and pale yellow, and will do equally well in all parts of the Sunbelt.
A close cousin to autumn sage is cherry sage (S. microphylla and cvs., Z 7–11), which is also a perennial shrub­let but with leaves and flowers a little larger than those of autumn sage. Adaptable to both wet and dry heat, cherry sage is available, so far, only in shades of pink, red, and magenta. For a sage with a larger presence in the garden, I grow red mountain sage (S. darcyi, Z 6–10), a robust herbaceous perennial with 2-inch-long, spade-shaped, sticky, aromatic leaves and tall spikes of 1-inch-long lipstick red flowers. A large and slowly spreading plant that will eventually grow to 4 feet tall, red mountain sage enjoys rich soil and some moisture.
Lantana fills a scene with a festival of flowers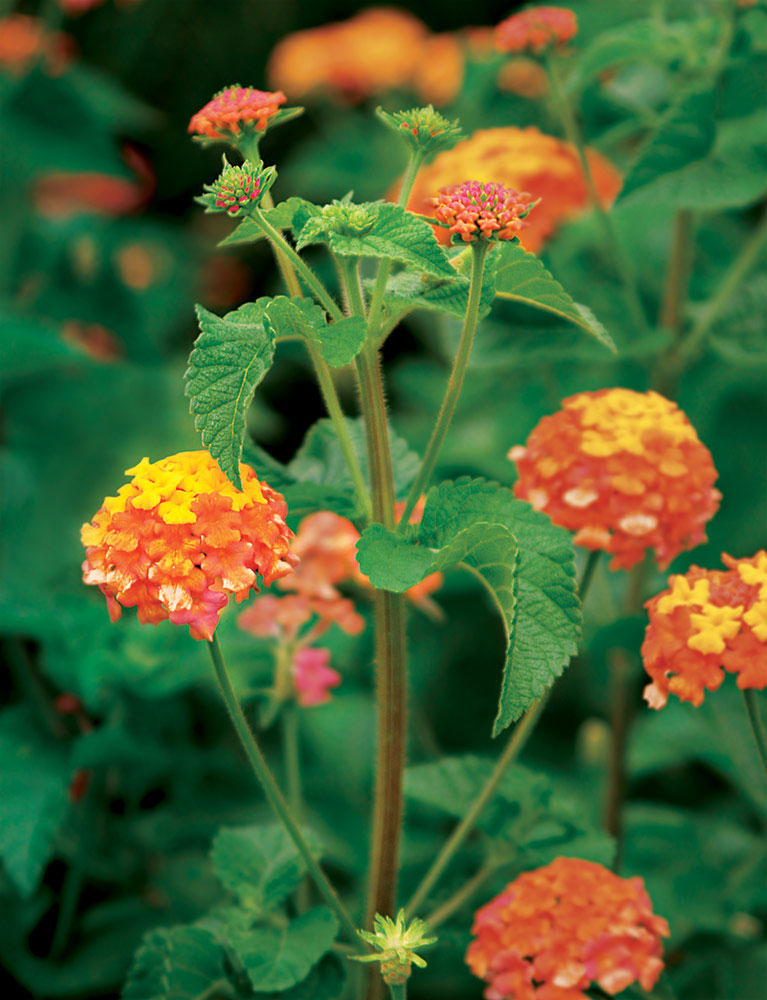 The confetti colors of blooms within a single half-dome head of a lantana flower excite some while reminding others of yesterday's tired news. It is a matter of taste, of course, but I tip my hat to any plant as durable, drought tolerant, and floriferous as this garden stalwart. Lantanas (Lantana spp. and cvs., Z 7–11) need only a combination makeover to render them more delectable to the jaded gar­dener. New hybrids, meanwhile, offer increased cold hardiness (up to Zone 7) and new hues of multicolored blooms that may not be so offensive to some.
Trailing lantana (L. montevidensis and cvs., Z 8–11, third from top photo, p. 48), a low-growing woody shrub that can be treated as a herbaceous perennial, cloaks itself with lavender flower heads similar to those of verbena but can cover more ground than its herbaceous relative. New hybrids without the rapacious spread yield white, soft yellow, or golden blooms on floriferous plants.
The largest lantana shrub, also grown as an herbaceous perennial, is common lantana (L. camara cvs., Z 8–11), with its pink, orange, and yellow festival-toned flowers. Hybrids of common lantana are available in crazy color combinations like pink, lavender, and yellow, along with the old-fashioned red-, orange-, and yellow-flowered version.
—Tom Peace is a Fine Gardening contributing editor and the author of Sunbelt Gardening.
Photos, except where noted: Tom Peace