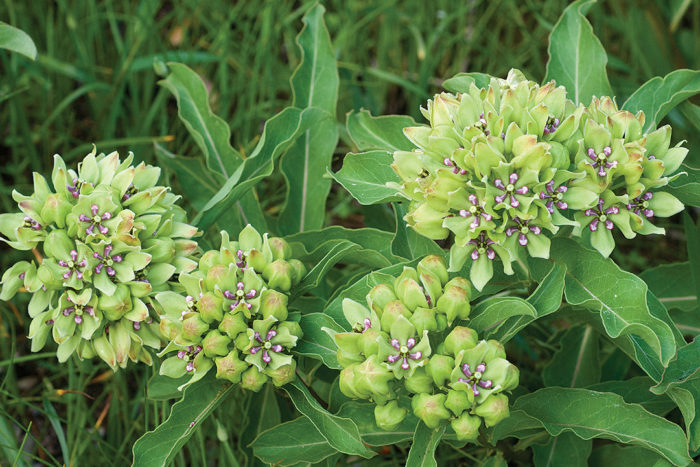 There are so many garden lessons to be learned, and like many lessons, you generally learn best when it's the hard way. I have killed many beautiful, rare, and expensive plants due to poor understanding (or acceptance) of their environmental needs. Temperature, water, light—these are all factors that vary by site, as does each plant's capacity to cope with them. Some plants really can grow almost anywhere, but most can't. My home sits atop an exposed sandy knoll, surrounded by pine and oak, in the midcoast of Maine. To describe the site as well drained is an understatement. In summer, when the sun is at its zenith, I feel I can hear what's left of my lawn screaming for mercy as it fades to brown. Conditions have been especially trying in recent years, as many parts of the United States, including New England, have suffered serious summer drought conditions. Any year can quickly become the last for many typically reliable plants.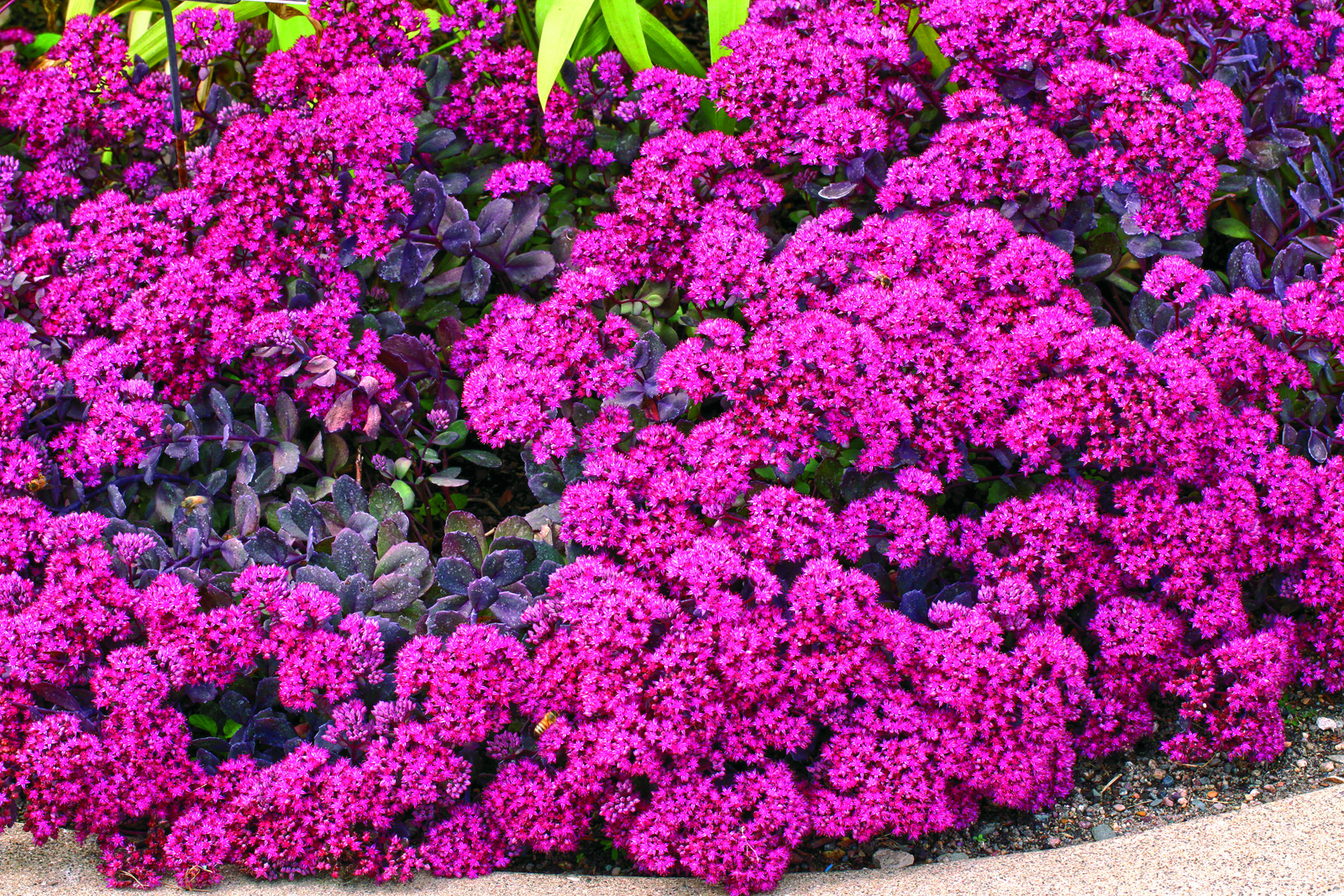 In some of my earliest beds, I included plants I had considered adaptable and drought tolerant, such as coneflower (Echinacea spp. and cvs., Zones 4–9), black-eyed Susan (Rudbeckia spp. and cvs., Zones 3–9), bee balm (Monarda spp. and cvs., Zones 4–9), and catmint (Nepeta spp. and cvs., Zones 4–9). To my dismay, I discovered all of these go-to plants suffered and demanded more frequent drinks than I think they should need to stand upright. This sent me on a hunt for some plants that could withstand xeriscape conditions. I did cave by creating some garden spaces that take mercy on their tenants by providing soil amendments, mulch, and occasionally supplemental water. But some I have left to endure the hot and dry as I have explored what can grow well there without any help—in fact, with a good dose of neglect.
Sedums are one group of plants that took a long time for me to get into. Is it the tall salmon one or the leggy, crawly one that has tiny, colorless flowers? I felt this way until being introduced to the hybridizing efforts of Chris Hansen in Michigan. After exam­ining what was already available on the market, he decided that gardeners needed a more diverse and showy selection of ground-cover sedums that had full-season interest; consistent, good foliage; and epic flower displays. After many years, he created the SunSparkler series. My favorite is 'Dazzleberry'. Its smoky, blue-gray foliage is dense and looks great from frost to frost. In late summer, large inflorescences erupt profusely with flowers in brilliant raspberry tones. I have a few clumps planted around some small, dark boulders and always look forward to a big show in the dog days of summer.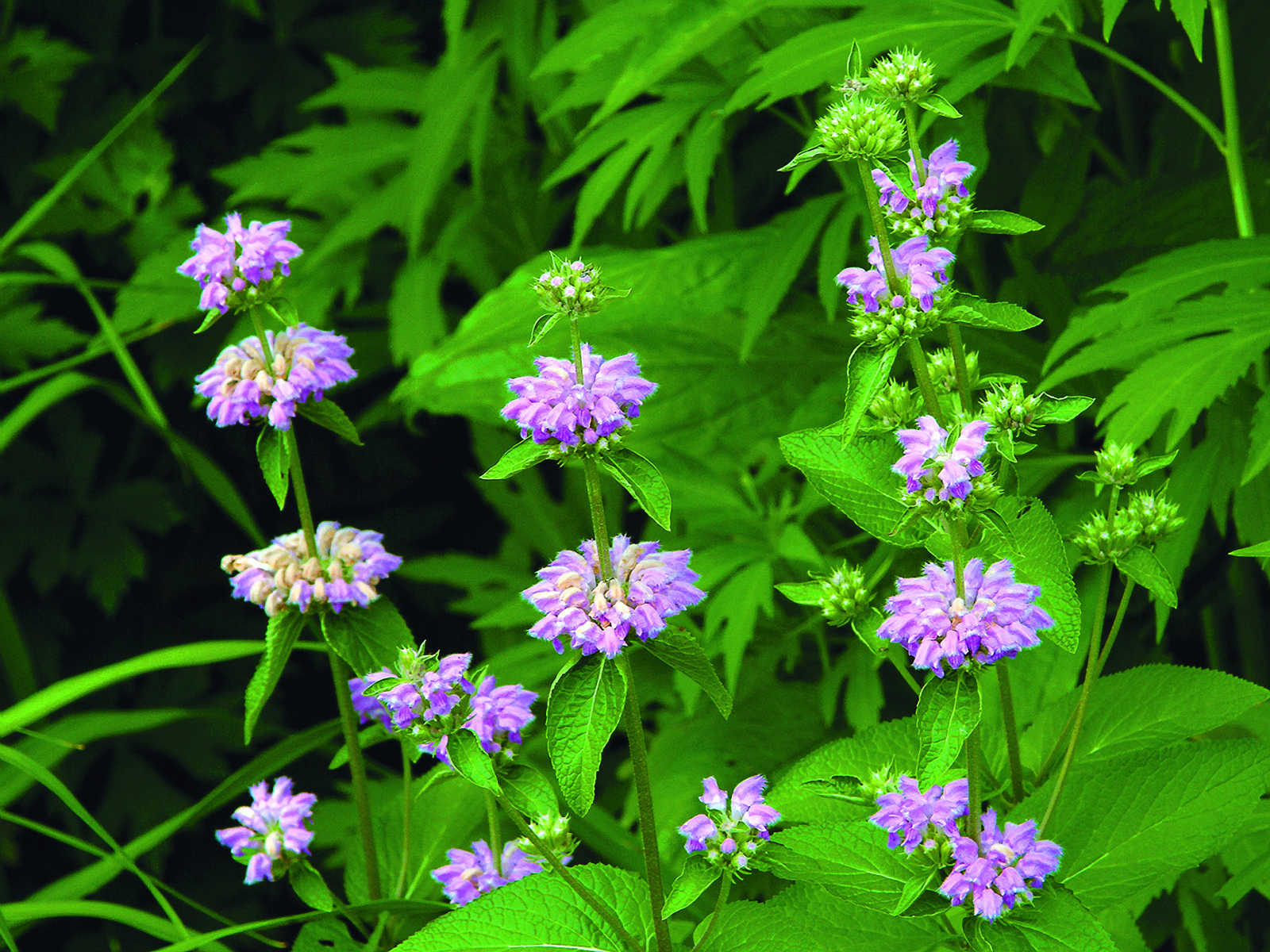 Kashmir sage is a stately and rugged perennial, almost unknown to North American gardens. Like its better known—yet still underused—cousin, Jerusalem sage (Phlomis russeliana), it is an upright clumper. Like many plants adapted to retain water and persist through drought, it has distinctive hairs on almost all its parts, most obviously the leaves. In midsummer, this plant erects rigid, radial displays of tubular, lilac flowers that encircle and ascend the inflorescences. The bloom lasts for many weeks, and in some conditions (longer growing seasons), it may rebloom in fall if cut back before going to seed. I maintain my plants with an early summer haircut, which serves to decrease ultimate height but to ­increase branching and plant density, leading to more flower stalks. While this plant takes summer's abuse and is deer resistant, winter wet is its true kryptonite and can reduce it to a pile of fuzzy mush in spring.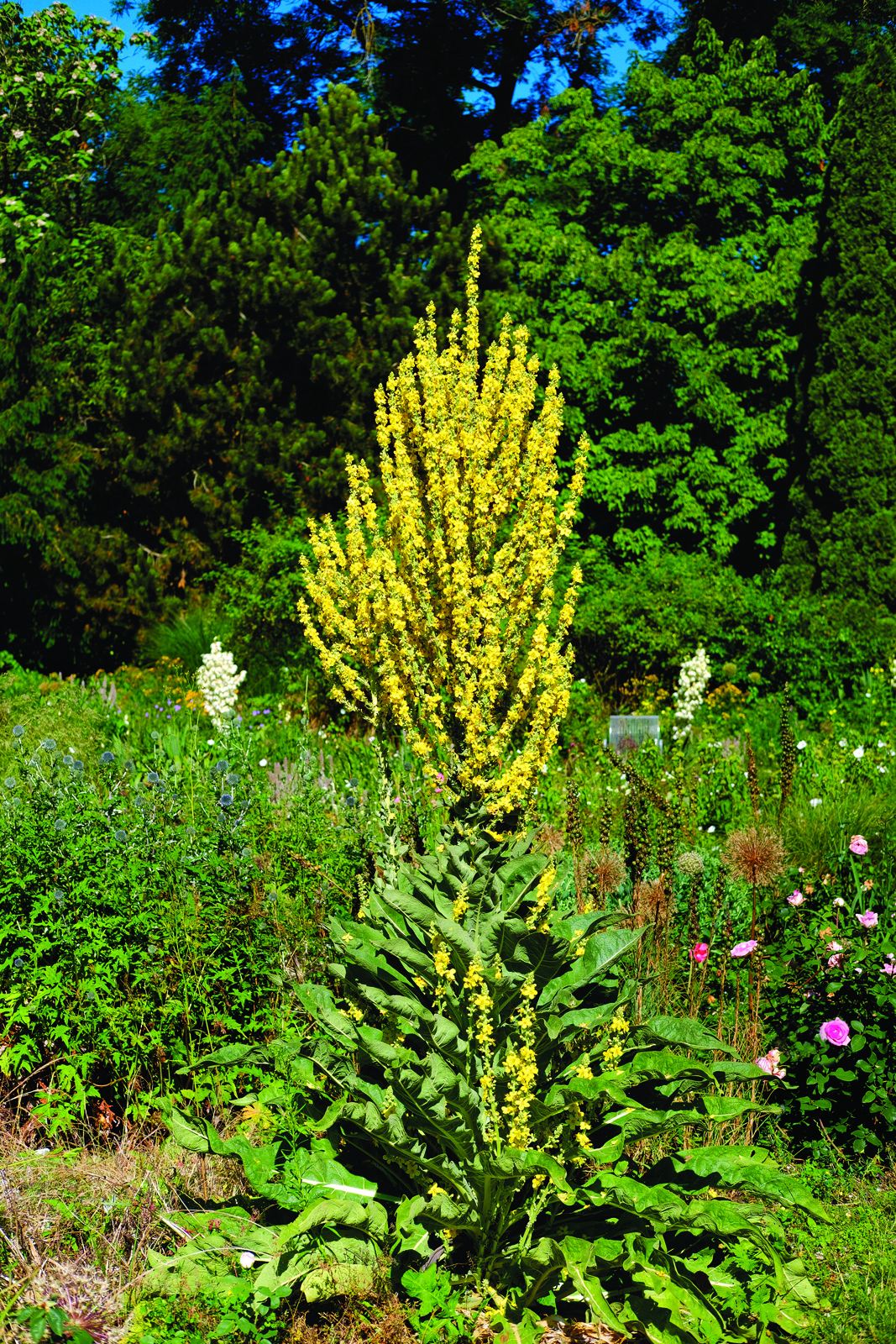 At the Coastal Maine Botanical Gardens where I work, Greek mullein is one of the most impressive spectacles in summer. Native to mountainous sites in southern Greece and Turkey, this mullein is a skyscraper among perennial plants. When in full bloom, it can reach more than 8 feet, with hundreds of quarter-size, yellow blooms. Long, practically furry leaves in a foliar mound are reminiscent of giant, floppy rabbit ears. In early summer, a thick central stalk bolts from the constricting leafy base. This widely branched inflorescence reaches for the clouds as it expands into a massive candelabrum. Bloom typically begins in early summer here in Maine and continues into fall. 
Greek mullein is a moderate feeder, and sites with high fertility may cause it to become overly leafy as well as more fragile and susceptible to breakage. In terms of maintenance, you can ignore it for most of the year. But come fall, this plant may need a chain saw to hack down. It will keep its leaves year round, flattening to the ground with the arrival of hard frosts. The foliage will persist into the next season but often look tattered and ratty, so I tend to shear it off in fall. Few plants have such a presence. Sadly, though, it is generally short lived, persisting five years or less.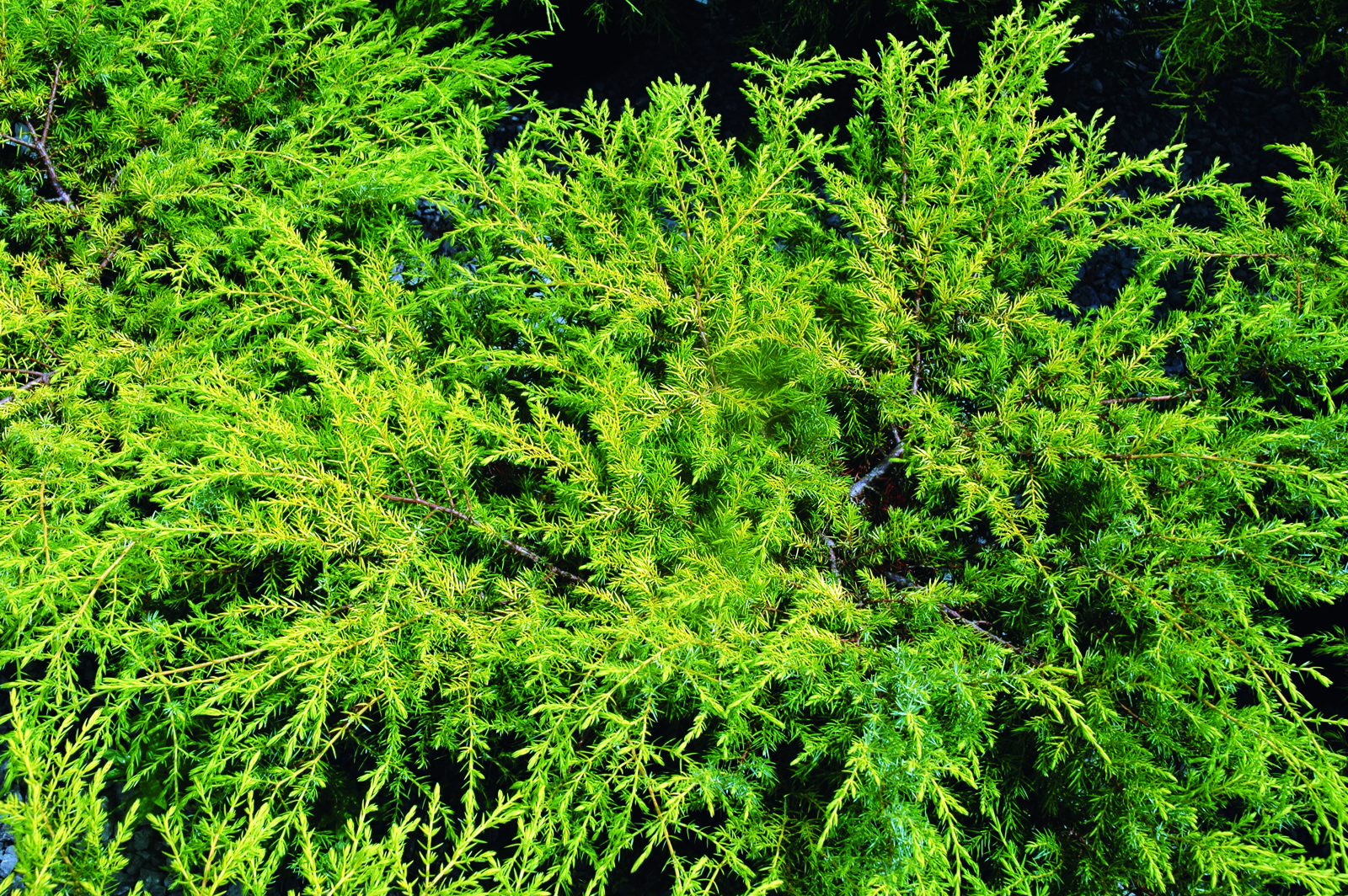 Flat juniper (Juniperus communis var. depressa) maintains the title of woody plant with the largest geographical range. Yes, it's just a juniper, but I ­admire it for its persistence and superb performance, even in the most inhospitable soils. Golden flat juniper is one variety that's adaptable to many conditions, including dry, acidic soils composed of duff, sand, or gravel; all seem to suit. In a spreading vase shape, new growth emerges in spring even brighter than the mature needles, which are a ­medium, bronze-touched gold. Like most varieties in the species, this selection tends to turn a bit brown in winter, giving it a duller and maybe even sickly auburn look. But it persists, brightening up in spring and shedding the brown overtones. It is not a good choice for sticky, southern climes, so limit this tough treasure to northern gardens. It is great as a foundation planting and provides great contrast with green or even blue conifers.
Many North American natives do well in tough spots, too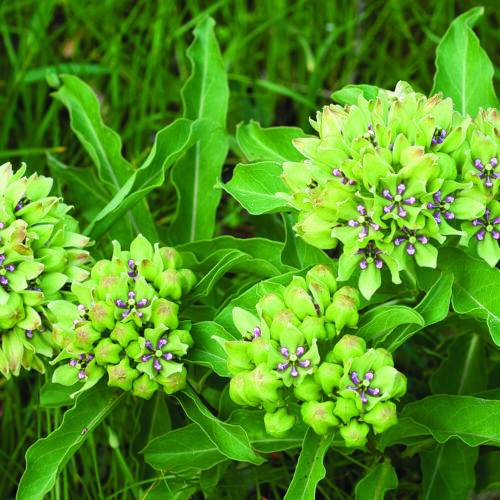 Milkweeds have certainly been hot horticultural items for many years now, as conscientious gardeners have taken enormous steps to provide habitat and sustenance to the monarch butterfly. Typically, only a few clumping species of these North American natives are available on nursery benches, and I have never seen a hybrid. Though they are rarely offered, lesser known milkweeds are similarly great for those beloved butterflies. Spider milkweed has a small stature and a form that can be arching-upright to sprawling. This species is one of the first milkweeds to bloom, with starlike flowers that sport two-parted petals: a soft chartreuse, cup-shaped hood sheltering a protruding lavender-purple horn. Masses of blooms open on large umbels throughout spring. 
The early bloom extends the season for migrating monarchs looking for a great stop for food and egg laying. Unfortunately, this plant can be hard to find in nurseries, perhaps due to its long maturation time and/or its dislike of extended periods in a pot (like many tap-rooted plants). I have found that spider milkweed grows easily from seed and performs best in lean, dry soils with a neutral to alkaline pH. I have also found that it resents competing with other plants for garden space. 
There are over 250 penstemon species, most of which are native to the western United States and Mexico, with flowers ranging from blue to white to red. Most species in this genus are very drought tolerant, growing in wild places of the Mountain West where soil means only "smallish rocks." In the last few years, many new and very showy selections and hybrids have hit both the annual and perennial markets. But 'Delfts Blue Riding Hood' penstemon (seen here) absolutely stopped me in my tracks the first time I saw it. It's shockingly bright blue, like the treasured and ephemeral Himalayan poppies so many of us garden nerds dream about. 'Delfts Blue Riding Hood' forms a compact, well-branched plant with 1-foot-tall stalks of tubular blue flowers, each flushed lavender at the base with a contrasting white throat. I always get a kick out of watching chubby bumblebees trying to squeeze into the tight recesses of the flowers. This cultivar has shown to be a good rebloomer if cut back after blossoming and before seed set. Sharp drainage is critical for its persistence in the garden.
'Delfts Blue Riding Hood' penstemon is a pollinator magnet.
Name: Penstemon 'Delfts Blue Riding Hood' (Zones: 5–8).
Size: 24 to 30 inches tall and 18 to 24 inches wide.
Sweet fern is one shrub native to eastern North America that I have come to respect. Like the juni­per, this upright, deciduous woody can grow in some of the worst conditions imaginable—rocky, dry, and miserable. It features dark green leaves (to 4 inches long) that are narrow, lustrous, and very fernlike in appearance. While it is adaptable to ­many conditions and soil types, it does best in ­acidic, well-drained spots with low fertility. With the help of bacteria, sweet fern can fix nitrogen in soils. It spreads by underground rhizomes to eventually form colonies in depleted soils.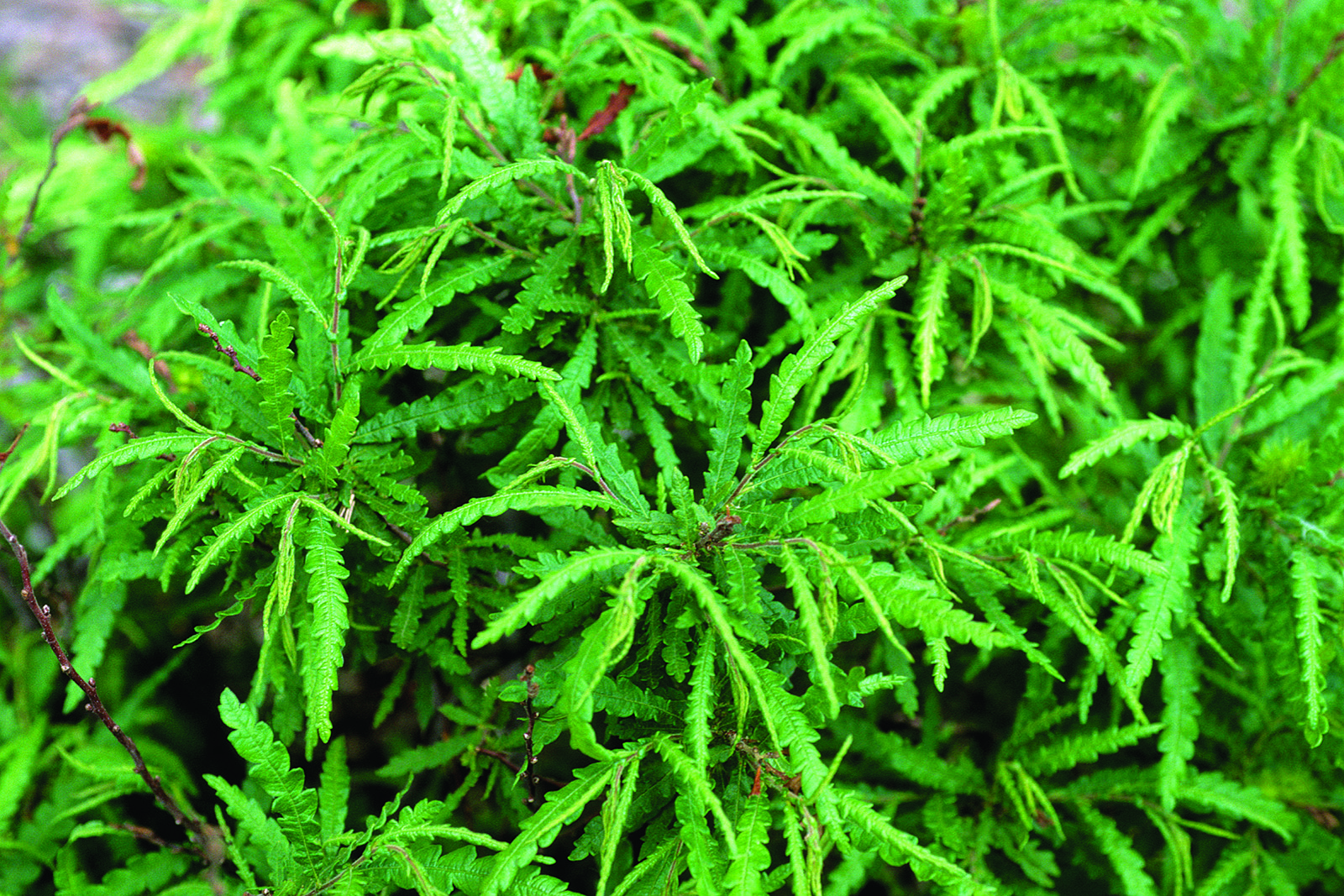 Sweet fern is also tolerant of hard pruning. I sometimes find it growing in my lawn and frequently mow it down. This is where I get to enjoy the pungent but sweet, turpentinelike aroma given off by the damaged leaves. Unfortunately, it is not easy to propagate, although you can find it at specialty nurseries. Further complicating acquisition of this fine plant, it's difficult to transplant, so leave it where it is. Though rarely seen in cultivated landscapes, it's beautiful and tough as nails. 
After writing a long dissertation on the genus Viola, I am a bit surprised I can even look at a violet. Birdfoot violet, though, is one I wish I could see in bloom every day. I would argue that it's the most beautiful of all native North American violets. The flowers are larger than those of all other species, with blooms that could easily hide a quarter. And when those flowers come, oh, do they come! I would liken a mature plant to a fall blooming chrysanthemum in terms of shape and floral production. To add even more interest, this violet has two unique color forms: delicate lavender and a magnificent bicolored form (photo p. 52). The foliage is deeply dissected, too.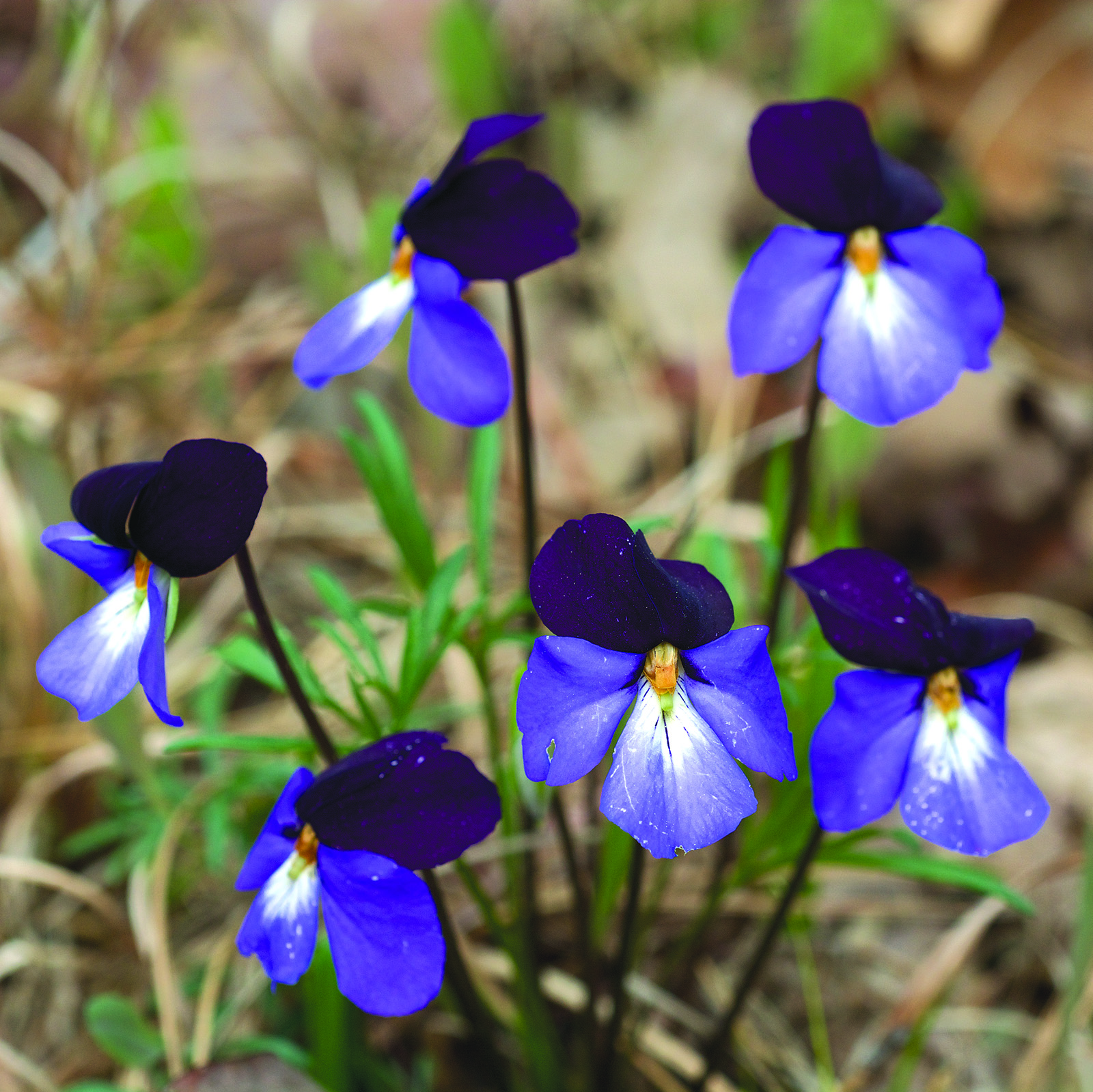 I have seen many descriptions of this plant that claim it is difficult or impossible to cultivate, which is probably true if you were to plop it into a typical garden environment. It would simply rot away—no questions asked. This guy does not tolerate rich, organic garden soils and excess moisture. In fact, I have successfully grown it in pure sand. This is another plant that does not take competition well, so give it a little space. 
'Top Notch' cleft phlox is better-behaved than its creeping cousin.
Name: Phlox bifida 'Top Notch' (Zones: 4–8).
Size: 4 to 6 inches tall and 12 to 24 inches wide.
I was introduced to the ground cover 'Top Notch' cleft phlox (seen here) on a collecting trip in the sandy prairies of northwest Indiana. The compact, low-mounding habit of this mat-forming species makes it more reserved than its relative moss phlox (P. subulata). With a cursory glance, however, one might confuse the two. As the common name, cleft phlox, refers, the plant has deeply divided, Y-shaped petals, giving the flowers a feathery look. Given this, and the plants' tight habit, I would argue that this species has better flower coverage than the more readily available moss phlox. 'Top Notch' is a superb performer in my well-drained, sun-blasted garden. The compact clump of needlelike foliage is masked by an awesome show of icy blue flowers in midspring, some weeks before its creeping cousin. Thankfully, I have not seen this species suffer the languishing or center dieback that large patches of moss phlox get as it ages. 
Daniel Robarts is a horticulturist, propagator, and plant breeder at Coastal Maine Botanical Gardens in Boothbay.