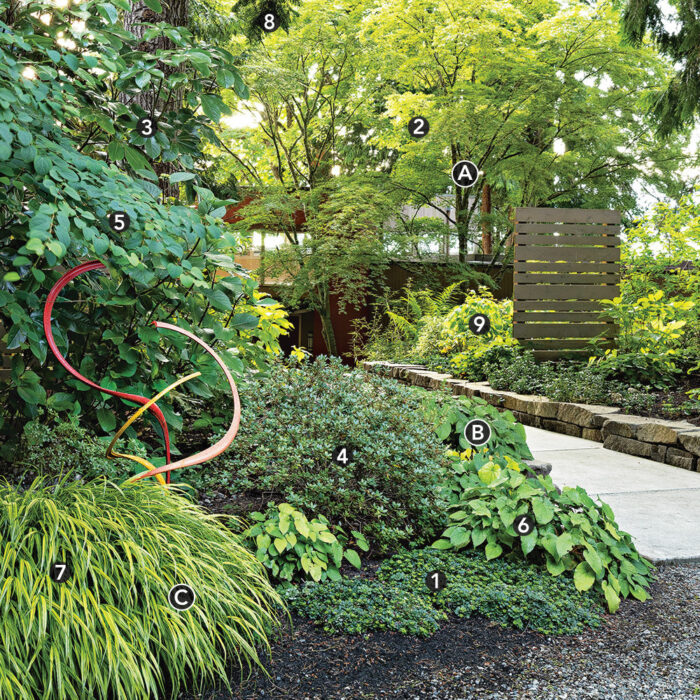 A. Understory trees and shrubs provide screening without blocking light
The lovely, light green Japanese maples underneath a towering Douglas fir provide filtered screening to the house without obscuring it or blocking light into the upper windows. An unusual Kiwi Gem™ shrub panax provides a lush, tall, evergreen element. This shade plant resents stiff winds or frost. The tall canopy of large trees gives it the shelter that it needs to flourish. Together the Kiwi Gem™ shrub panax and a 'Purple Gem' rhododendron block a utility area with a large, unsightly propane tank.
B. Blended hardscaping and spilling fillers soften the concrete entryway
Concrete in an entryway can be very harsh and unnatural. Using ledgestone in colors similar to that of the concrete helps blend it into the garden. 'Lemon Daddy' hydrangea springs up behind three-leaved stonecrop planted next to the ledgestone. A combination of epimedium and more three-leaved stonecrop planted in the bed opposite adds to the softening effect. These plants also hold the soil in place so it doesn't spill into the pathway during wind or rainstorms.
C. Bright, contrasting colors delineate the bed from the driveway
A swath of 'Aureola' Japanese forest grass, three-leaved stonecrop, and epimedium defines the edge of the driveway. These plants offer a bright spot of color in which to sit a spiraling red-and-yellow sculpture. A large katsura tree towers above the scene. The interplay of fall color between the katsura and the 'Aureola' Japanese forest grass is amazing!
Key players
1. Three-leaved stonecrop (Sedum ternatum, Zones 4–8)
2. Japanese maples (Acer palmatum and cvs., Zones 5–8)
3. Kiwi Gem™ shrub panax (Pseudopanax laetus, Zones 7–9)
4. 'Purple Gem' rhododendron (Rhododendron 'Purple Gem', Zones 4–8)
5. Katsura (Cercidiphyllum japonicum, Zones 4–8)
6. Epimedium (Epimedium cv., Zones 3–8)
7. 'Aureola' Japanese forest grass (Hakonechloa macra 'Aureola', Zones 5–9)
8. Douglas fir (Pseudotsuga menziesii, Zones 4–7)
9. 'Lemon Daddy' hydrangea (Hydrangea 'Lemon Daddy', Zones 6–9)
---
Susan Calhoun is the owner of Plantswoman Design in Bainbridge Island, Washington.
View more on dry shade
A Deer-Proof Garden Design for Dry Shade