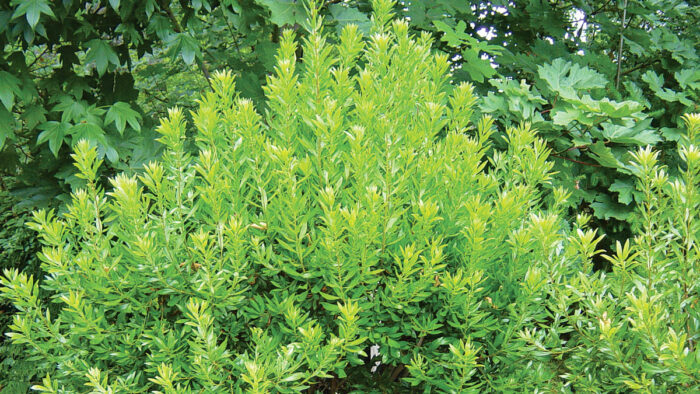 As William Cullina mentions in his article on plants for birds, the sad reality is songbirds are disappearing: "Habitat loss, pesticides, and the accompanying decline of insect populations have contributed to a loss of 25 to 30 percent of North American songbirds since 1970."
But gardeners can help, and it just requires buying new plants! By growing more plants that help support local bird populations, you can do your part. Find plants for birds in the Northwest below, and discover even more plants for birds in William's article, Native Plants for the Birds.
---
1. Golden Raindrops® Crabapple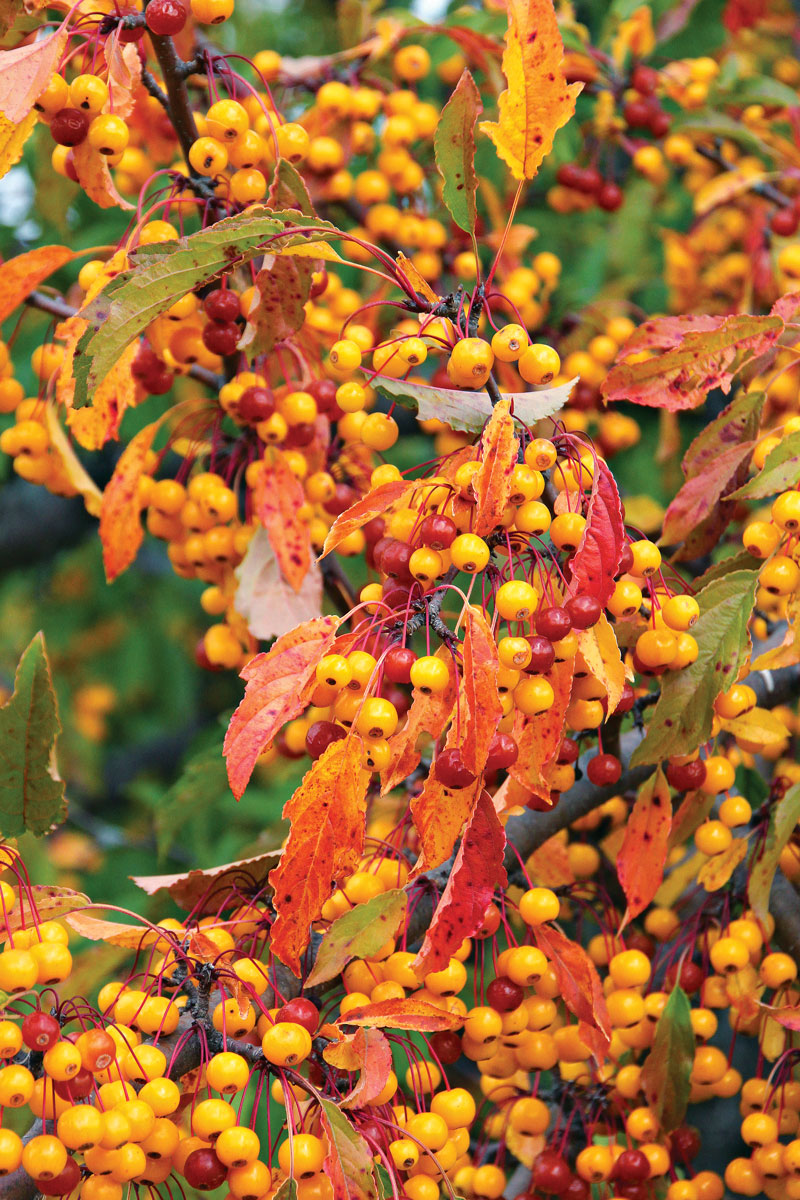 Name: Malus transitoria 'Schmidtcutleaf'
Zones: 3–8
Size: 20 feet tall and 15 feet wide
Conditions: Full sun; adapts to many types of well-drained soil
Native range: Eastern Asia
This bird-friendly tree provides shelter, safe nesting, places to perch, and winter food. Crabapple trees have gotten a bad rap because of their messy fruit drop, but the tiny fruit of Golden Raindrops® clings to the branches through the winter, feeding birds over a long season. The low-growing, vaselike habit makes this an excellent choice for small gardens. It offers multiple seasons of interest, with pale pink to white flowers in spring, followed by deeply cut foliage that turns bright orange to yellow in fall. Bare branches dotted with clusters of golden crabapples round out the year.
2. 'King Edward VII' Red-Flowering Currant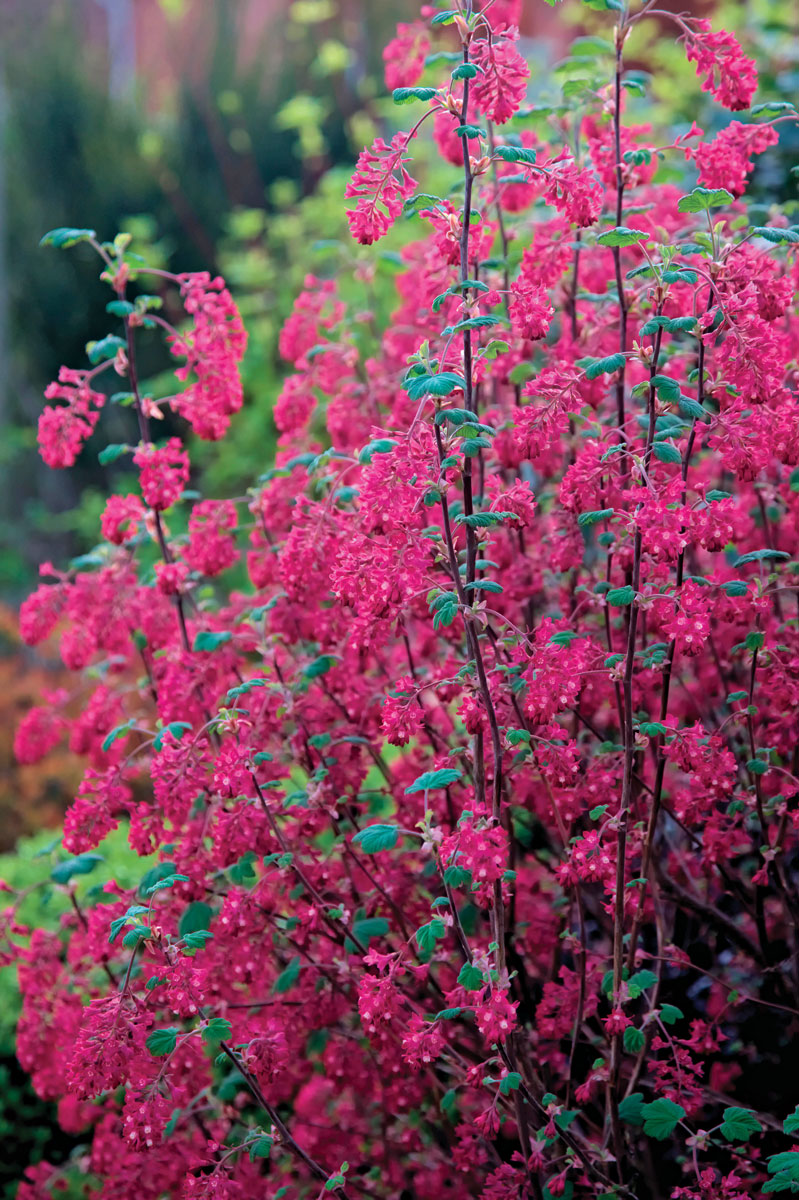 Name: Ribes sanguineum 'King Edward VII'
Zones: 6–9
Size: 6 to 8 feet tall and wide
Conditions: Full sun to partial shade; well-drained soil
Native range: Coastal areas from southwestern British Columbia through western Washington, Oregon, and Northern California
A named cultivar of a fabulous Pacific Northwest native, 'King Edward VII' provides birds with both shelter and food. The vibrant, deep fuchsia flowers attract hummingbirds and provide them with nectar in late spring. As leaves fill the branches in early summer, the shrub provides shelter for other birds, and small dark berries supply food from late summer into fall. I love grouping three or more plants to create a natural thicket at the edge of a woodland or border. This easy-to-grow shrub flowers more heavily in full sun but tends to be more drought tolerant in partial shade once established.
3. Pacific Wax Myrtle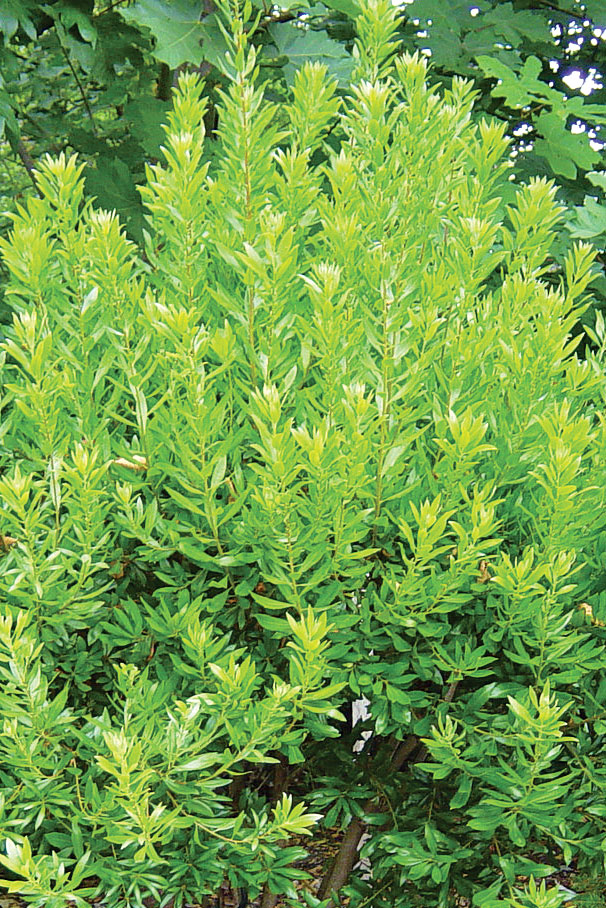 Name: Morella californica syn. Myrica californica
Zones: 7–9
Size: 8 to 10 feet tall and wide
Conditions: Full sun to full shade; moist, well- drained soil
Native range: Coastal areas of the Pacific Northwest
Pacific wax myrtle is a versatile evergreen shrub that is underutilized in garden design. Its dense, shrubby habit shelters birds through winter and gives them nesting places in spring. Tiny white blooms in late May are followed by small dark fruits in fall that persist through winter. This is a good screening plant; it makes a fabulous addition to mixed hedgerows with other bird-friendly plants and can be planted as shelter near bird-attracting perennials and feeders. Pacific wax myrtle tolerates some pruning and shaping, but I think its natural branching habit is beautiful. It is drought tolerant once established and suitable for gardens in coastal areas because of its tolerance to salt spray.
4. 'White Swan' Coneflower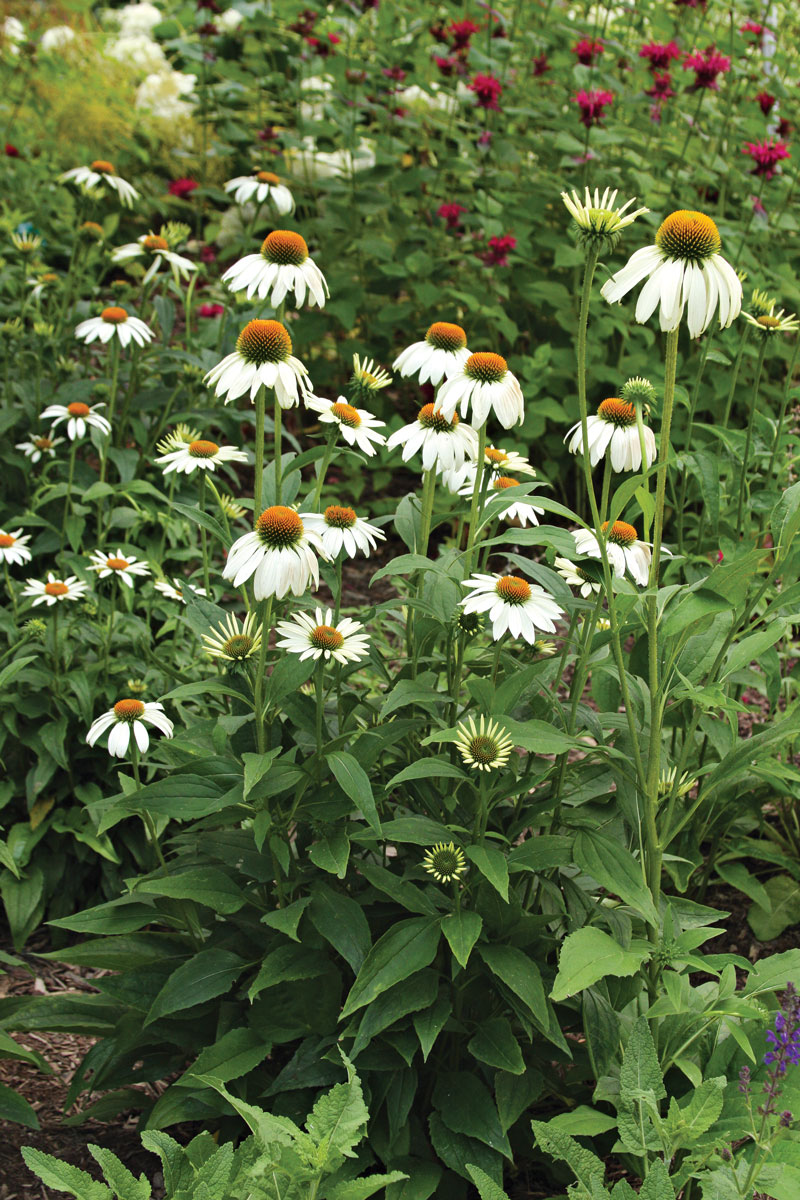 Name: Echinacea purpurea 'White Swan'
Zones: 4–8
Size: 2 to 3 feet tall and 2 feet wide
Conditions: Full sun; average to lean soil
Native range: Central and southeastern North America
'White Swan' is an excellent version of the classic coneflower, with slightly drooping white petals that stay nice and bright during the flowering season. Give it the right conditions and you will be rewarded with abundant summer blooms that attract butterflies and other pollinators. If you do not cut down the dead flowers, their rigid stems will stay upright most of the winter, offering a bounty of seeds for songbirds. Avoid fertilizer and heavily composted soil, which tend to make coneflowers wimpy. The plants can be slow to emerge in late spring, but once the summer heat gets them blooming they will keep producing flowers into fall.
---
Sue Goetz is a horticulturist, landscape designer, author, and speaker in Tacoma, Washington.