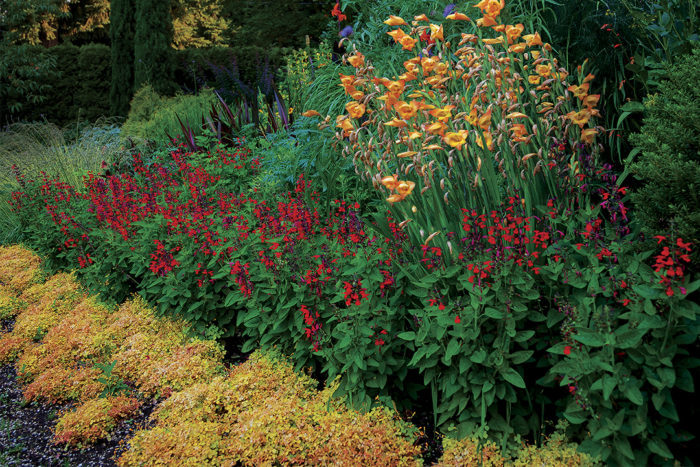 Everyone wants his or her garden to be noticed. Moments of subtlety are great, but they work best when they are in the midst of moments of impact. Drifts and mass plantings are perfect for making these bold statements, and they do so without using an enormous variety of plants (which get harder and harder to coordinate as you add them) or obscure botanical oddities, which certainly grab one's attention but can require plenty of extra care. Drifts can actually reduce maintenance by limiting the number of plants you have to deal with. But choose your plants wisely. Here are three things to keep in mind when planning a can't-miss planting: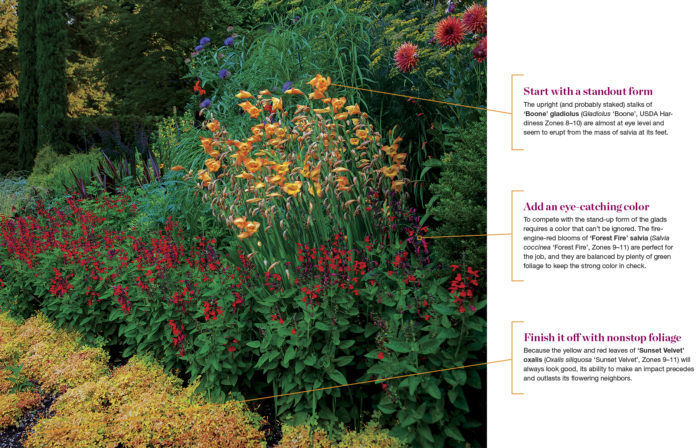 Start with a Standout Form
The upright (and probably staked) stalks of 'Boone' gladiolus (Gladiolus 'Boone', USDA Har­diness Zones 8–10) are almost at eye level and seem to erupt from the mass of salvia at its feet.
Add an Eye-Catching Color
To compete with the stand-up form of the glads requires a color that can't be ignored. The fire-engine-red blooms of 'Forest Fire' salvia (Salvia coccinea 'Forest Fire', Zones 9–11) are perfect for the job, and they are balanced by plenty of green foliage to keep the strong color in check.
Finish it off with Nonstop Foliage
Because the yellow and red leaves of 'Sunset Velvet' oxalis (Oxalis siliquosa 'Sunset Velvet', Zones 9–11) will always look good, its ability to make an impact precedes and outlasts its flowering neighbors.
---
Steve Aitken is the editor.
Photo: David E. Perry