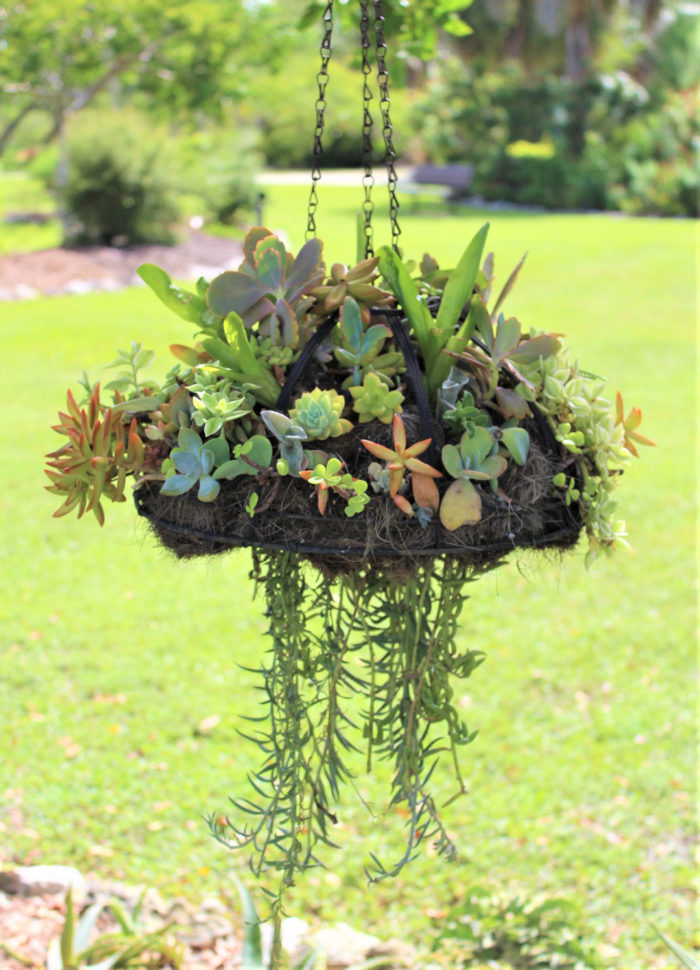 Today we're visiting with Joyce Laubach to see a beautiful project she worked on in a park near her new home in Florida. This is a fun reminder that there are often opportunities to volunteer to create gardens in public spaces, which is a terrific option if you don't have space to garden at home, have filled that space already, or just want the fun and satisfaction of creating beauty for others to enjoy.
Greetings from sunny southwestern Florida, where I moved three years ago from southeastern Pennsylvania. (See my old garden as featured in GPOD in 2014: Joyce's Garden in Pennsylvania.) Gardening has been a key ingredient in my acclimation to life in retirement. I became a Florida Master Gardener in 2018, which provided me with the education needed to learn about the new world of gardening in Florida's Zone 10. I bucked convention somewhat by specializing in succulents. Some people told me that the humidity and rain in summer would prevent succulent success. But when I surveyed other gardens and saw aloes, agaves, and other succulents flourishing, and realized the similarity of growing conditions to the succulent glory of Madagascar, I became determined to follow my heart. The key to success has been essentially the same as with any garden—right plant, right place, plus right soil prep.
Today I wish to share photos of the succulent bed I helped update in the Punta Gorda Nature Park along with Jeri Searle. This park, on formerly vacant and overgrown city property, was created by a dedicated group of volunteers, which I joined, called the Punta Gorda Isles Green Thumbs. The fellowship and gardening passion of this group became another aspect of my happy retirement activities.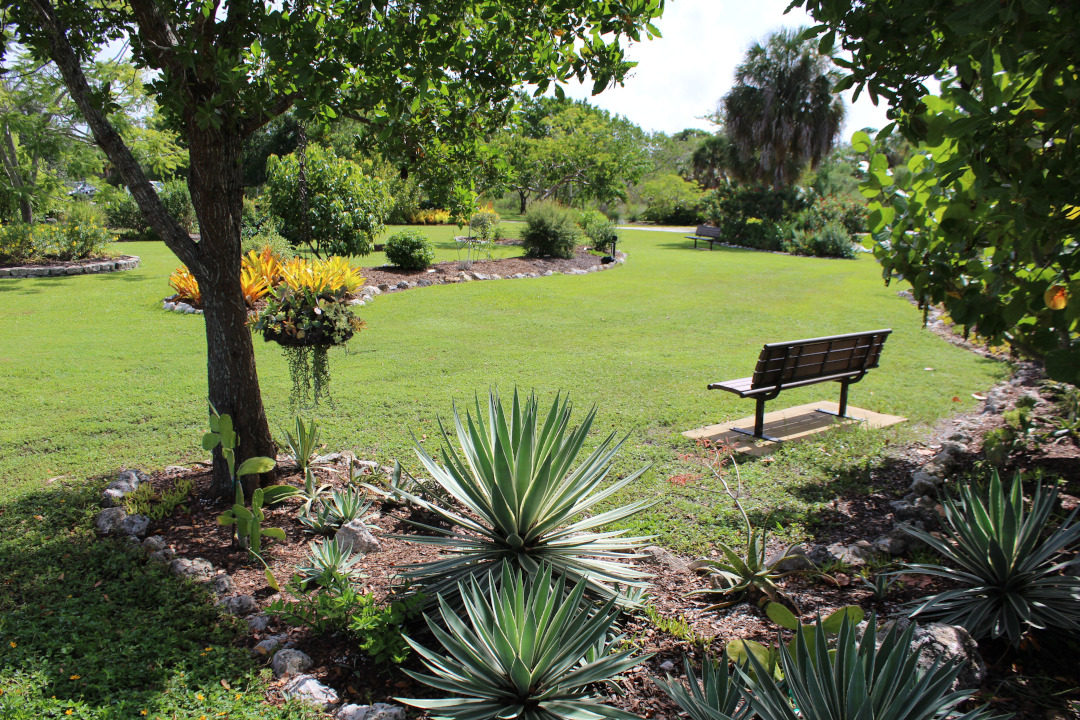 Each of the more than twenty separate beds across the park features a somewhat distinct subset of Florida-friendly plant materials. Considering their popularity, succulents were a logical focus for one of the beds. Paths, picnic tables, and signage throughout the park allow visitors to enjoy this green space and the adjacent wetlands, and the undisturbed "old Florida" profusion of plants such as ferns, Sabal and saw palmetto palms, milkweeds, and others.
The succulent bed is backed by a small grove of the popular coastal sea grape trees (Coccoloba uvifera), which provide some protection from the intense sun. Most critically, the bed was mounded and amended with gravel for improved drainage. Most of the plants were donated, and their exact varieties are unknown.
Close-up of sea grape, showing how it got its name.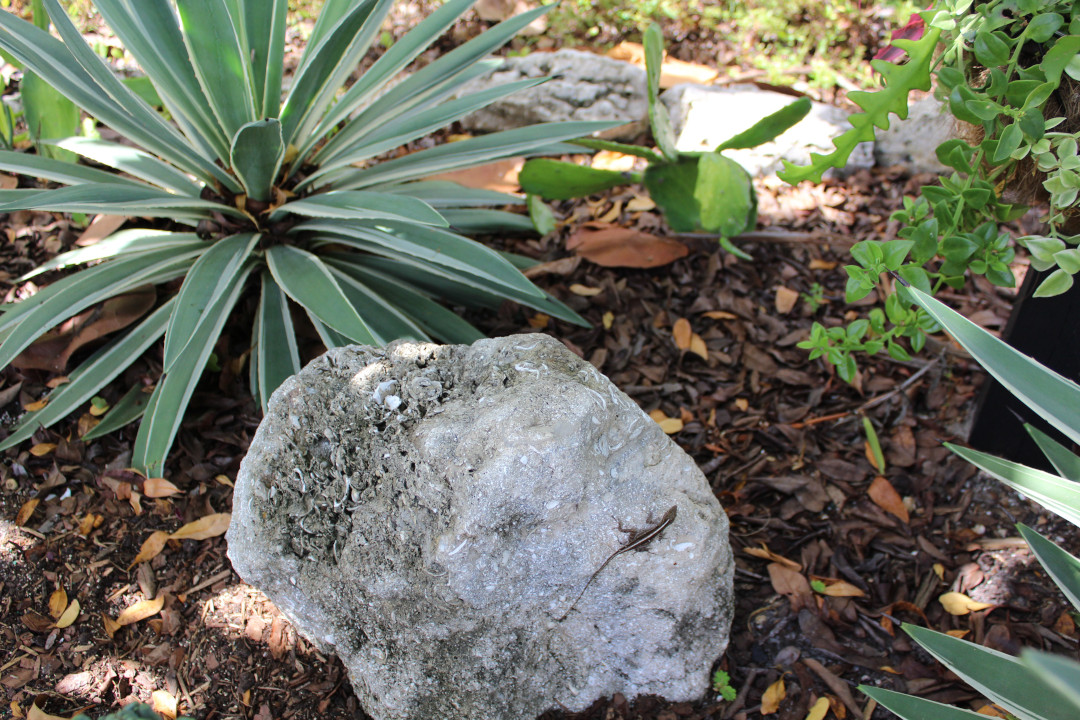 The larger accent rocks, limestone embedded with shell, are all native and were obtained on site during park preparation—a testament to the fact that this land was historically a seabed.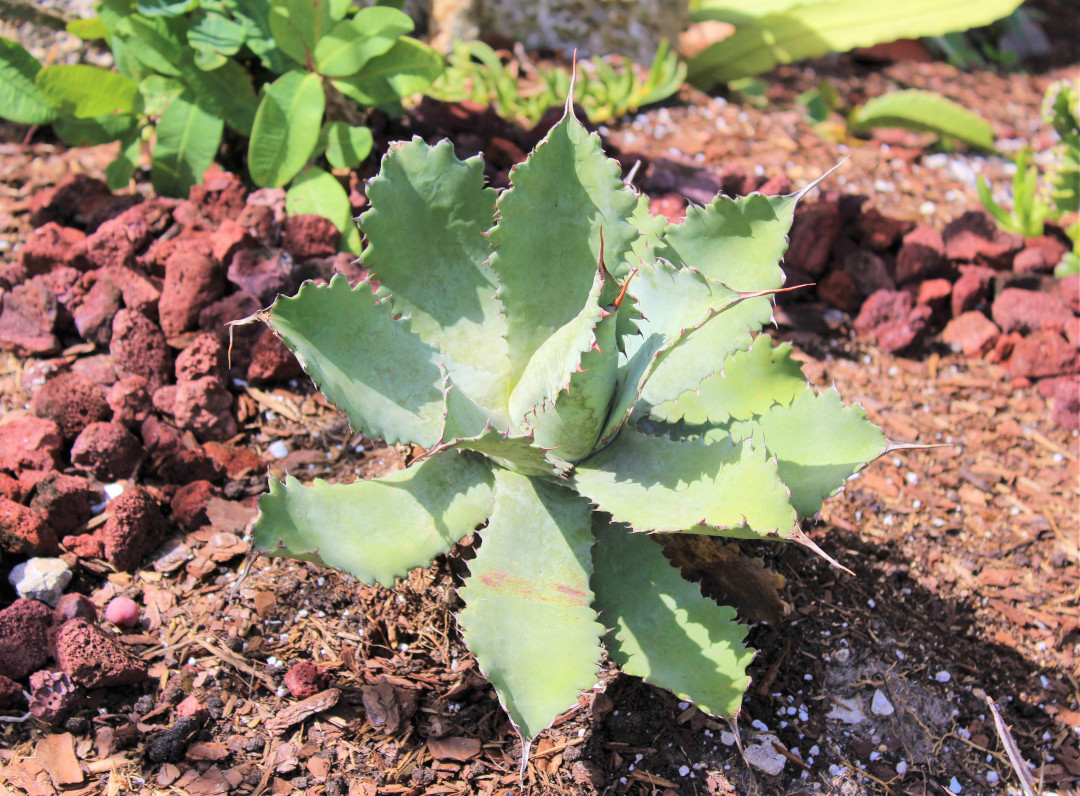 Agave 'Cameron's Blue' accented with a ribbon of red lava rock.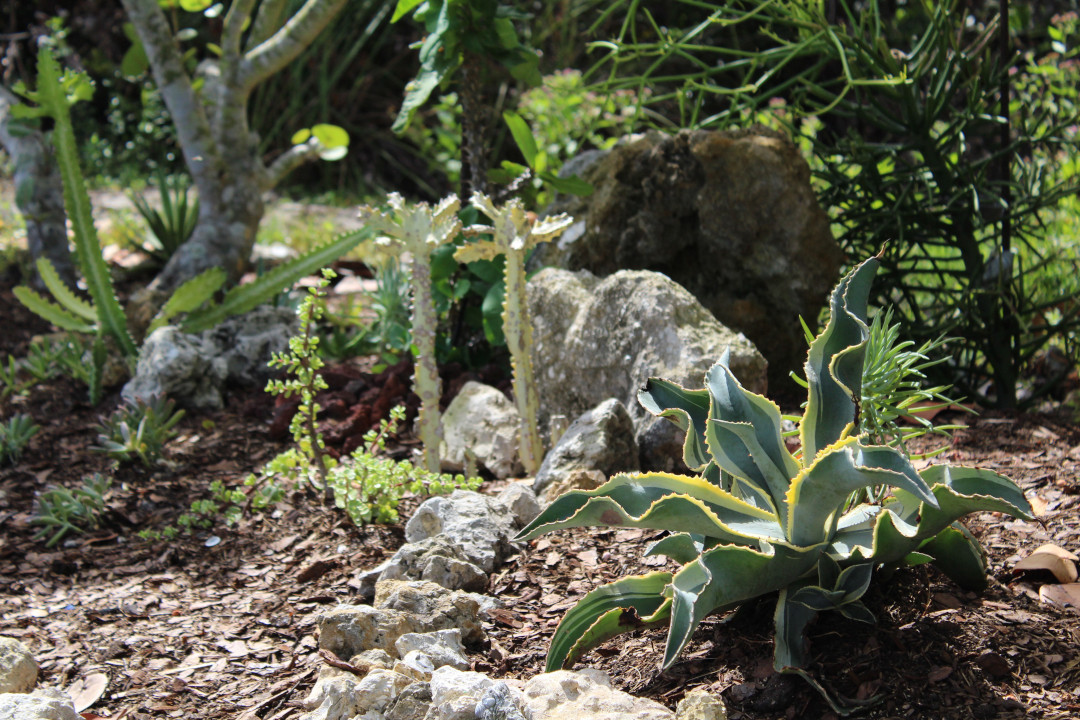 Variegated 'Ivory Curls' agave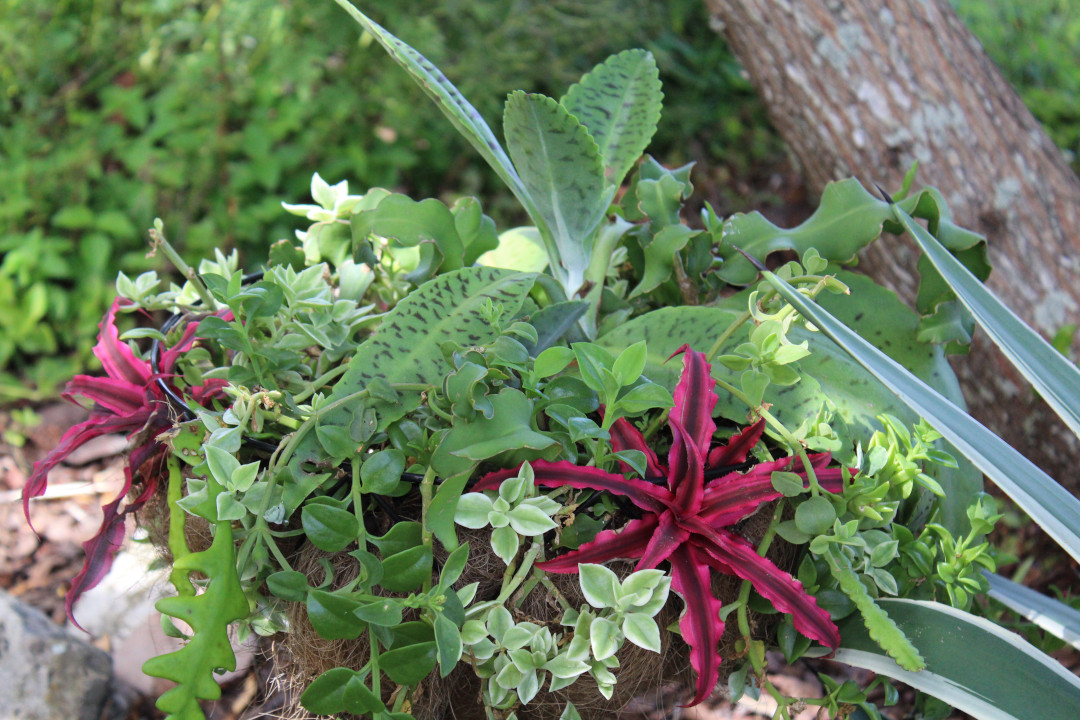 An assortment of succulent plants in a hanging basket.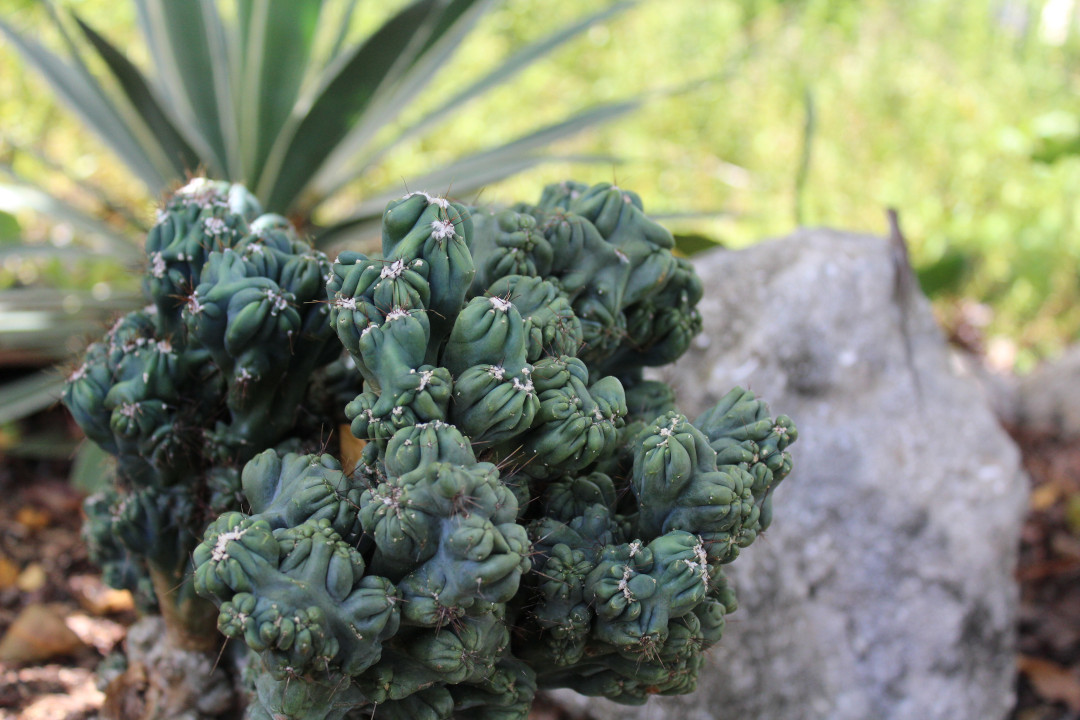 Cereus peruvianus 'Monstrose' is an unusual-looking cactus that can easily be grown as a houseplant in a sunny window in colder climates.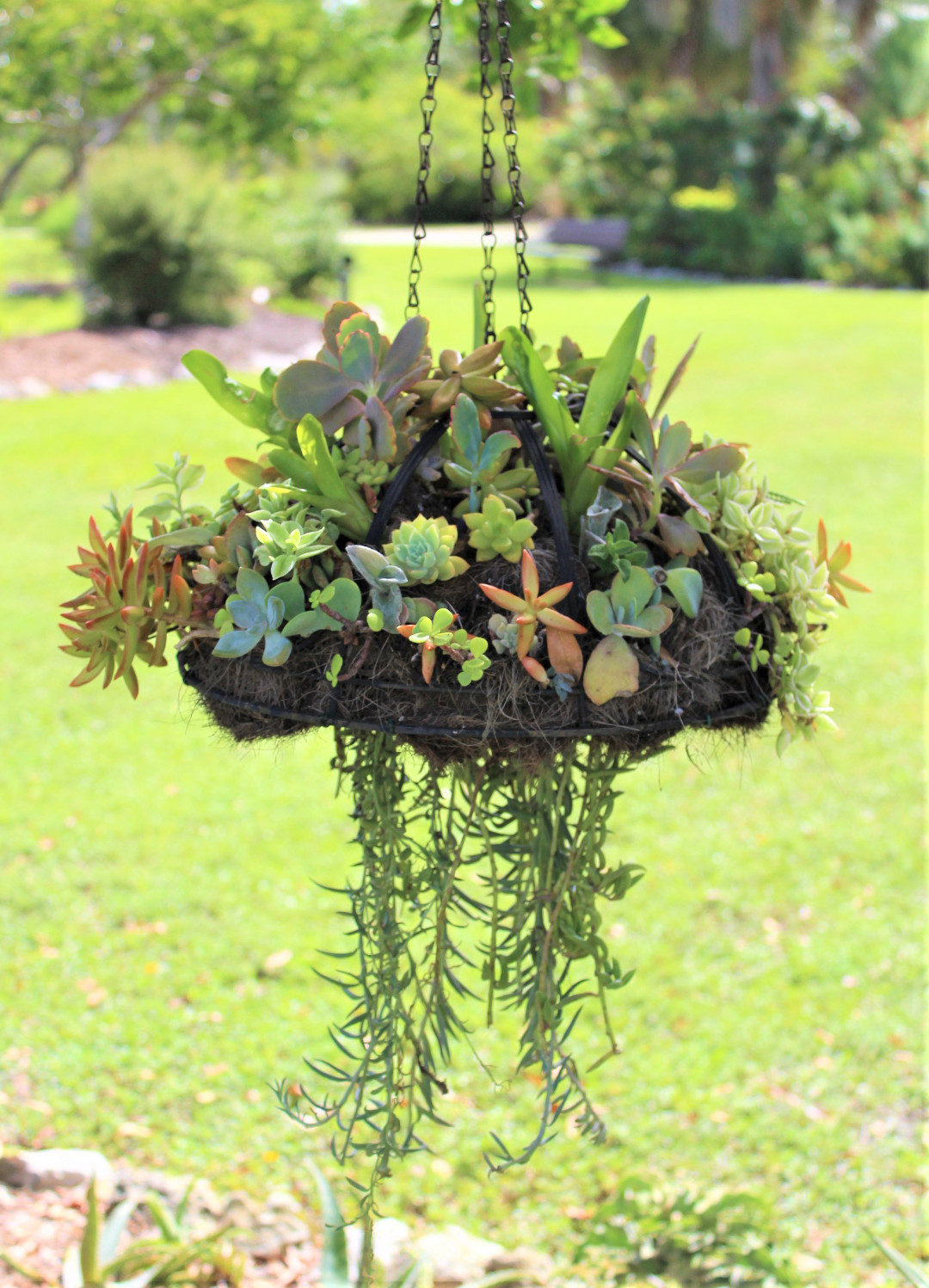 This hanging basket is an upside-down planter intended to mimic a jellyfish or other sea creature and is filled with a wide assortment of contributed succulent cuttings, with Senecio radicans (string of fishhooks) used as the tentacles.
Have a garden you'd like to share?
Have photos to share? We'd love to see your garden, a particular collection of plants you love, or a wonderful garden you had the chance to visit!
To submit, send 5-10 photos to [email protected] along with some information about the plants in the pictures and where you took the photos. We'd love to hear where you are located, how long you've been gardening, successes you are proud of, failures you learned from, hopes for the future, favorite plants, or funny stories from your garden.
If you want to send photos in separate emails to the GPOD email box that is just fine.
Have a mobile phone? Tag your photos on Facebook, Instagram or Twitter with #FineGardening!
You don't have to be a professional garden photographer – check out our garden photography tips!
Do you receive the GPOD by email yet? Sign up here.