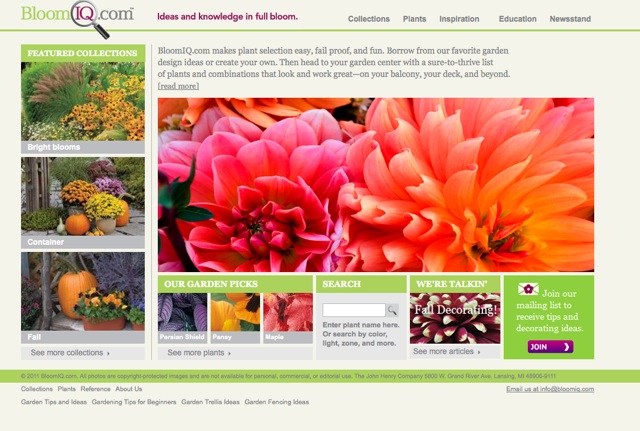 I know just what Mark Twain meant when he apologetically explained, "I didn't have time to write a short letter, so I wrote a long one instead." Writing is tough enough, but sometimes editing my first draft down to a tight, lively, informative read feels like medieval dental surgery. So imagine what it's like to compose a plant tag, those skinny little plastic strips we see poking out of containers at the garden center.
You've probably done this hundreds of times: A spectacular looking flower beckons you from across the nursery, so you sprint over, pull out the tag, read a few dozen words, and decide whether that cute little darlin' will be coming home with you.
It's not much to go on, but sometimes it's all the information we have when the "ME NEED PLANT" neurons in the primal core of your brain commence to firing. So, what if you could take an extra minute, fire up your smart phone, scan a QR code, and tap a deep mine of information?

We're starting to see QR (Quick Response) codes popping up everywhere. They're small printed squares filled with a unique pattern of black and white pixels, like a petri dish experiment gone wild. Download one of many free apps to your smart phone (I like QRReader), hold it in front of the square, and the next thing you know, you're at the product's website.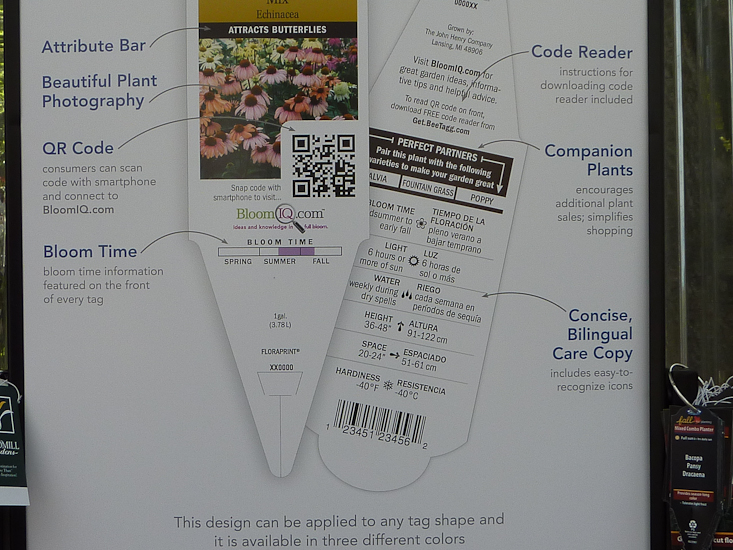 I tried out my iPhone app at the Bloom IQ booth when the Spring California Pack Trials came to Santa Barbara last March. The event, directed at horticulture industry professionals and designers, spreads from San Diego to the Bay Area, allowing plant-related businesses show their products to industry buyers. A nanosecond after scanning a Bloom IQ QR code, I found myself at the company's website. It's a fabulous resource for any gardener, helping them  learn everything they need to know about a potential plant purchase before they say, "I do" to a bridal wreath spirea.
Bloom IQ is a division of the John Henry Company, a packaging business that's been providing plant labels and other products to wholesale plant growers for decades. I asked Kristi Huffman, Senior Vice President of Horticulture at their Lansing, Michigan headquarters about their informative, beautiful web site. "Our aim is to inspire and educate novice gardeners," she told me. "We want to make it easy for them fall in love with gardening."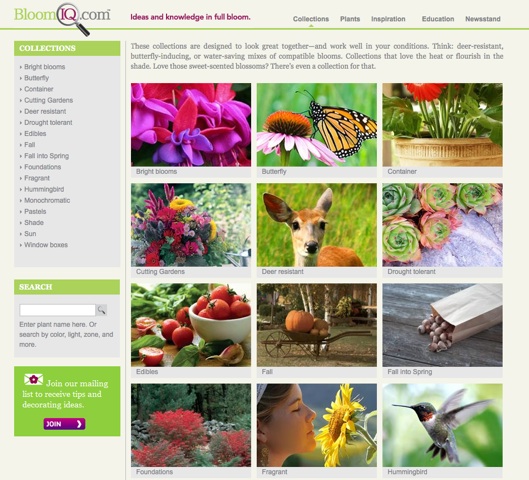 Their gorgeous, easy-to-navigate web site offers inspiration for everyone – even seasoned designers like me. At the core of the site is a database of over 6400 plants, researched by in-house horticulture experts for the past 40 years. I was fascinated by the Collections area, which organizes the plants into 35 different themes: bright blooms, fragrant, pastels, edibles, etc. Click on a tab to discover dozens of four- to six-plant palettes artistically, and horticulturally selected to create lovely, culturally compatible vignette.
Every Collection includes a photo of plants arranged in a real garden, as well as thumbnail pics of each plant in the grouping. Click on a plant to access all its vital statistics:common and botanical names, zone (if you don't know yours, type in your zip code), bloom color and time, light and water requirements, height and growth habit (upright, mounding, etc.), and maintenance tips.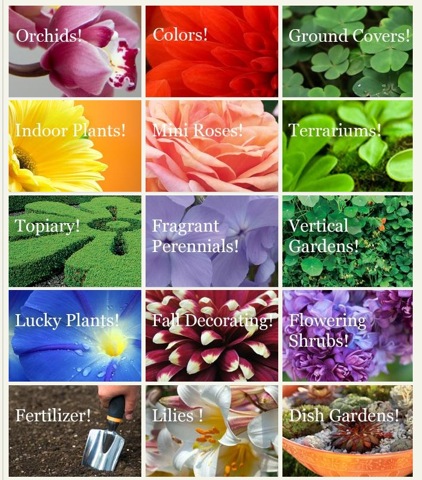 There's even a search feature for sorting through the entire database using various criteria. When you've found the plants you want in your garden, print out a shopping list and bring it to your favorite nursery.
If the Collections were the only feature at Bloom IQ, it would be worth every penny. (Did I mention that it's free and does not require registration?). But as they say in the infomercials, "Wait! There's more!!" The Inspirations tab is populated with loads of informative articles about using ground covers, the basic tenets of color design, fall decorating, vertical gardening, and dish gardens, with new topics coming along all the time. The Education tab gives design tips, general gardening reminders, and a glossary of terms for newbies.
In creating this on-line resource, Bloom IQ has performed a generous service to gardeners. "So what's in it for you?" I asked Kristie. "The people who use your site won't be ordering plant labels to make charm bracelets."
Her reply was straightforward. "If more people are captivated by gardening, the pie gets bigger. In the long run, that's good for everyone in the plant business."
It's good for garden lovers, too.