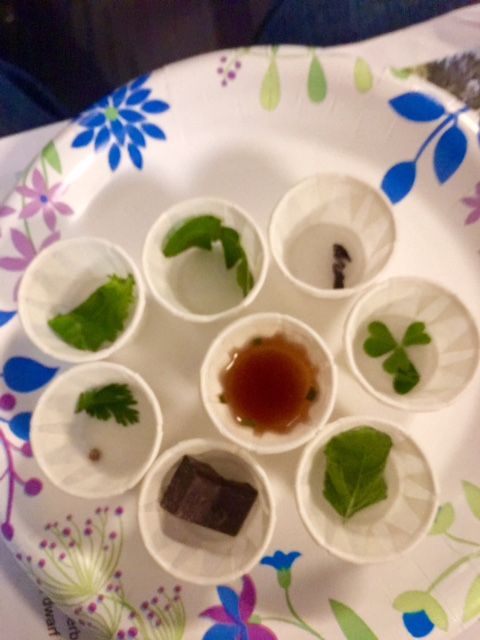 Finally catching up here–didn't want May to getaway without reporting on a recent herbal conference that I, along with about 200 other herb lovers, attended. The first weekend in May, the Herb Society of America held their annual conference in Little Rock, Arkansas. The theme was "Herbs Rock in Little Rock!" and indeed they do. The Little Rock and Ozark Units, the planning committee and staff of the HSA did a great job from herbal wreaths, homemade vinegars and shrubs as centerpieces to setting up a fun vendor space featuring all things herbal, a great lineup of speakers, dinner at the Governor's Mansion and numerous field trips. Many thanks for all of your hard work.
It is always such good energy getting together with this dynamic group of herbies–like-minded people who have the common bond of gardening, herbs, good food, fun and broadening our herbal horizons. And then of course, once you've been doing this for years, it's like old home week; seeing old friends and making new ones from across the U.S. and even from abroad.
The pre-conference tour to the picturesque Moss Mountain Farm of P. Allen Smith's (author, TV personality and Honorary President of the HSA for 2017-2018) sold out early. Although it was a cool, rainy, grey day, that didn't dampen the spirits of stalwart gardeners. Everyone bundled up in their boots, raingear and took their brollies and enjoyed the many vistas, wonderful plantings and plant collections on the 500 acre farm. Lunch was held under a huge tent, prepared by the chef with herbs from the garden and folks got to tour the inside of the lovely country home of P Allen. I got to spend the afternoon with him and his video crew in the summer kitchen, where we taped some footage for an upcoming segment of one of his PBS garden shows. (I will keep you posted as to when it might air.)
Thursday evening, there was a dinner at the Governor's Mansion in the Quawpaw Quarter and we got to stroll in the Mansion Garden and Herbary (yes they do have a lovely herb garden) and dine in the Mansion's Grand Hall. I must say that the buffet we had there was thoughtfully and skillfully prepared by professional chefs who used fresh ingredients flavored with herbs from the herbary, as well as spices; it was an excellent example of fine dining for a large group–it can be done deliciously and elegantly. Our member from the New Orleans and Arkansas units, Vali Talbot, performed Parsley, Sage, Rosemary and Tunes, music featuring herbs, to top off a delightful evening.
Besides our annual meeting of members of HSA led by our new president, Rae McKimm, as well as district meetings, we had two full days of interesting and inspiring educational programs. Friday's programs included Arkansas Governor's Mansion Culinary Team Presents: Cooking with Herbs and Spices with a pair of chefs who pleasantly surprised us with information on healthy ways they use herbs in the kitchen and told us about some of the ingredients they used to prepare the dinner the night before. After the Rosemary Circle and Golden Sage Luncheon Awards, HSA Honorary President, P. Allen Smith presented Rocking with Herbs at Moss Mountain Farm in his inimitable, charming style. Theo Witsell, senior botanist and ecologist for the Arkansas Natural Heritage Commission, gave an excellent program featuring photos of the plants of Arkansas Wild Plants and Places of "The Natural State": An Overview of Native Plants and Habitats.
Saturday, I began the day with my program Hedonistic Herbalism: A Sensory Experience with a tasting of eight herbs highlighting the tastes: sweet, sour, salty, bitter, pungent, umami, herb of the year 2017, and of course, bittersweet chocolate for a final flavor combination. The original concept was developed by myself and Dr. Art Tucker, who unfortunately could not be there due to serious health reasons. (Art is improving everyday and he loved the giant card that we all signed for him). Thanks to my herbalgalpals from both the Ozark and Potomac units for helping to set up 200 plates with eight samples on each plate–y'all rock!
Next up, Bill J. Gurley, Ph.D. presented Can I Take This With My Prozac?": An Introduction to Herb-Drug Interactions. I didn't get to hear all of his program because I was signing books, however what I did hear was informative and well presented–Dr. Bill Gurley is an internationally recognized expert in the area of botanical dietary supplements and effects on human drug metabolism and disposition and a Professor of Pharmaceutical Sciences at the College of Pharmacy at the University of Arkansas for Medical Sciences.
After lunch, we had the pleasure of hearing The Widow Wilcox of Rattlesnake Ridge – How Folks Used Plants in the Arkansas Ozarks portrayed by Tina Marie Wilcox from the Ozark Folk Center in Mountain View, Arkansas–she received a standing ovation for her first person interpretation of old-time Arkansas plants and life. Next we heard from HSA Native Herb Conservation Committee Panel Go Native – How to Integrate Native Herbs into Your Landscape; these gals always provide us with new plant ideas, good information and ideas–thanks Susan Betz and Karen O'Brien.
Our grand finale, was none other than Felder Rushing, Herbs in the Slow Mode – Gardening with All Senses, All Seasons, who is never boring. Felder is a horticulturist, 10th generation American gardener who doubles his pleasure between a celebrated Mississippi cottage and a terrace house in Lancashire, England; he is has 18 gardening books under his belt, a newspaper column and hosts a weekly live NPR gardening program.
The Awards Dinner concluded our conference and celebrates members of the HSA for their contributions to the herbal world. Congratulations to the 2017 Award Winners:
Helen de Conway Little Medal of Honor
Sarah Liberta, Baton Rouge Unit, Southeast District
Nancy Putnam Howard Award for Excellence in Horticulture
Tina Marie Wilcox, Ozark Unit, South Central District
Joanna McQuail Reed Award for the Artistic Use of Herbs
Karen Mahshi, Northern California Unit, West District
Elizabeth Crisp Rea Award
Caroline Holmes, Member at Large, England, UK
Certificate of Achievement
• Mary Northcutt, Posthumously, Grosse Pointe Unit, Great Lakes District
• Susan Schumann-Skehan, Connecticut Unit, Northeast District
• Luann DeComa, South Jersey Unit, Mid-Atlantic Unit
Certificate of Appreciation
• Kay Scanapico, Pioneer Unit, South Central District
• Mary Roark, Arkansas Unit, Southeast District
• Susan Leigh Anthony, New England Unit, Northeast District
I did not attend the post-conference tours since I had already visited these destinations, which are totally worthwhile. Both the Walking Tour of Sculpture Park on River Walk with Dean Kumpuris, M.D. and the Lunch Tour to Garvan Woodland Gardens and the private Hot Springs garden of Jim Elmore were well attended and enjoyed by all.
Thanks to all of the presenters, units, members and staff of HSA who made this conference happen, vendors, the helpful hotel staff and all of the attendees!