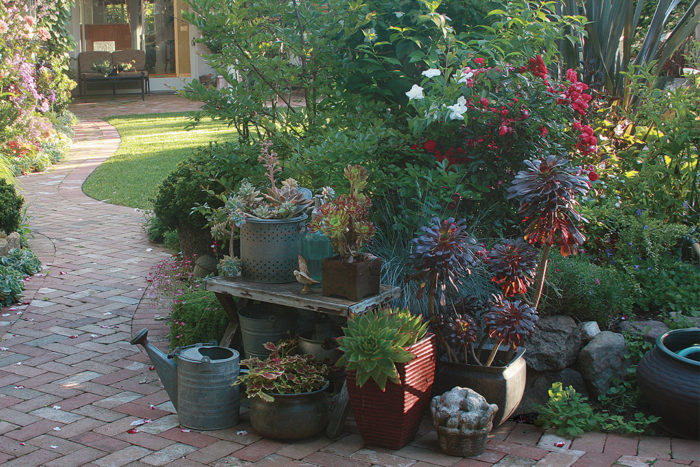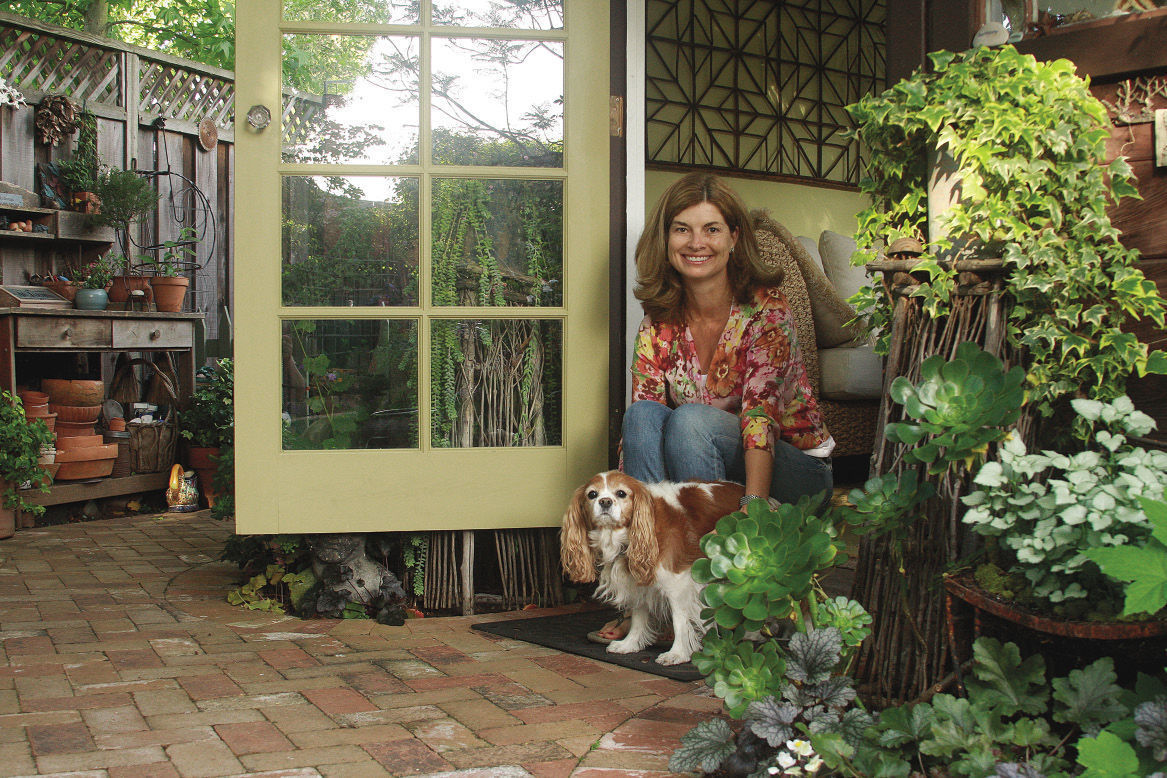 As a garden designer, I always make it a point to bring my clients to my garden to show them my personal style but, more important, to give them a glimpse of what their own garden can look like in years to come. When seeing my garden for the first time, many exclaim: "Give me this! This is exactly what I want." To which I must answer, "Sorry, no can do." I then explain that what I can do is create a framework by laying down the bones of the garden, and help clients fill it in with beautiful and appropriate plantings. But I truly believe that people must add their own personality to their garden. No amount of money can do it for you, and you can't learn it from a book. It's got to come from your past experiences and from your heart.
Breathing life into a garden takes time. It's a gradual, thoughtful, ever-changing process, one that shouldn't be rushed. It's the little personal touches from your life, whether the items are living or not, that define the soul of a garden.
6 Cre
a
t
i
ve Ways
to Give your Garden Heart and Soul
The goal here isn't to haul everything out of your attic, dump the objects in your garden, and call it a day. Judicial placement is the key to avoid having your garden look like a garage sale. The goal is to begin slowly adding personal touches to your garden in a way that means the most to you while still blending in with your garden. Not sure how to start this journey? Begin by looking around your home and garden and identifying what you already have.
1.
Make your work space a showcase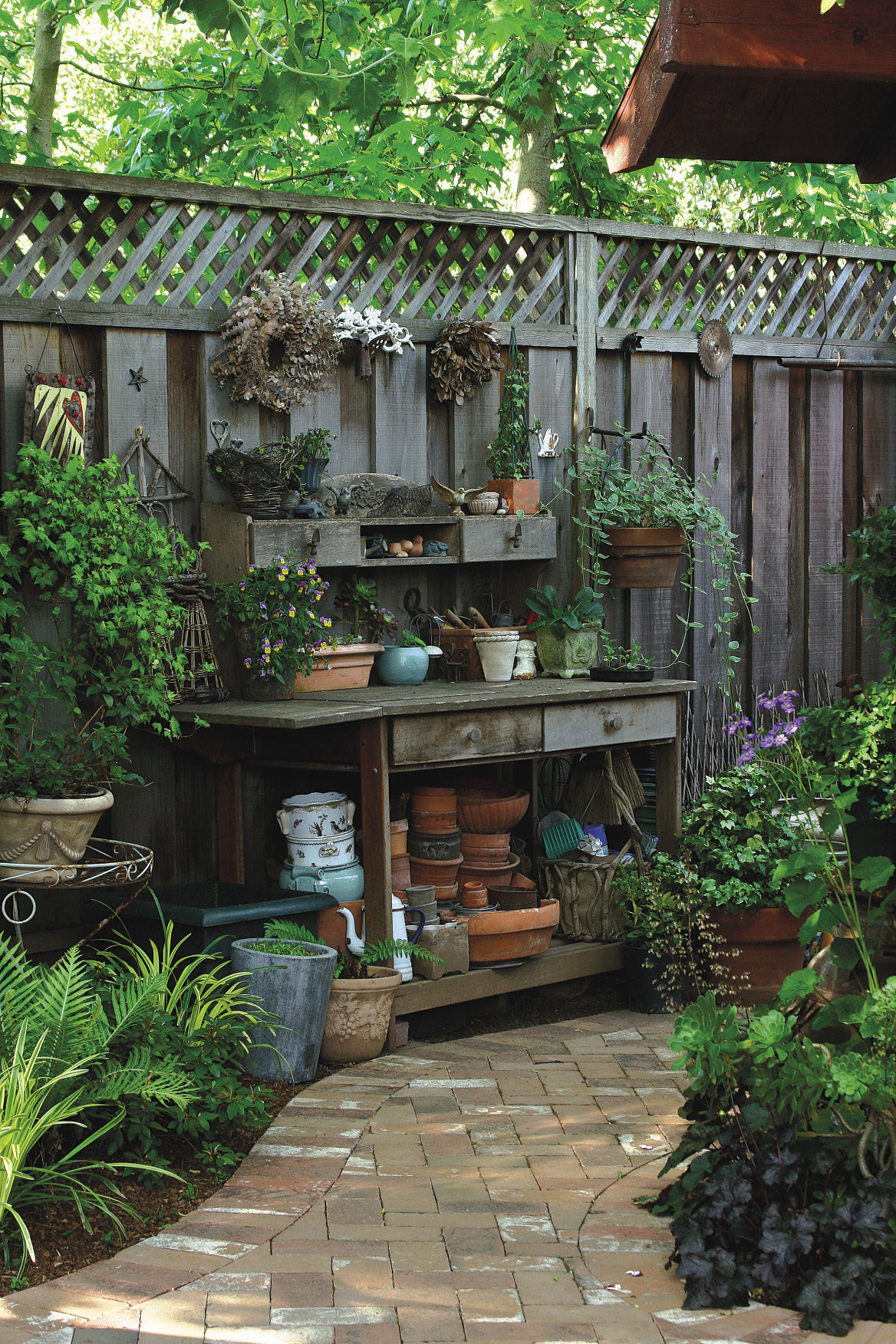 What's a garden without a designated spot where you can putter around, make a mess, and perform other garden-related chores? While these areas may be utilitarian by nature, that doesn't mean you can't use them to express yourself. My potting bench, for example, is the perfect place to display some of my favorite containers and small pieces of garden art that might otherwise get lost in the garden. When you make these spaces beautiful, it's a joy to work there.
2.
Vacation mementos recall happy times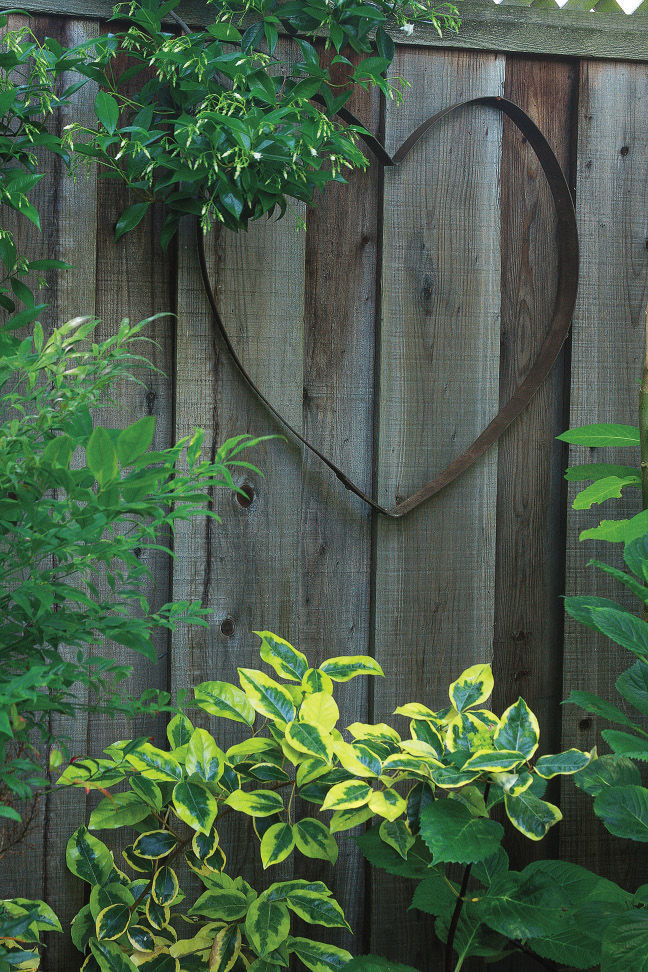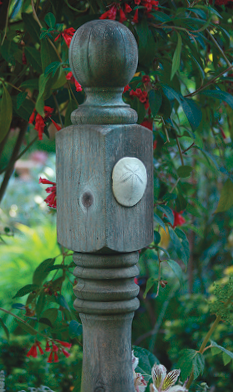 While vacationing in Sonoma, California, my husband found the rim of an old wine barrel and bent it into a heart shape for me, which I proudly hang on my fence. Such souvenirs as shells, driftwood, and sea glass from trips to the ocean not only are beautiful but also provide meaningful memories of distant places. And because they're natural materials, they're especially easy to place within a garden. I know of one gardener who has small mason jars lined up along her fence, each filled with sand from the different beaches she's visited around the world.
3.
Don't forget the plants
Plants, like objects, can hold equally powerful memories of your past and should find distinguished and prominent places within your garden. In my garden, I have huge swaths of hens and chicks (Echeveria imbricata, USDA Hardiness Zones 9–11) that originated from my parents' garden more than 35 years ago. A man driving around the neighborhood selling hand-made garden furniture gave my newlywed parents (and his first customers of the day) a cluster from the back of his pickup.
4.
Humble heirlooms get a new life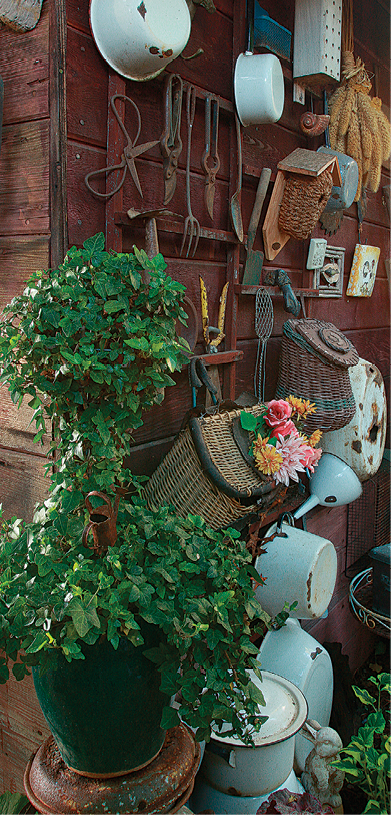 Relatives' garages and attics provide an endless source of inspiration if it's the rustic look you prefer. I've filled an entire wall of my shed with old garden tools, rusted and worn from years of use by my grandparents and their grandparents, as well as old washtubs and baskets. Heirloom objects make fabulous pieces of garden art.
5.
Timeworn objects aren't necessarily bound for the dump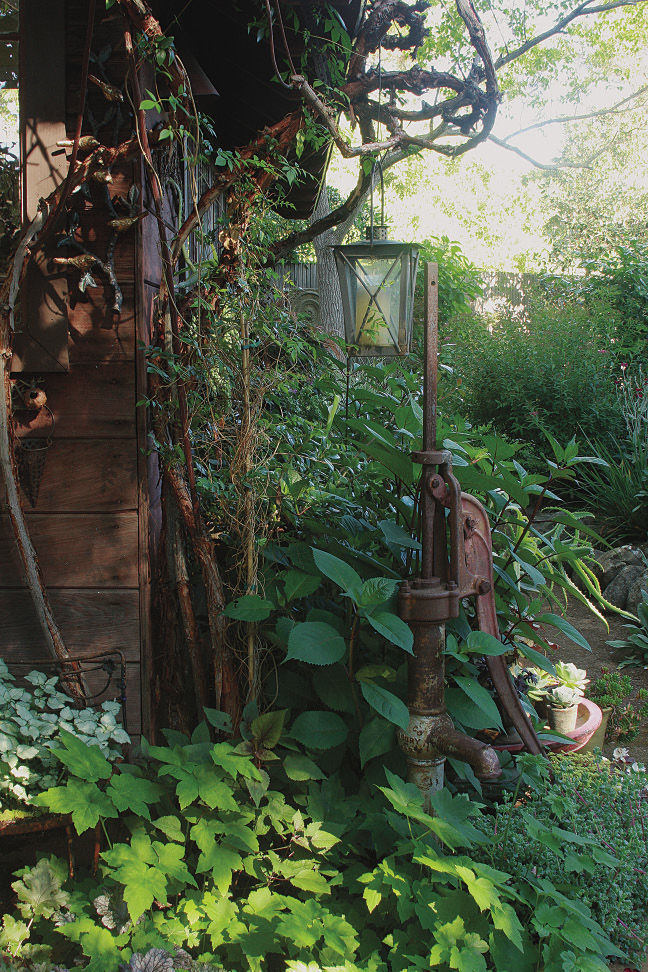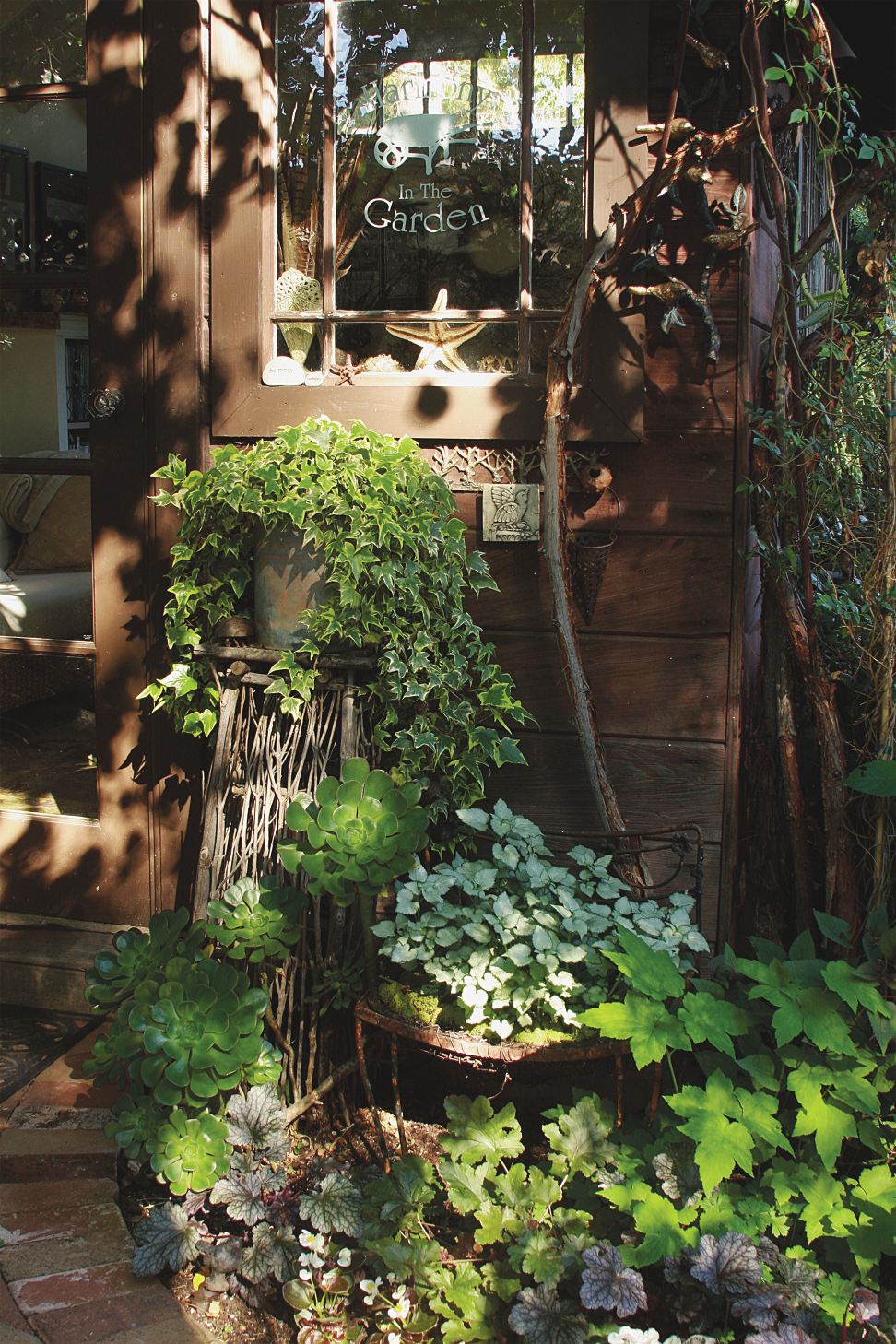 Don't be so quick to throw out something just because it's broken. With a little creativity, these items can be repurposed in your garden. I have a charming antique garden chair, for example, which I found on someone's trash pile; using sturdy mesh wire to create a seat, I now fill it with shade-loving annuals. Remember, though, that too many broken items can quickly turn the most charming garden into a scene out of Sanford and Son, so restrained selection and careful placement is important.
6.
Old toys and crafts are a tribute to childhood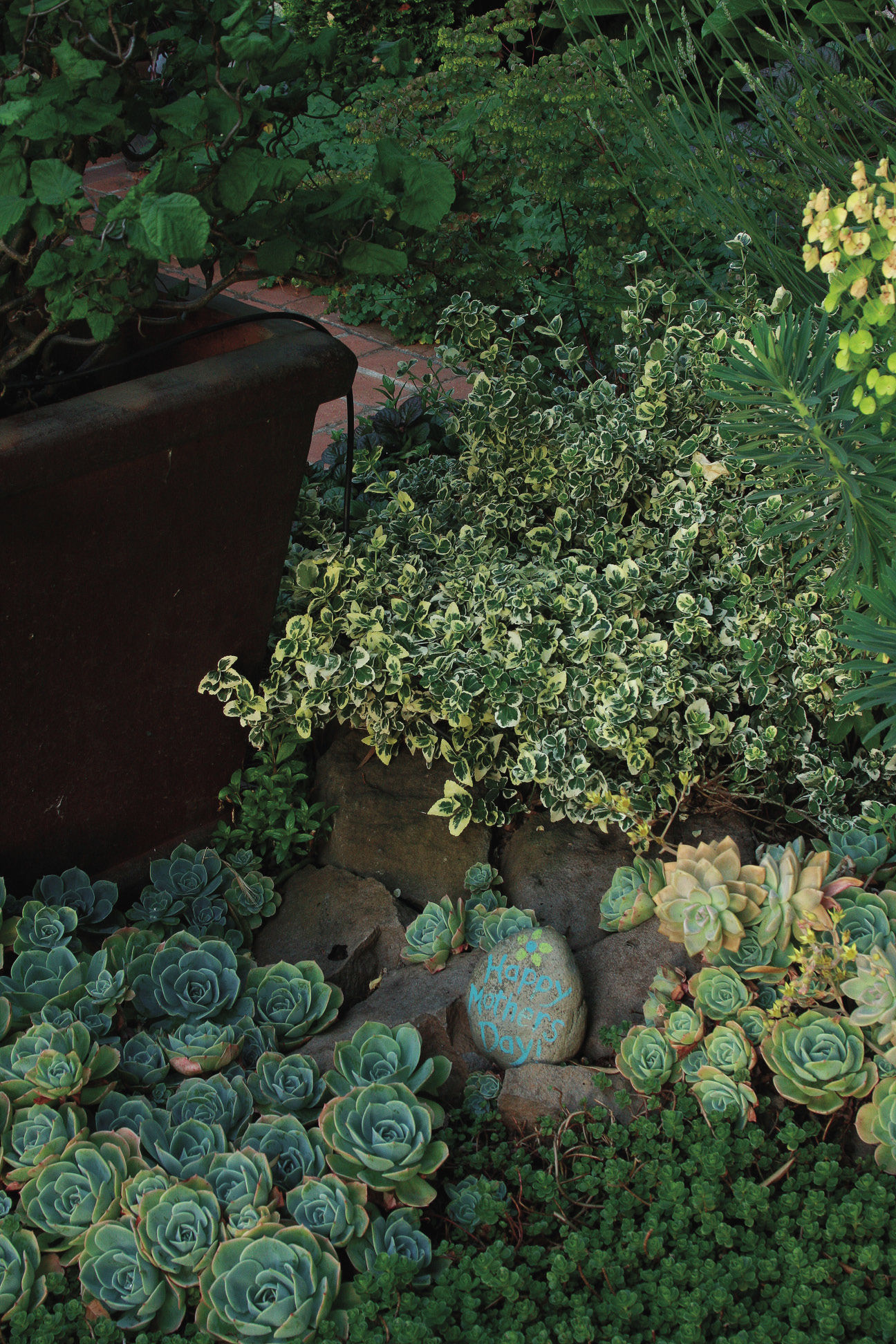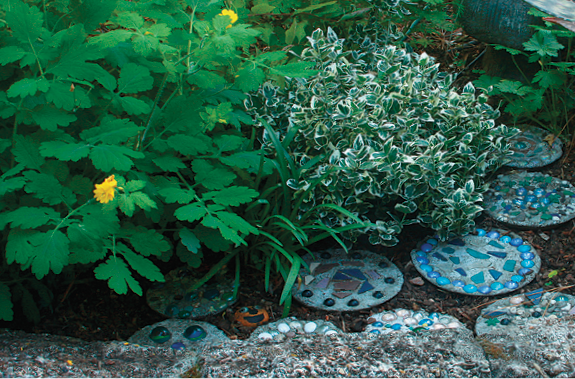 Adding personality to your garden can be particularly rewarding if you have children. In one corner of my garden, you'll find many years' worth of stepping-stones made by my children at our town's annual fall festival. If your children are grown, place an old toy, such as a weathered tricycle or wagon, in a planting bed where the plants can freely grow around it. It will be a touching tribute to their childhood and a guaranteed way to make you smile each time you pass by.
---
Rebecca Sweet is a garden designer in Los Altos, California.
Photos: Michelle Gervais