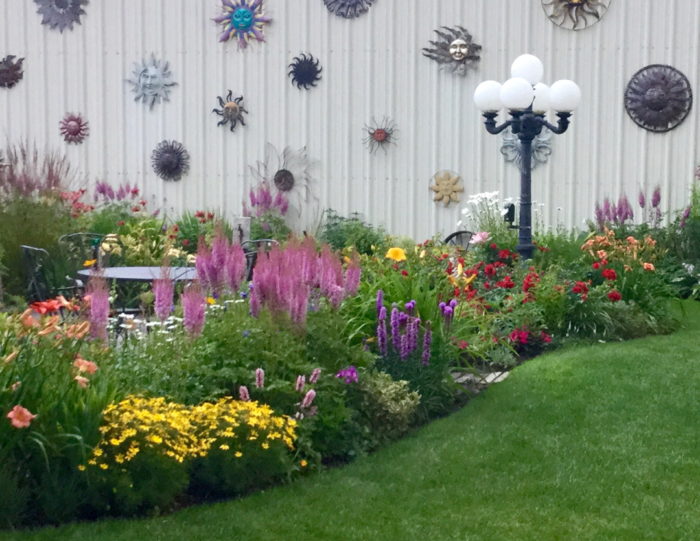 Today's photos come from Joanna Kenyon from Owosso, Michigan. Actually, her garden is so awesome that we're going to spend two days on it! So enjoy today, and come back tomorrow for part 2.
I started the garden in 2004. My soon-to-be husband had purchased the home because it was right next door to his business. Location. Location. Location. I started with a small garden beneath a fir tree in the front yard using plants I moved from my garden in Dimondale, Michigan, and it just mushroomed from there. Expanding the gardens in any appreciable way stopped 4-5 years ago. Now it's fine tuning and rearranging plants.
It was a challenge to incorporate a large factory building into the landscape, although it would have been even more difficult had we not been the owners of both properties. The building is 10 feet high in some places, 20 feet high in others, and 80-100 feet long. The factory wall is 10 paces from our side door. It is also the north side of the building, which can present its own challenges. The soil is pretty heavy clay and is wet most of the time. It was a moment of inspiration when we thought about decorating the side of the building with sun sculptures. It really incorporates the building into the landscape.
Learning to garden along this wall is a lot of trail and error, a lot of planting something and seeing if it grows. The wall reflects light, which makes a big difference. I had gardened under tree shade before, which is much more difficult.
I sometimes ignore conventional wisdom. I planted a clematis in my total shade and wet muck, and it has grown like a weed, even though it supposedly needs full sun and well drained soil. I try to plant things that will grow in the soil I have rather than try to fix the soil for the plant. Again a lot of trial and error. I move stuff around a lot. I have an Annabelle hydrangea (Hydrangea arborescens 'Annabelle' , Zones 3–9 ) that I've moved 4-5 times. It is finally happy.
My other strategy is to grow things really close together. I don't pay much attention to spacing instructions. I just cram things all together and see what happens. This really makes weeding much less of a headache. The weeds don't really have much of a chance. The downside is that a lot of thinning goes on as plants grow and crowd each other out. But I love the crowded look.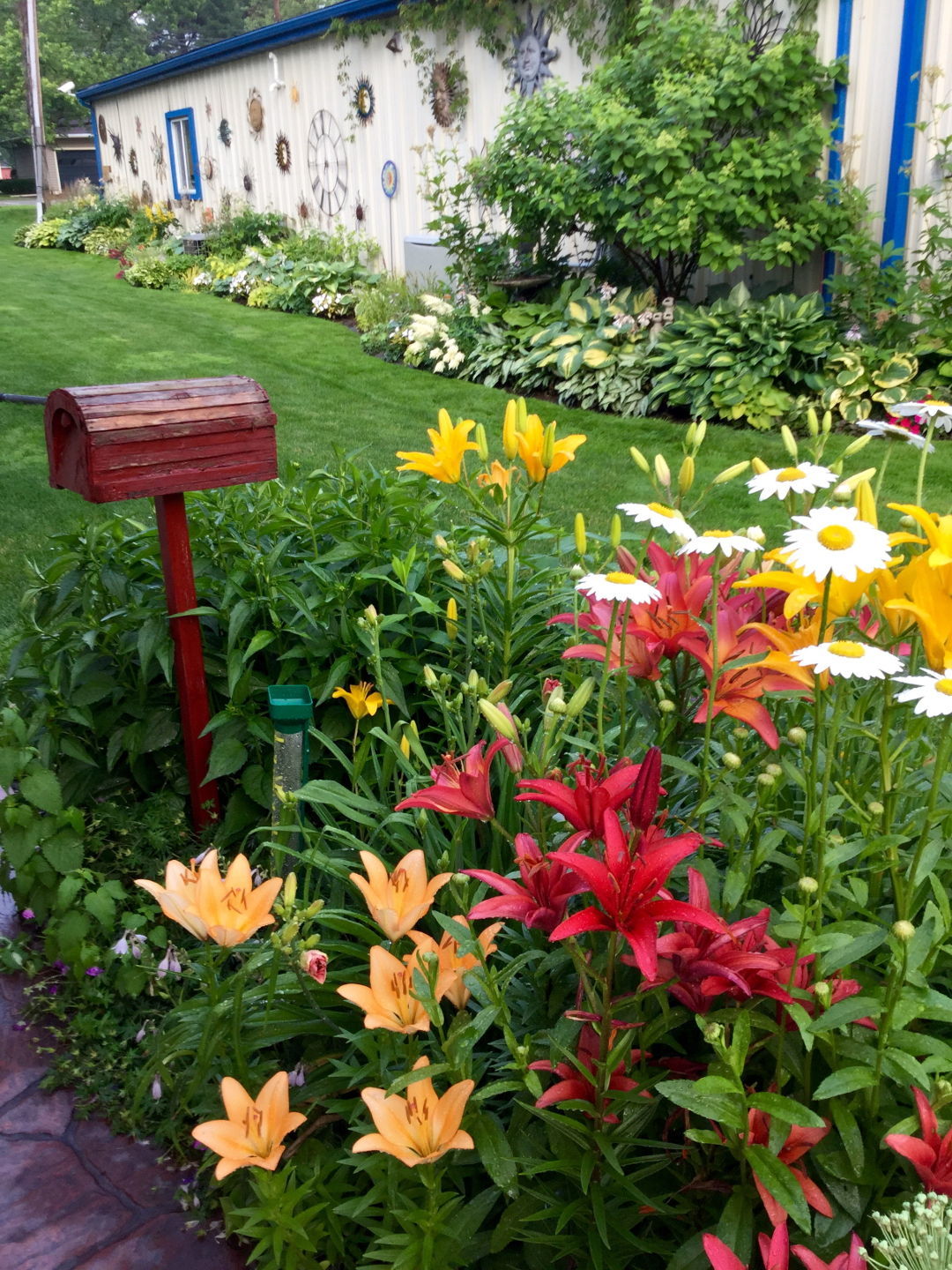 A way to integrate the factory next door into the landscape.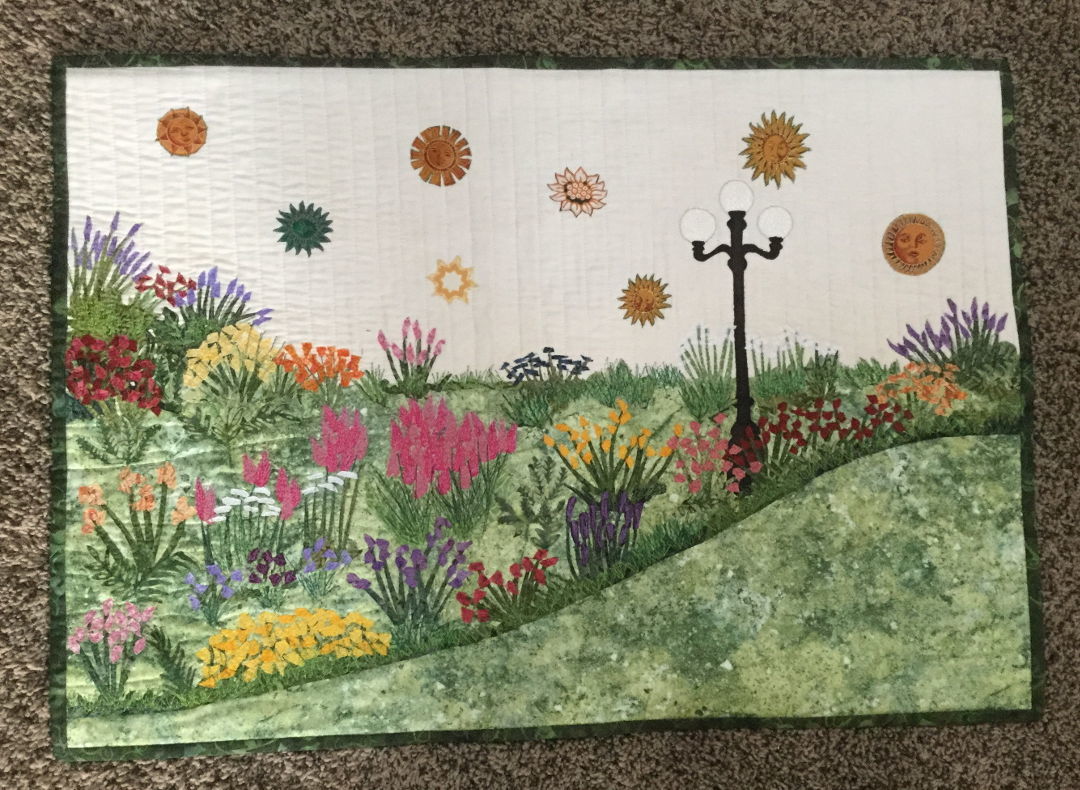 A view of my garden was turned into an art quilt by my sister.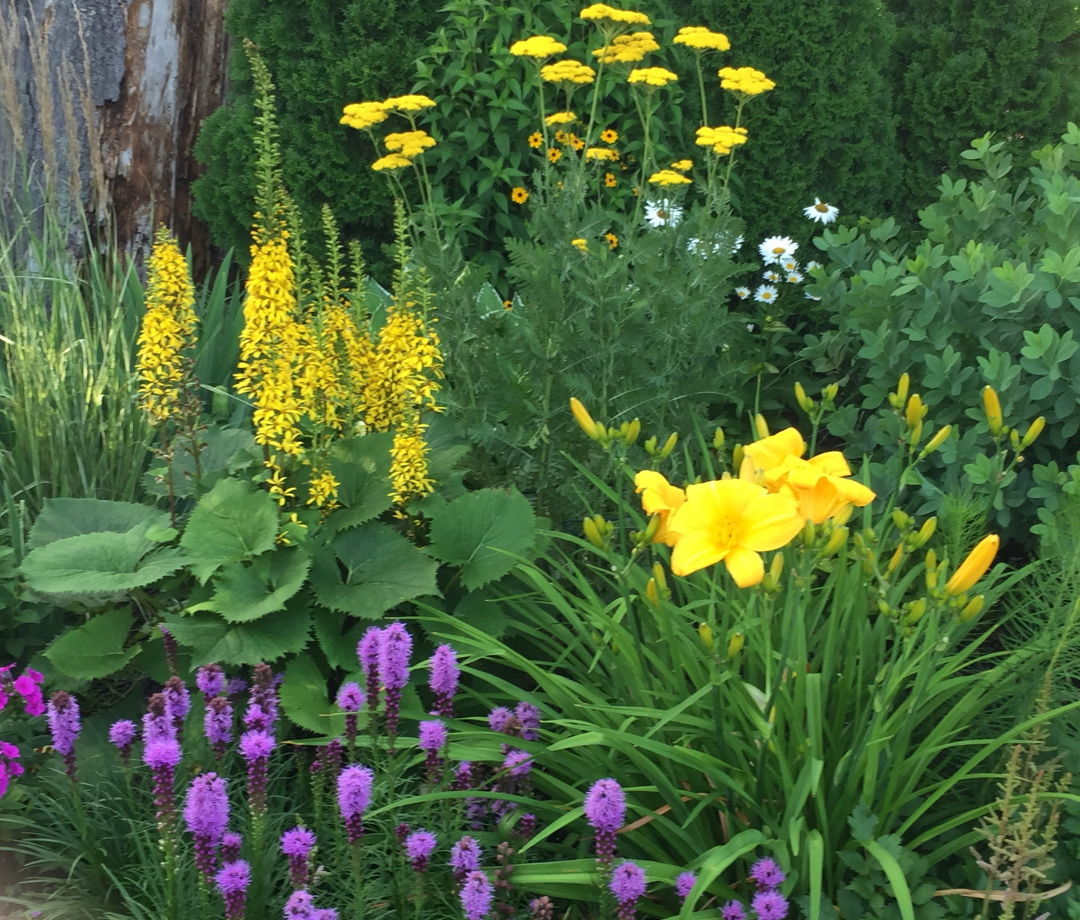 I like to plant a variety of plants close together to keep weeds at bay.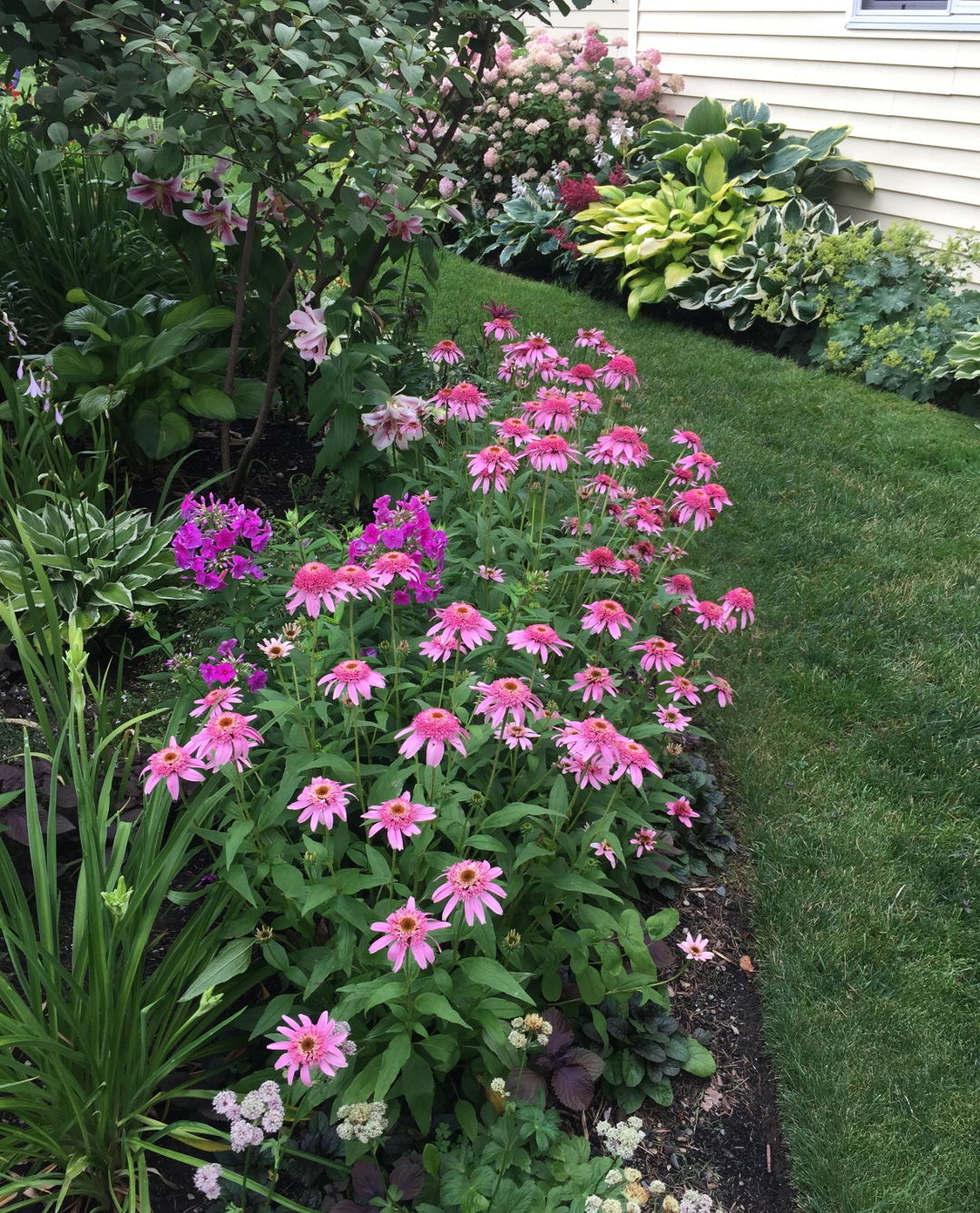 A view between our house and our neighbor's driveway. This is the north side, and hostas are a primary feature.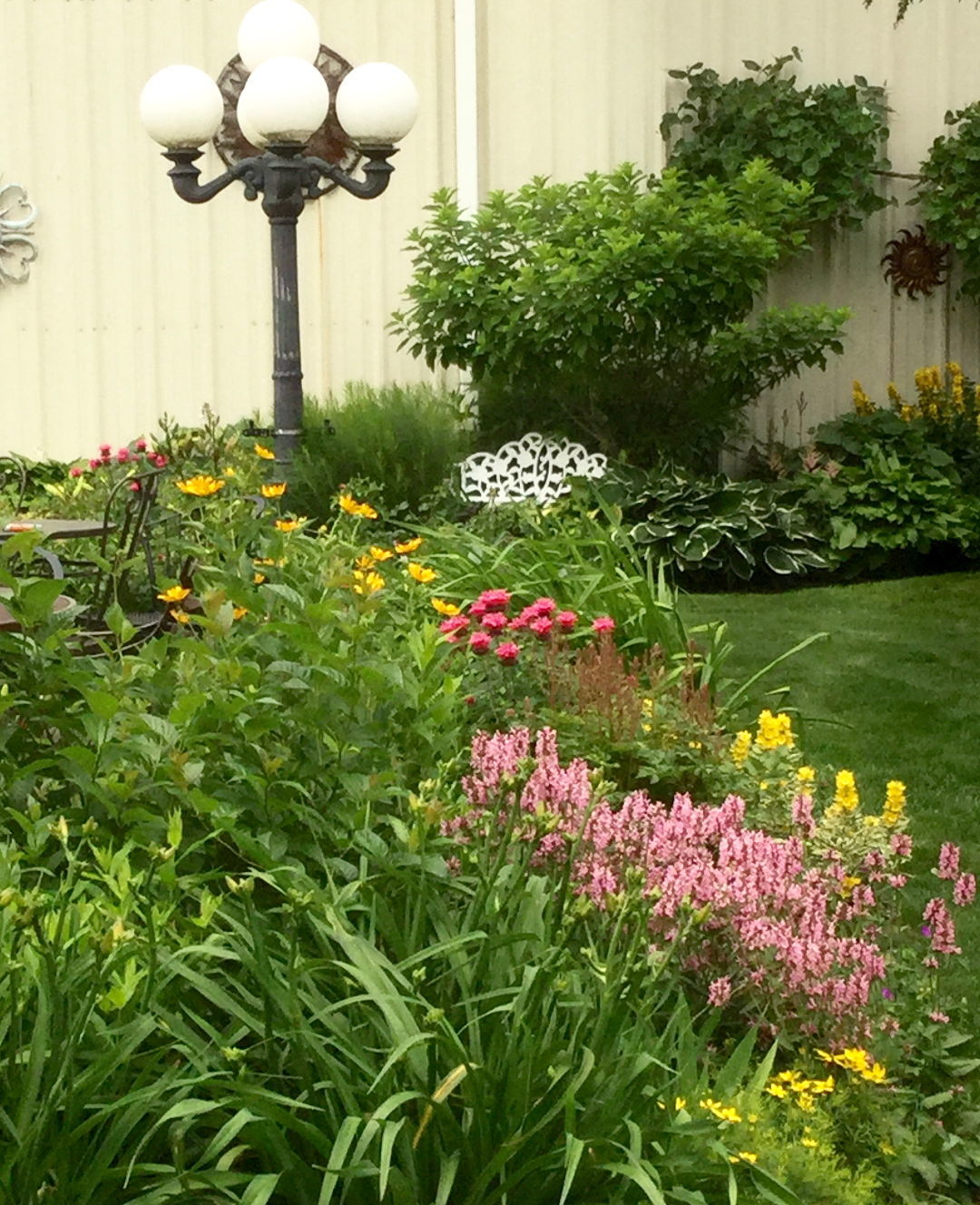 We found an old city light post and repurposed it for the garden.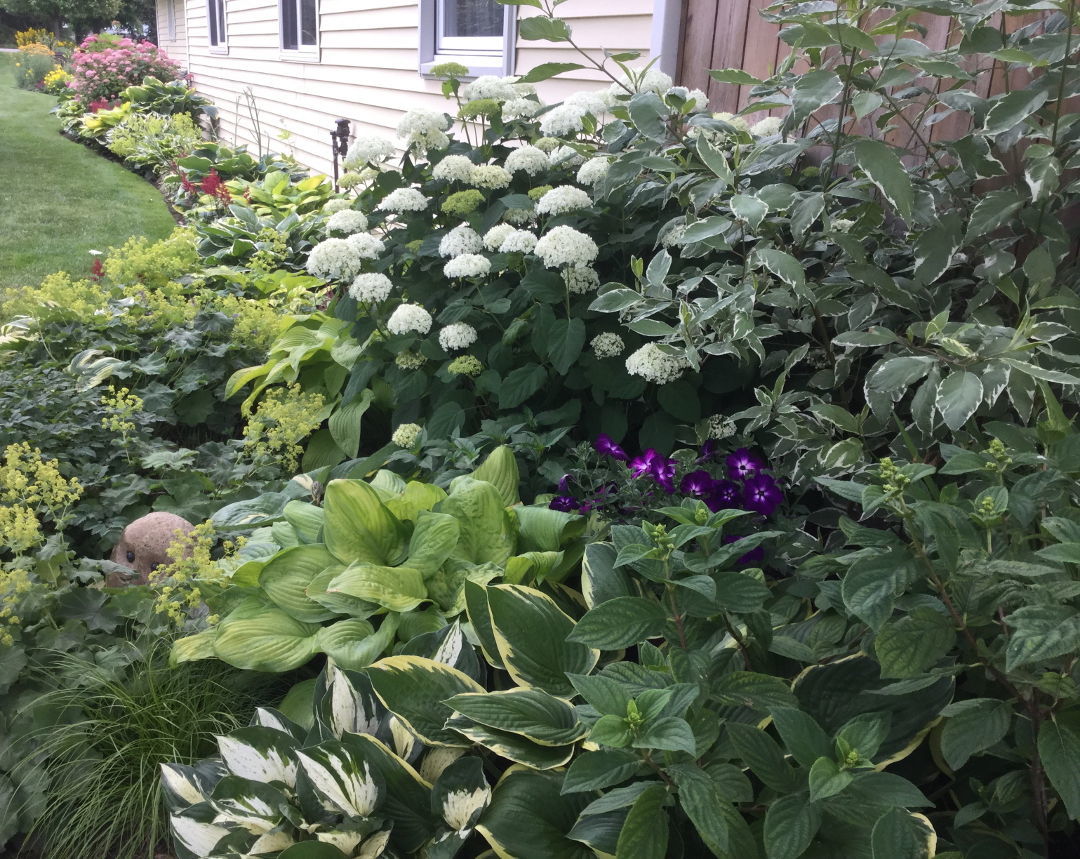 Another look down the north side of the house.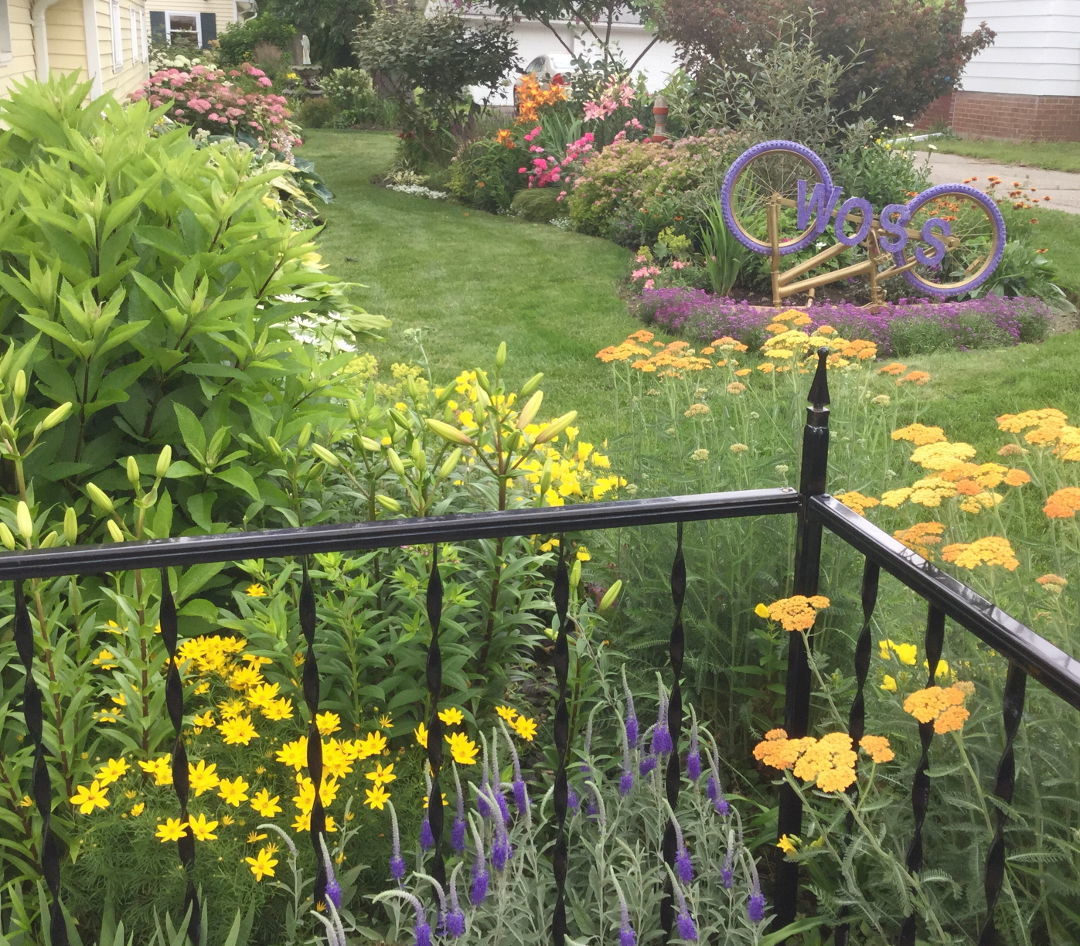 We have an art bike contest every year in Owosso. This was my entry a few years back, and it is now prominently featured in the garden.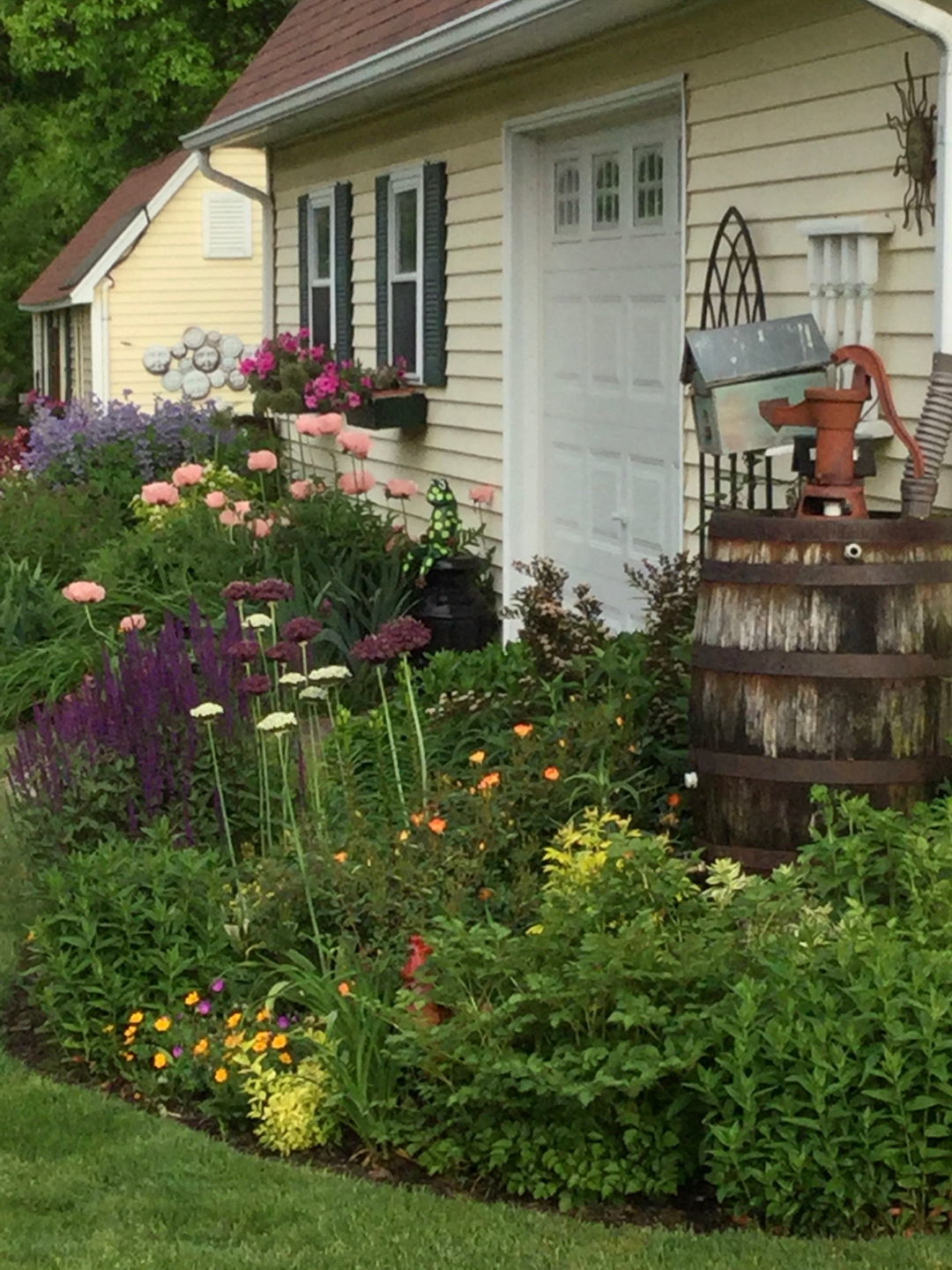 This outbuilding, which we affectionately call the Hog Pen, is where my husband keeps his motorcycle. The apron in front of the door served as the platform for my son's wedding in June.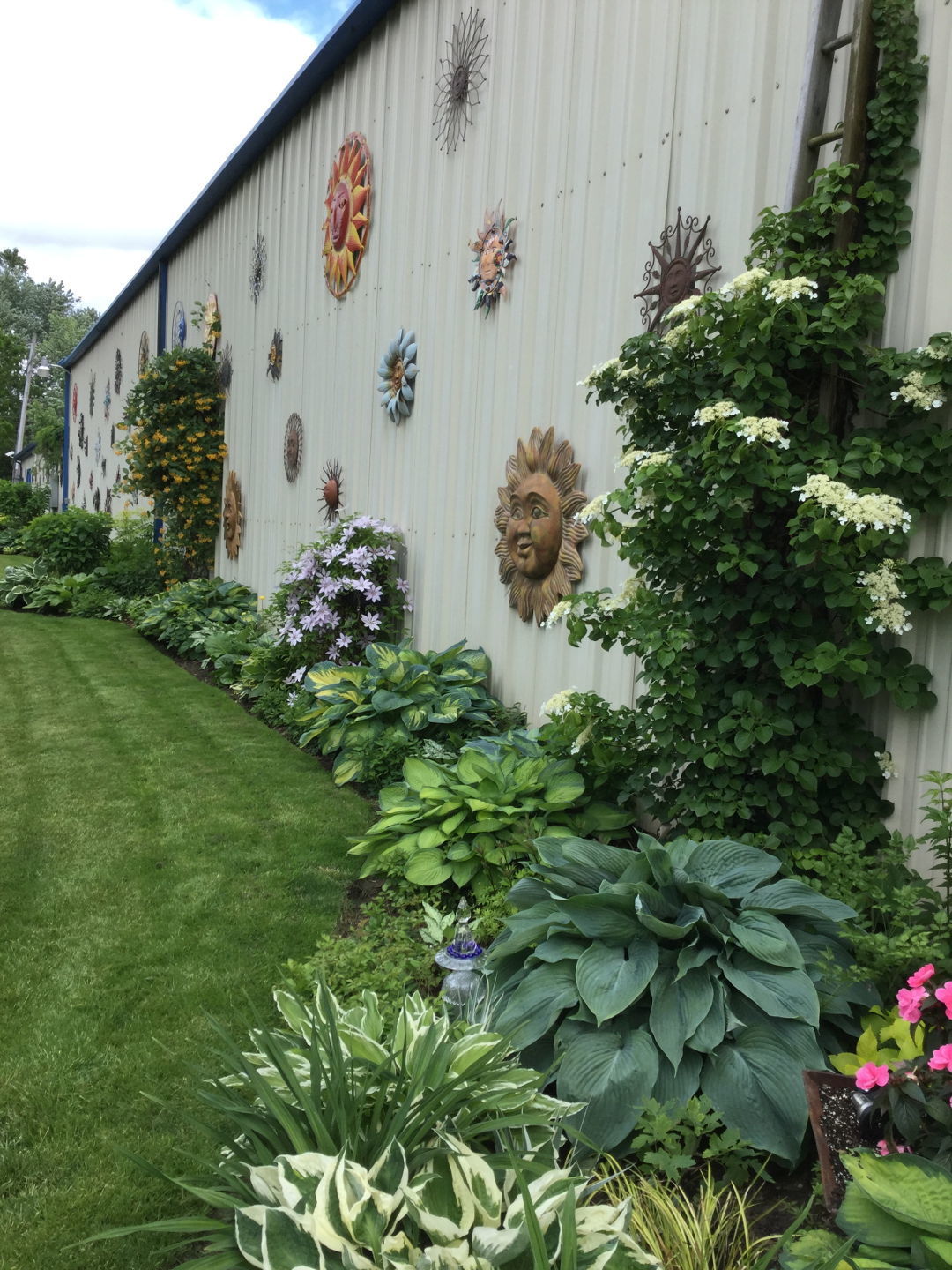 A good view of the factory next door. Sometimes people think we manufacture those suns!
Have a garden you'd like to share?
Have photos to share? We'd love to see your garden, a particular collection of plants you love, or a wonderful garden you had the chance to visit!
To submit, send 5-10 photos to [email protected] along with some information about the plants in the pictures and where you took the photos. We'd love to hear where you are located, how long you've been gardening, successes you are proud of, failures you learned from, hopes for the future, favorite plants, or funny stories from your garden.
If you want to send photos in separate emails to the GPOD email box that is just fine.
Have a mobile phone? Tag your photos on Facebook, Instagram or Twitter with #FineGardening!
You don't have to be a professional garden photographer – check out our garden photography tips!
Do you receive the GPOD by email yet? Sign up here.