Over the last few weeks we've been talking about winter rose protection and a few things you can do to help your roses come through it with little harm. We discussed it's the cold winds that do more damage than cold temperatures. Because of this, many northern gardeners build elaborate cages or use rose cones to totally cover their roses during winter. This certainly works, but it's a lot of work to cover and then in spring uncover all those roses.
Shirley Thompson emailed me this very elegant solution. I like it because it's easy – something that fits right into my philosophy that roses should not be difficult. I also like it because in the process of doing this you also are adding compost and organic matter to the soil.
I've included Shirley's photos above and they are pretty self-explanatory. Essentially what Shirley does is this:
In late or early winter when the ground is frozen, she rakes away last year's mulch from each rose and forms a ring around it about 2′ in diamater. The size may vary depending on how large the rose is or if it's a group of roses. That mounded mulch ring forms a well and into this Shirley shovels about 10″-12″ of compost to form a mound around the base of the rose. That's right, she completely covers the base of the rose. This keeps the base of the plant protected from the winter winds.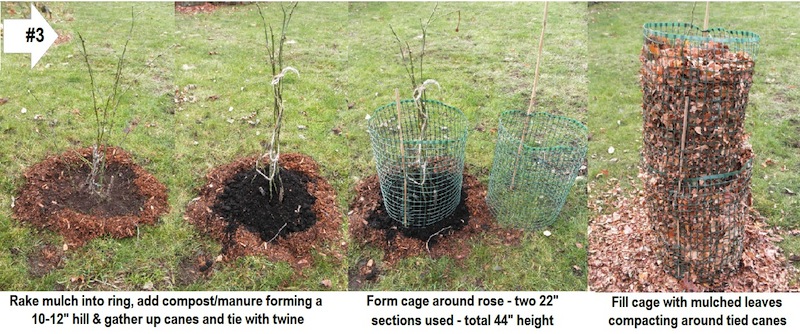 For more tender roses or ones that are still young and need a little extra protection, she makes a simple cage out of plastic fencing. She cuts 12″ high strips – each one long enough to wrap around the mulch ring.  She holds them in place with a bamboo stake. Then, when she hears a pariculary bad storm is coming she fills the cages with leaves.  Presto, instant insulation now and more compost later!
In spring, when winter danger is past, Shirley simply spreads out the mulch, compost, old leaves and covers them with fresh mulch. Whatever cages were needed are simply popped out of the ground and the leaves spread out. The cages can be rolled up to await next winter.
This simple approach protects the most important part a rose, which is the base. The use of compost and leaves adds nutrients to the soil in spring. It also means you don't have to haul it all out of the garden come spring.
Shirley also sent me a very nice PDF with more detail. I've uploaded it to my own website and you can read that by clicking on the link below.
Click Here to read Shrley's PDF Overwintering Roses Like Shrubs.
Thanks to Shirley for sending me this. She is in the process of developing a local Garden Design/Renovation business for her area and with simple solutions like that I have no doubt she'll be very successful. Thanks Shirley!
Happy Roseing
Paul