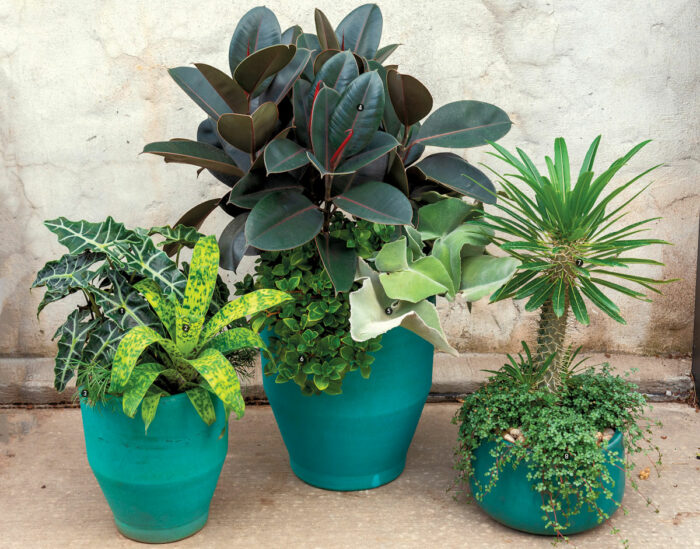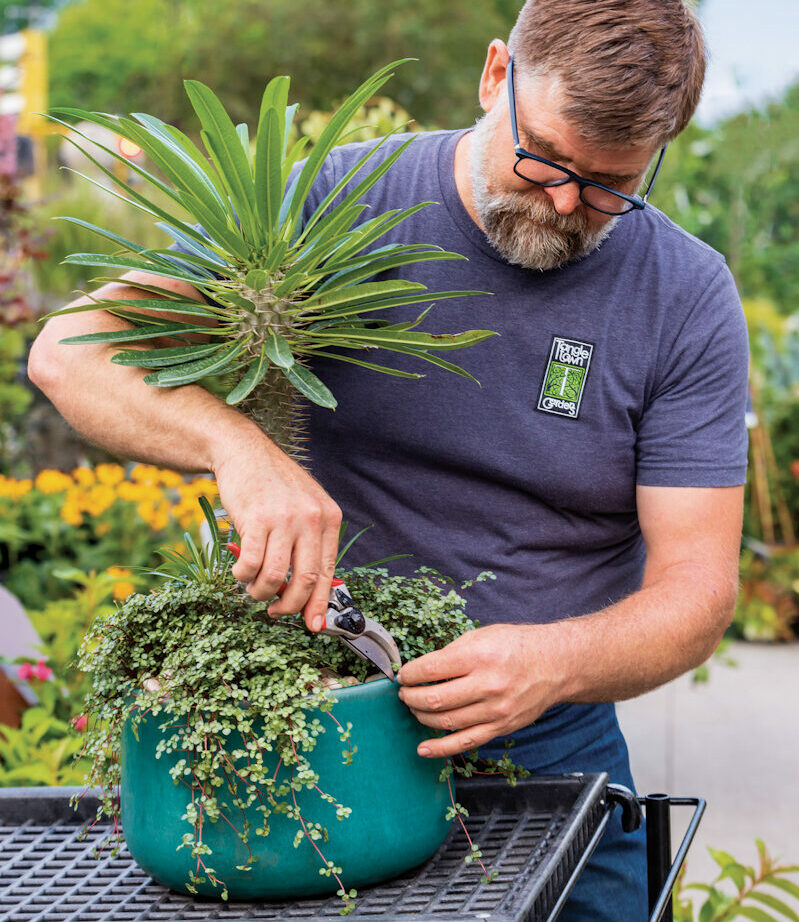 It is one thing to create beautiful containers with your go-to plants, but why stop there? Bold textures, unusual forms, and unexpected colors can turn up the volume on any arrangement. That is why at Tangletown Gardens in Minneapolis, we like to push our container designs over the top with standout tropical plants. Whether they include unusual selections or old houseplant favorites reimagined, these combinations are a great way to ensure that your pots are exceptionally fun and eye-catching this season.
Learn more
How to Keep Tropical Plants Happy
See Our Container Gardening Guide
Tropical Inspiration for Shade Containers
Give pretty houseplants a summer vacation
Many plants we traditionally think of as houseplants are actually tropical plants, and they will be very much at home in an outdoor container for the summer. Try pairing a favorite houseplant like 'Polly' elephant's ear with an unusual bromeliad, or set off the dark, smooth leaves of 'Burgundy' rubber tree with the bright, fuzzy foliage of felt bush. Don't be afraid to play with your plants, pushing the limits of contrast and form. Anchoring your designs with a repeating element, like containers in the same bold color, will tie your design together no matter which plants you decide to include.
1. 'Polly' elephant's ear (Alocasia 'Polly', Zones 9–11)
2. Vriesea bromeliad (Goudaea ospinae var. gruberi, Zone 11)
3. Eyelash fern (Actiniopteris australis, Zones 10–11)
4. 'Burgundy' rubber tree (Ficus elastica 'Burgundy', Zones 10–12)
5. Felt bush (Kalanchoe beharensis, Zones 10–12)
6. Cuban peperomia (Peperomia cubensis, Zones 10–12)
7. Madagascar palm (Pachypodium lamerei, Zones 9–11)
8. Aquamarine (Pilea glauca, Zones 9–11)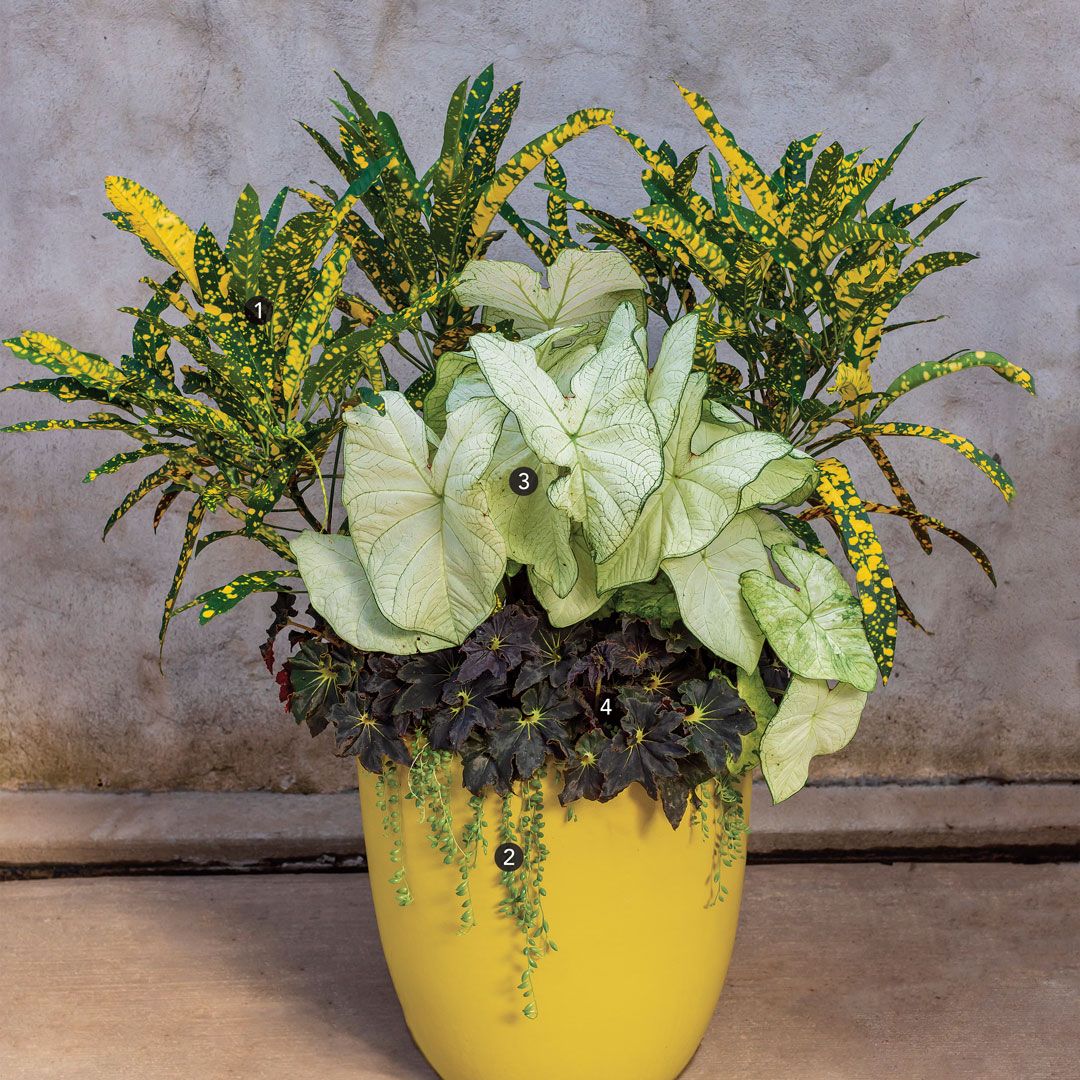 Take a cue from your container color
Tall tropical plants can easily be used to ­create a living frame. Try placing a unique plant you want to highlight at the center of your design, and take cues from your container to make sure it's the center of attention. Stretching up and out, sloppy painter croton matches the bold yellow of this container, creating a surround of neon color, while the trailing foliage of string of watermelons echoes the pattern of color on the croton's leaves, but with a reversal of the color scheme. Highlighted by this frame is the stark contrast of the large, luminous leaves of 'Florida Moonlight' caladium grounded by the finer texture and dark color of 'Black Velvet' begonia.
1. Sloppy painter croton (Codiaeum variegatum 'Eleanor Roosevelt', Zones 10–11)
2. String of watermelons (Curio herreanus syn. Senecio herreanus, Zones 9–11b)
3. 'Florida Moonlight' caladium (Caladium 'Florida Moonlight', Zones 8–11)
4. 'Black Velvet' begonia (Begonia 'Black Velvet', Zones 10–11)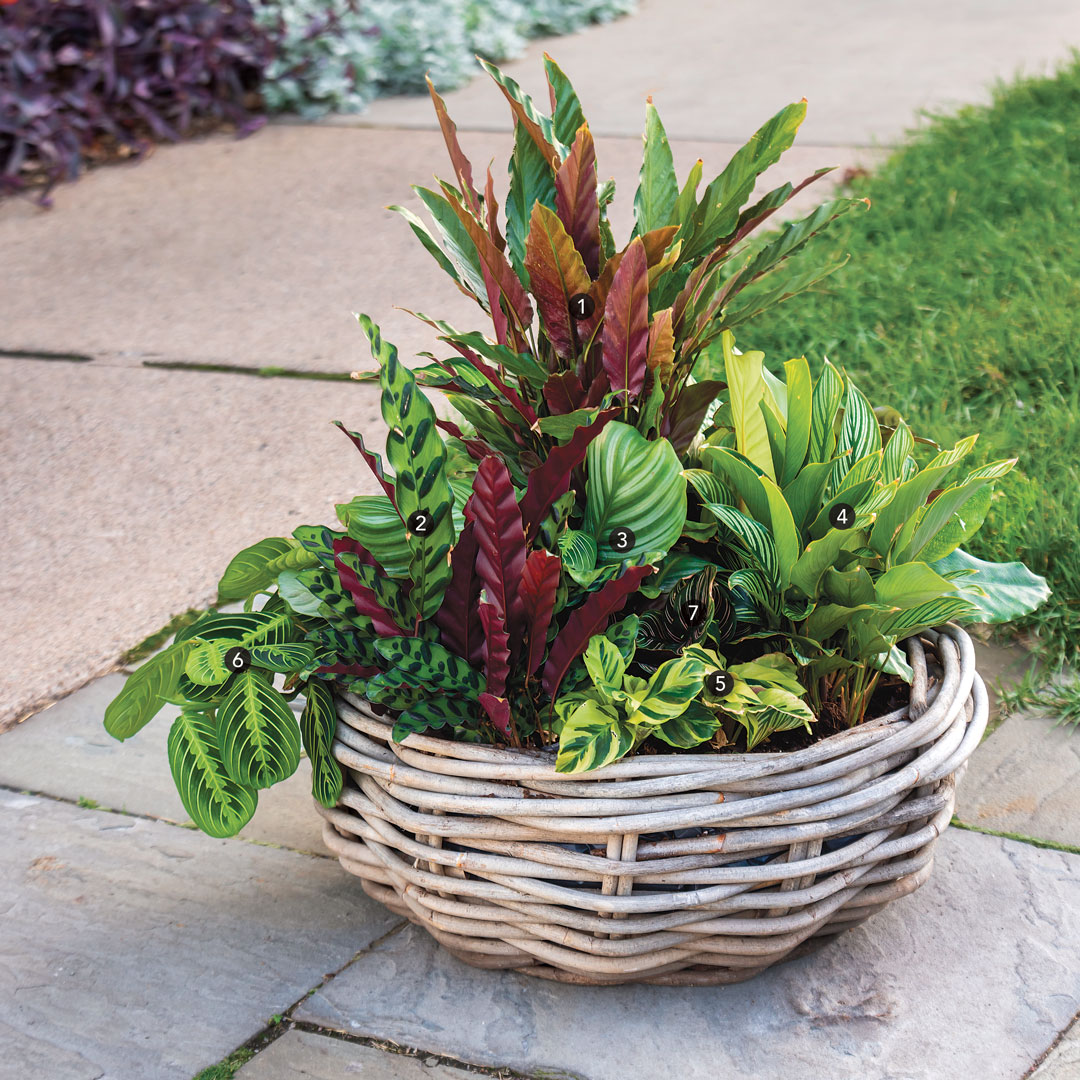 Pull together a palette of coordinating patterns
An excellent way to create a cohesive container is to work with a single type of plant in a multitude of varieties. For example, a collection of calatheas (and a prayer plant cousin) with their pleasing range of patterns and habits fills this basket arrangement with lush tropical abundance. Throw out the recipe book, and gather plants that are related. Then play with the sizes, textures, and colors to create a grouping that highlights both their similarities and their differences.
1. Furry feather calathea (Goeppertia rufibarba, Zones 10–12)
2. Rattlesnake calathea (Goeppertia insignis, Zones 10–12)
3. Round-leafed calathea (Goeppertia orbifolia, Zones 10–11)
4. 'Vittata' calathea (Goeppertia elliptica 'Vittata', Zones 10–11)
5. 'Yellow Fusion' calathea (Goeppertia 'Yellow Fusion', Zones 10–12)
6. 'Lemon Lime' prayer plant (Maranta leuconeura 'Lemon Lime', Zones 11–12)
7. Pinstripe calathea (Goeppertia ornata, Zones 10–11)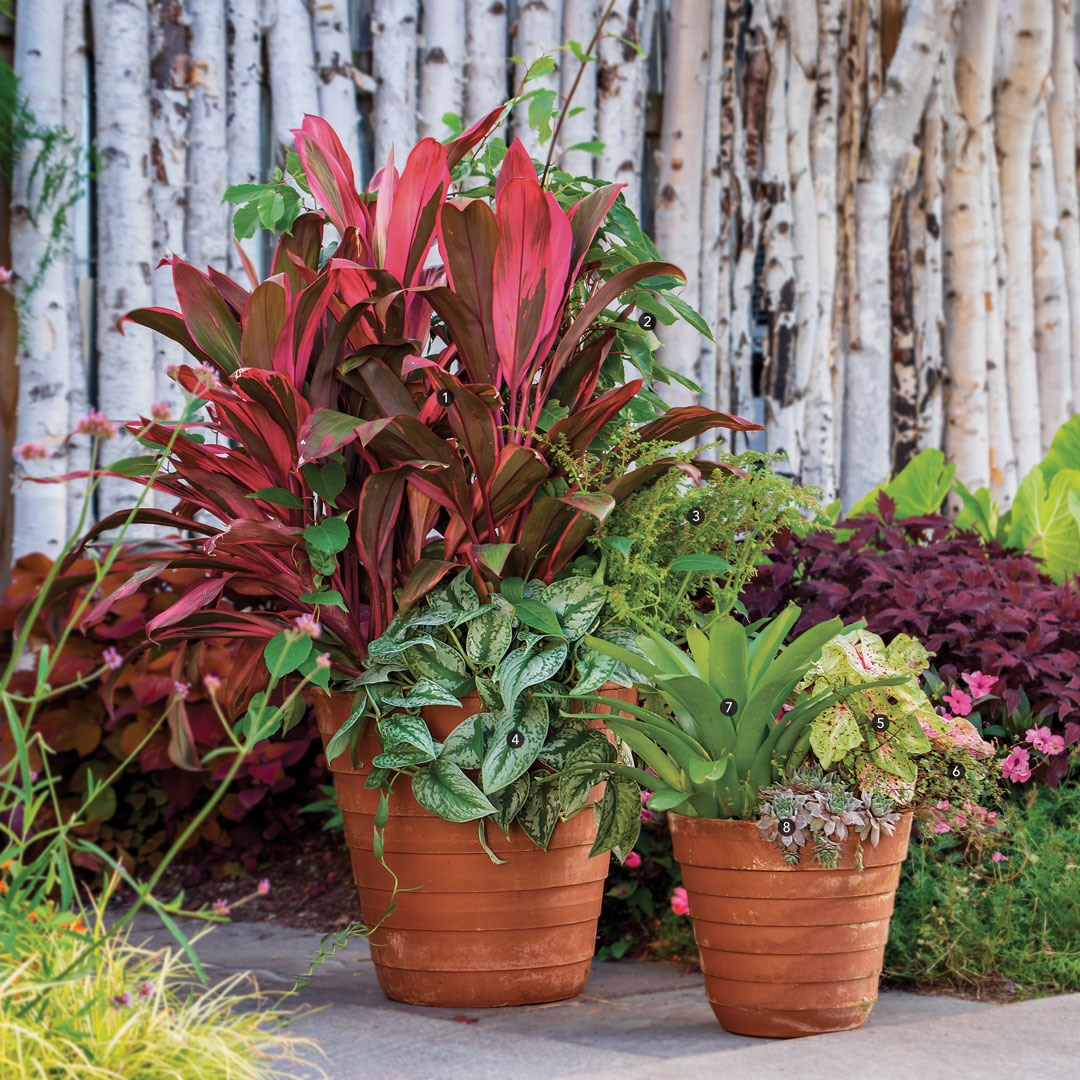 Set vibrant hues against a green backdrop
Nothing feels more tropical than a big burst of color. 'Maria' cordyline brings the heat to the larger container, and the same pink tones are picked up by 'Miss Muffet' caladium in the smaller pot. Houseplants such as satin pothos and maidenhair vine add an extra punch of texture, and the fine foliage of the maidenhair vine is mirrored by that of the artillery fern. To keep the focus on the hot pink highlights, the colorful stars of the show are set against a verdant backdrop of hardy kiwi vine and bromeliad. 
1. 'Maria' cordyline (Cordyline fruticosa 'Maria', Zones 9–12)
2. Hardy kiwi vine (Actinidia arguta, Zones 3–8) 
3. Artillery fern (Pilea microphylla, Zones 11–12) 
4. Satin pothos (Scindapsus pictus, Zones 10–12)
5. 'Miss Muffet' caladium (Caladium 'Miss Muffet', Zones 8–11)
6. Maidenhair vine (Muehlenbeckia complexa 'Triloba', Zones 7–10) 
7. Bloody bromeliad (Neoregelia cruenta, Zone 11)
8. 'Pacific Blue Ice' hens and chicks (Sempervivum 'Pacific Blue Ice', Zone 3–8)
Tip:
Sturdier plants can take full sun
When picking tropical plants for sunny locations, check their labels and opt for plants with tougher, more scorch-resistant leaves, such as bananas (Musa spp. and cvs., Zones 5–11) and succulents.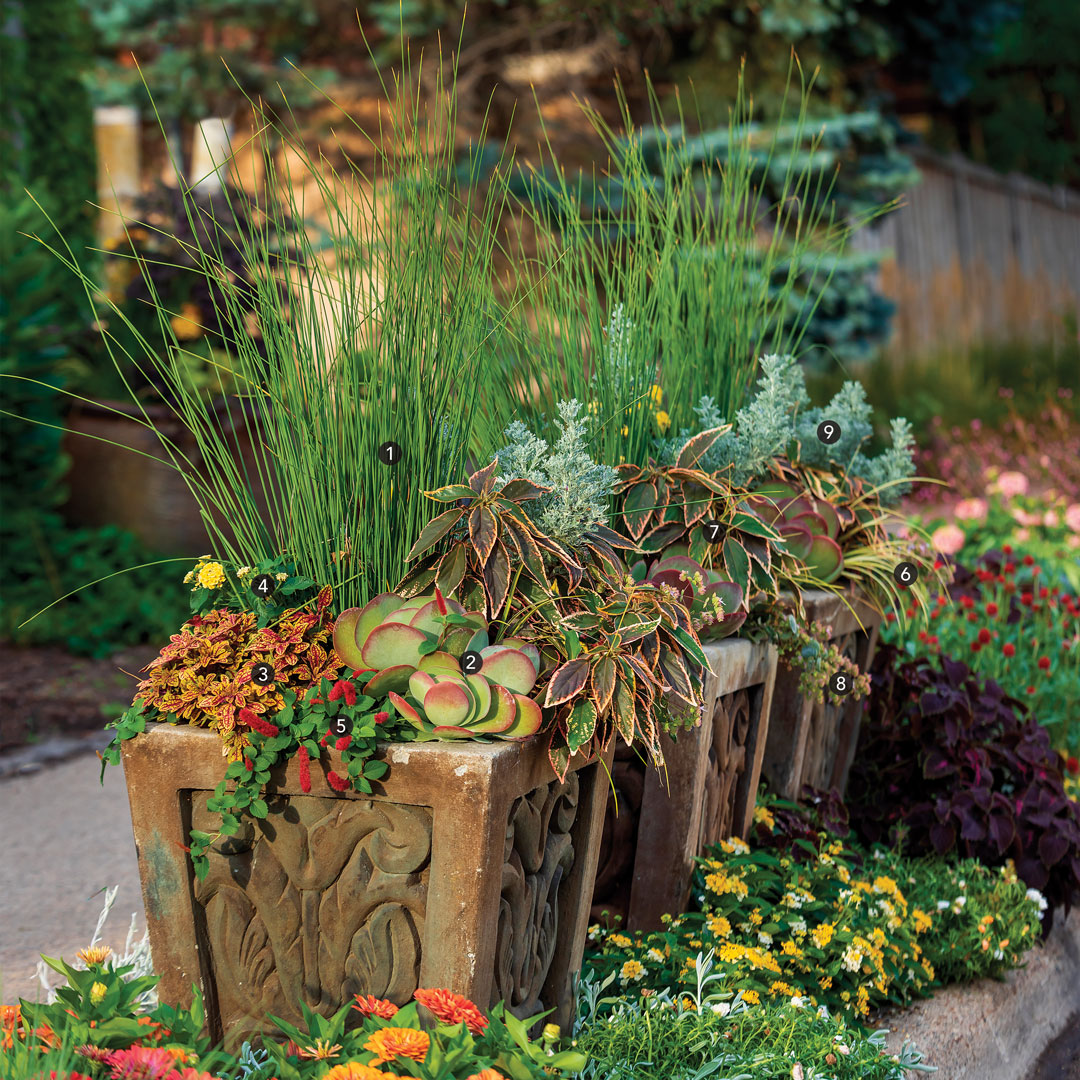 Create a combo that soaks up the sun
Putting together an outdoor container design gives us the freedom to push the limits of each plant's preferred ecological niche. While we would never find 'Blue Arrows' hard rush and 'Flapjacks' kalanchoe living together in the wild, they are able to grow together harmoniously for the season paired in a container in full to moderate sun that gets plenty of water. Including a single succulent in any tropical container draws the eye and creates a playful feel due to the unexpected nature of the addition. Despite what many people think, almost all succulents will do well when paired with other annuals and tropicals in a seasonal container. Just make sure the container is getting at least six hours of direct light per day.
1. 'Blue Arrows' hard rush (Juncus inflexus 'Blue Arrows', Zones 4–9) 
2. 'Flapjacks' kalanchoe (Kalanchoe thyrsiflora 'Flapjacks', Zones 10–12) 
3. 'Marrakesh' coleus (Coleus scutellarioides 'Marrakesh', Zone 11)
4. Luscious® Royale Piña Colada lantana (Lantana camara* 'LANZ0004', Zones 9–11)
5. Chenille plant (Acalypha hispida, Zones 10–11) 
6. Golden dwarf sweet flag (Acorus gramineus 'Ogon' Zones 5–9)
7. 'Bourbon Street' copperleaf (Acalypha wilkesiana 'Bourbon Street', Zones 10–11) 
8. Dittany of Crete (Origanum dictamnus, Zones 7–10)
9. 'Parfum d'Ethiopia' artemisia (Artemisia ludoviciana 'Parfum d'Ethiopia', Zones 6–11)
*See invasive alert below.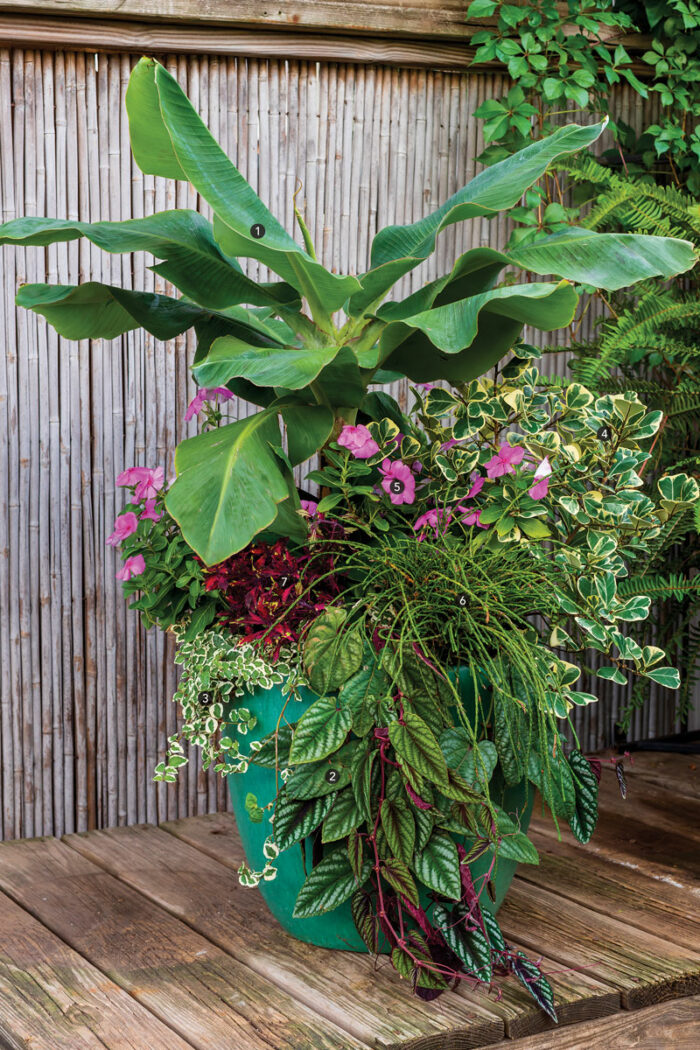 1. Japanese banana (Musa basjoo, Zones 5–10)
2. Rex begonia vine (Cissus discolor, Zone 11)
3. Variegated creeping fig (Ficus pumila 'Variegata', Zones 9–11)
4. Variegated triangle leaf fig (Ficus triangularis 'Variegata', Zone 12) 
5. Titan™ Lilac vinca (Catharanthus roseus 'PAS336360', annual)
6. 'Whipcord' western red cedar (Thuja plicata 'Whipcord', Zones 5–7)
7. 'Ignition' coleus (Coleus scutellarioides 'Ignition', Zone 11)
Tip: Some like it shady
In their native habitats, many common tropical plants are understory jungle plants that live on the forest floor. These plants will do best in partial-sun locations with two to four hours of direct light per day. Some more delicate plants, such as calatheas and ferns, prefer areas with even lower amounts of light and will thrive in dappled shade. 
---
*Invasive alert: Lantana (Lantana camara)
This plant is considered invasive in AL, FL, and TX.
Please visit invasiveplantatlas.org for more information.
---
Scott Endres, Derrik Gagliardi, and Laura Mathews are horticulturists and designers at Tangletown Gardens in Minneapolis.
Photos: Tracy Walsh