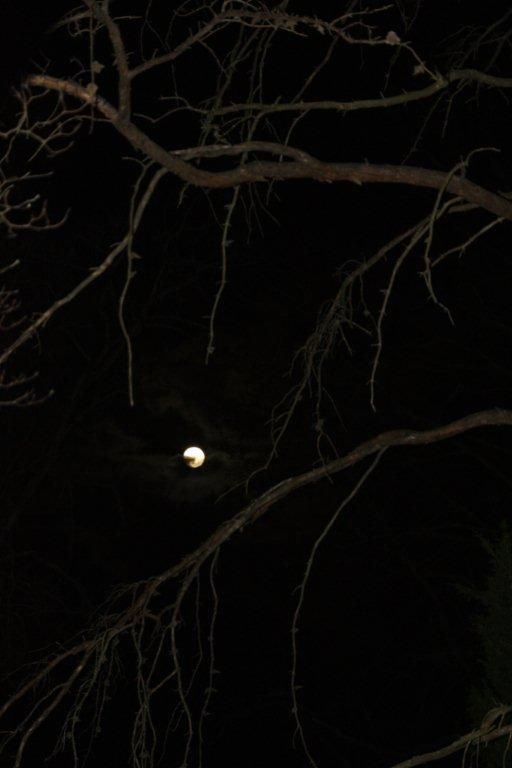 You've heard the saying "once in a blue moon," which generally means "not very often." We are having a blue moon on New Year's Eve (in my neck of the woods it will be full at 2:13 p.m. est). Blue moons happen whenever we have two full moons in the same month (doesn't happen often—maybe once or twice a year). We had a full moon on December 2, so on the 31st we will welcome the New Year with a true blue moon.
Garden under a blanket of snow.
Right now, we have a bit of snow left covering the ground after our big snowfall last week; it rained and melted most of it. Last night with the moon nearing full and shining down on the snow, it was hard to sleep since it seemed almost as bright as daylight, except for the ethereal blue tone of light which the moonbeams shine down.
It is in the 20s, so it is very cold out there. Instead of gardening, we stay at the task of cutting and stacking wood and keeping the woodstove going. Although it is a lot of work and somewhat messy, there is nothing that warms a body like standing next to a woodstove. And so the chairs nearby the stove are constantly occupied. When one gets up or moves aside, another body slides into the vacated space.
2010 catalogs are starting to arrive.
Right now, besides my new holiday reading gifts and music which are stacked alongside my chosen chair, I have begun to amass seed catalogs. The companies time it just right, so a number of them arrived exactly the day after Christmas. Now they are trickling in slowly—much to my delight—since I don't have the time to read them all at once. And this allows time for savoring and dreaming. These catalogs are a bit of a balm, helping to soothe we gardeners who are having withdrawal from the hand-to-earth contact. Being an earth sign, I start to feel blue by the end of January into February; I think of it as a lack of vitamin S(oil).
| | |
| --- | --- |
| | |
| Nothing like a woodstove to keep a body warm. | Keeping the wood cut and stacked on the porch is a great form of exercise. |
Greenhouse in the winter.
Although I do have a greenhouse (virtually unheated) and can putter in there, it is too early to start seeds. So I sit by the stove, with a cup of tea or glass of wine depending upon what time of day it is, and inspect the seed catalogs dreaming of my garden to be. I read the Farmers' Almanac and the Llewellyn's Moon and Sun Sign books—which I put on my wishlist every year, and this year my daughter Cady got them for me—so I will be aware of what to expect and plan for in the upcoming year.
Here is a quote from the 2010 Llewellyn's Moon Sign Book that made me chuckle:
"Seed catalogs are responsible for more unfulfilled fantasies than Enron and Penthouse combined."
—Michael Perry, TRUCK: A Love Story
Soon it will be time to get out the flats and promix; though not quite yet. The days have to get a bit longer. So I do have one of those great little Aerogrow gardens to tend. I was surprised at the crop of basil I harvested from it last year during the cold weather. I just ordered a selected batch of seeds instead of one of their pre-packaged kits, so I could select the herbs I want to grow for cooking. It is a countertop unit that sits on my mudroom counter and the grow lights are on a timer. I find it rather comforting and it is fun to set it up, watch the herbs grow and cut them fresh to put in the soup pot. I will take photos for you to see the set-up once the seeds arrive.
Bodhran (Irish frame drum).
In the meantime, take the time to relax; winter is a time to turn inward and reflect upon the season and all that we have to be thankful for. Enjoy the full blue moon on New Year's Eve. I am celebrating with friends who will build a big bonfire and we are invited to bring good things to eat as well as songs, poetry, and musical instruments to share. I am taking one of my Christmas gifts; my daughter Lucie gave me a bodhran (an Irish frame drum) which I have been wanting ever since my trip to Ireland. Even though I don't know how to play it yet, I am sure we can use it to bring in the New Year!
Here's wishing you a happy, healthy, and herbal 2010!
"Don't judge each day by the harvest that you reap, but by the seeds that you plant."
—Robert Louis Stevenson