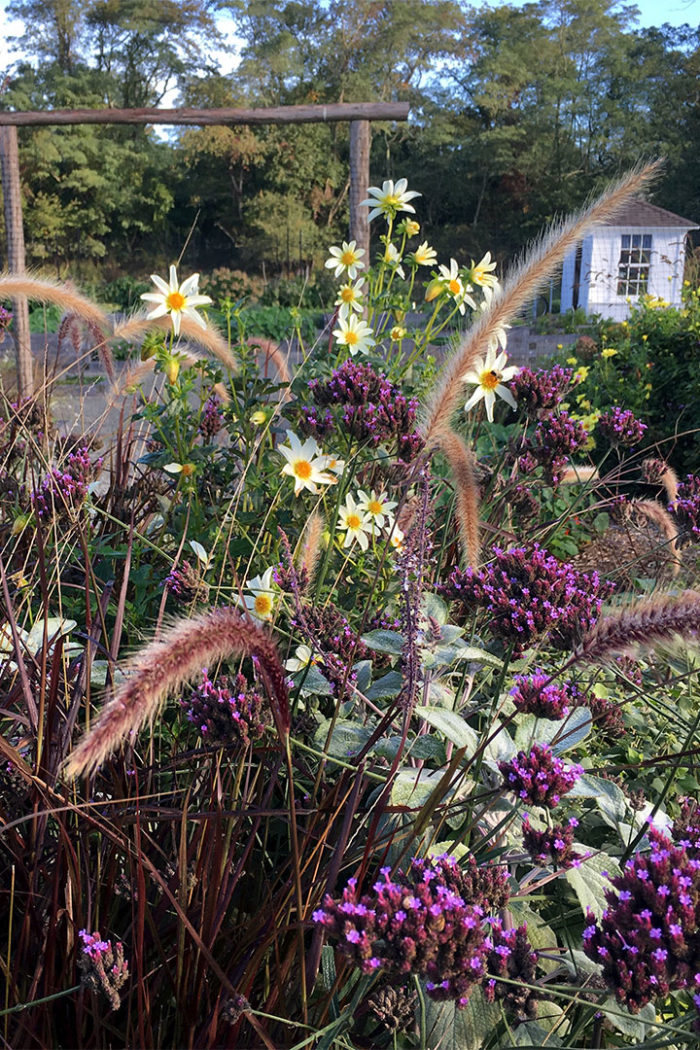 A Northeastern garden in June is hard to beat, growing with as much energy and enthusiasm as we feel after a long winter. And if anything is lacking, every garden center will have a dozen choices in bloom to fill the hole.
But as summer progresses, heat and humidity can take the stuffing out of us and send the garden into decline. The trick to keeping your garden in peak bloom from midsummer into fall is to insert plants now that can take the heat.
Your favorite local nurseries will offer an assortment of "annuals" selected for particular garden-worthy characteristics, including summerlong vigor and showiness. These tender perennials may cost as much as a hardy perennial, but winter survival shouldn't be the only factor we consider when opening our wallets. Does it feed the bees and butterflies until frost? Is it a hummingbird magnet? If the answer is yes, it's worth the price.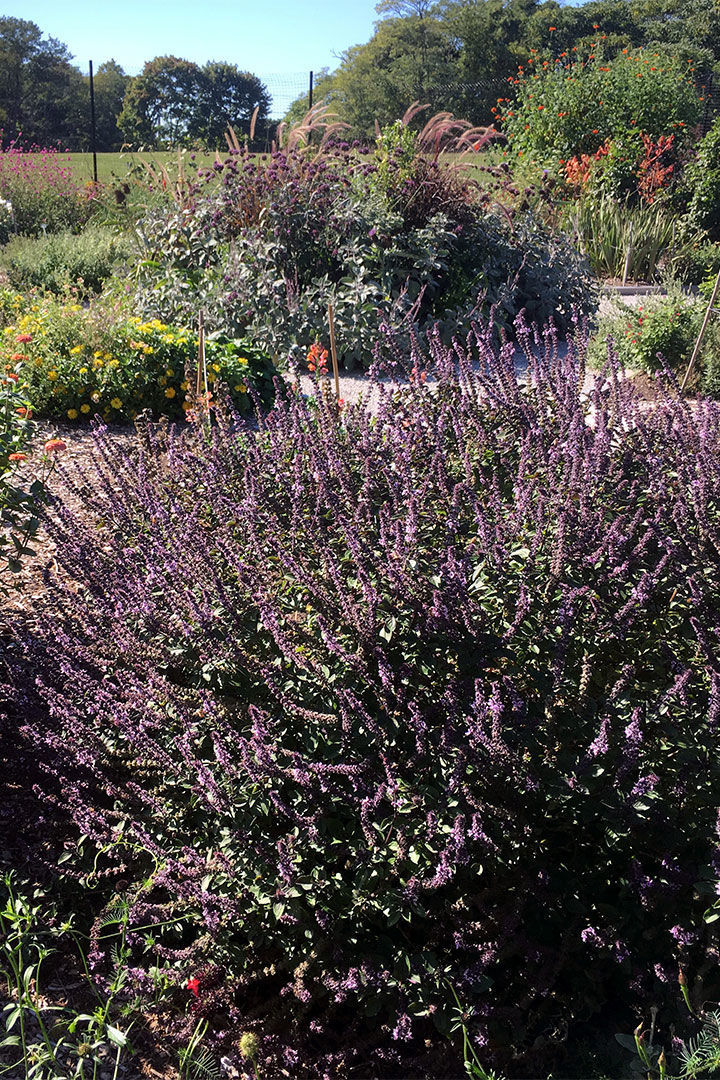 African blue basil (Ocimum kilimandscharicum × basilicum 'Dark Opal', Zones 9–11) has it all: a heady basil fragrance (the taste is on the strong side), beautiful purple-backed foliage, and smoky flower spikes that bloom without bolting, buzzing endlessly with bees. From a 4-inch potted start it grows quickly to 3 feet tall and wide and blooms like a champ until frost.
There are several excellent tender perennial salvias. 'Indigo Spires' sage (Salvia 'Indigo Spires', Zones 7–11) puts out waves of deep blue spires instantly and grows to about 5 feet tall. Mystic Spires Blue (S. 'Balsalmisp', Zones 7–11) was selected for slightly smaller stature at maturity. 'Wendy's Wish' (S. 'Wendy's Wish', Zones 9–11) and 'Ember's Wish' (S. 'Ember's Wish', Zones 9–11) are 3 to 4 feet tall with glowing red-purple flowers held in papery bracts. 'Waverly' (S. 'Waverly', Zones 8–11) and 'Phyllis Fancy' (S. 'Phyllis Fancy', Zones 7–9) hit the pale purples.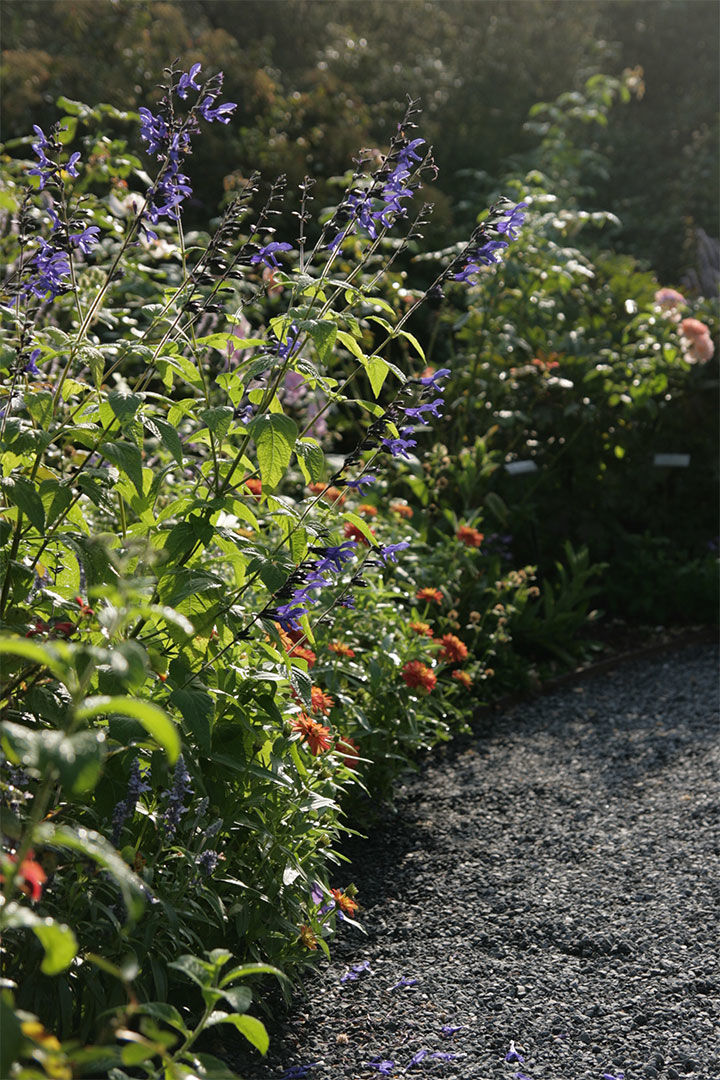 Mexican bush sage (S. leucantha, Zones 9–11) and pineapple sage (S. elegans, Zones 8–11) will not start blooming until fall, but they are worth the wait. The aptly named hummingbird sage (S. guaranitica, Zones 7–10) starts sending cobalt blue spikes skyward in late July and may overwinter in a protected, south-facing microclimate. Leave the stems standing for insulation, and practice patience come spring, as hummingbird sage is late to emerge from dormancy.
All of the above-mentioned salvias feed the bees and hummingbirds until a killing frost, even without deadheading, and are easy to propagate and overwinter indoors from tip cuttings.
Dahlias (Dahlia cvs., Zones 9–11) are a must for the late summer show. With bloom styles that include pompoms, daisies, water lilies, and cactus twists; flower sizes ranging from tablespoon to dinner plate; all colors of the rainbow, including purples that are close to blue; stem heights from 12 inches to 6 feet; and black or green foliage, there's a dahlia (or 10) for every garden. Enthusiasts and cut-flower farmers stake them in regimental rows, but the rest of us may mix them into our borders. Bumblebees will congregate on all pollen-laden flowers from late summer into fall. After frost, dig and store the tubers in your cellar overwinter. Or not.
A few other favorite tender perennials to carry the garden into fall are 'David Verity' cuphea (Cuphea 'David Verity', Zones 8–10), porter weed (Stachytarpheta spp., Zones 10–11), and old-fashioned heliotrope (Heliotropium arborescens, Zones 9–11).
Photos by Kristin Green
Kristin Green is author of Plantiful: Start Small, Grow Big with 150 Plants that Spread, Self-sow, and Overwinter, and gardens in Bristol, Rhode Island.