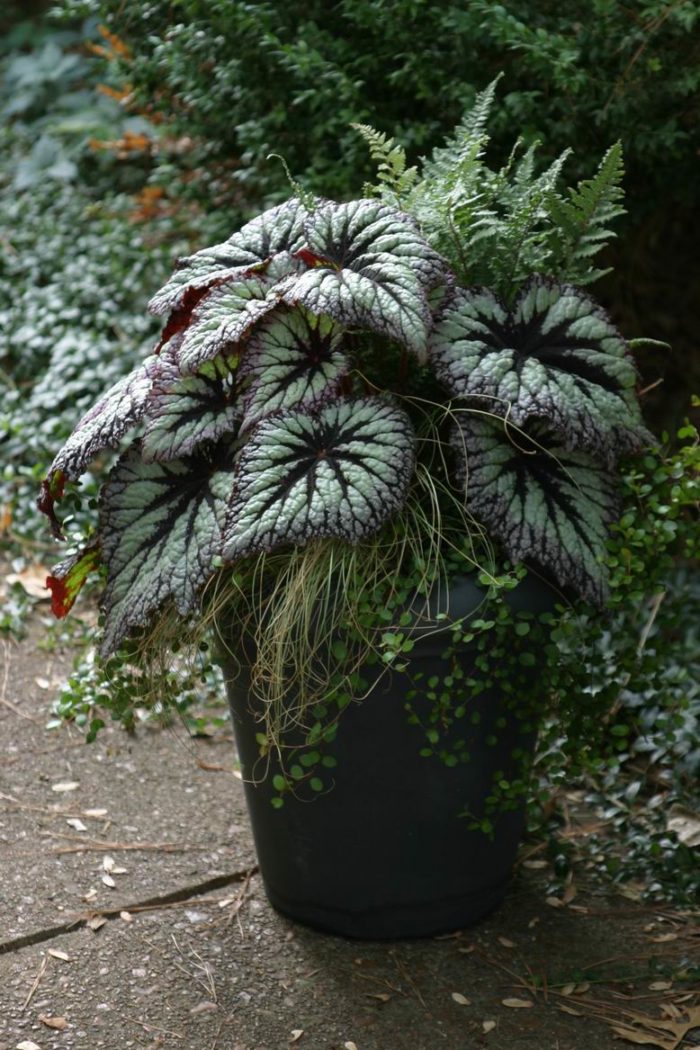 When you're potting up your containers this year, consider trying one that doesn't rely on flower power. Fascinating foliage can be even more compelling than flowers. Rita Randolph in Jackson, Tennessee, proved it in this planting, where  the dramatic leaves of a rex begonia are the star of the show, supported by three contrasting foliage textures. The plants included in this container are:
'Fireworks' rex begonia (Begonia 'Fireworks', USDA Hardiness Zone 11)
Japanese painted fern (Athyrium niponicum, Zones 5-8)
Creeping wire vine (Muhlenbeckia axillaris, Zones 8-10)
'Frosted Curls' sedge (Carex comans 'Frosted Curls', Zones 7-9)
>>>To learn more about rex begonias, click here!<<<
Welcome to the Fine Gardening Garden Photo of the Day blog! Every weekday we post a new photo of a great garden, a spectacular plant, a stunning plant combination, or any number of other subjects. Think of it as your morning jolt of green.
Sign up to get new posts delivered to your inbox each morning so you'll always remember to take a look, or add us to your RSS feed. We look forward to sharing our garden travels with you.
If you think you have a photo that we should share on the Garden Photo of the day, email us. Send hi-res images to [email protected] with GPOD in the subject line. We'll only respond if we plan to use your photo.