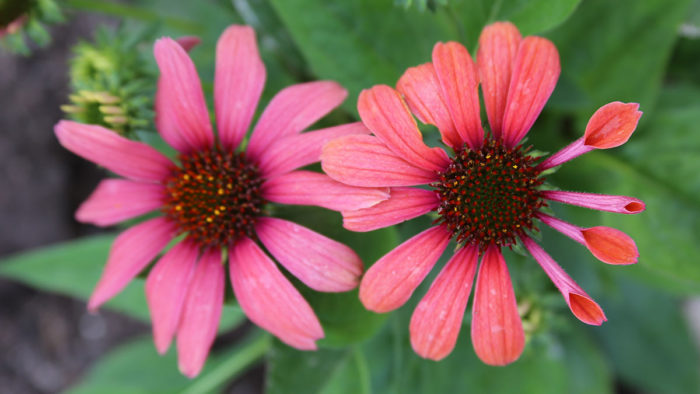 While perhaps not brand-new, these coneflowers were new to our trials in 2019. They all show great promise with just one year under observation.
1. 'Julia' is another lovely coneflower from the Butterfly™ series that features deep orange-to-pink rays and cones reminiscent of monarch butterflies. A fuchsia nimbus radiates from the cone, softly coloring the base of the horizontal rays. The rich color eventually fades but is satisfying to the end. 'Julia' sports 3-inch flowers and will ultimately grow to be 18 inches tall and 24 inches wide.
2. If forced to describe the flower color of Lakota™ Fire succinctly, I'd probably say orangey pink. To be fair, this new seed strain features a mix of lush colors—bright orange, deep watermelon pink, red, and peachy pink. The various red hues are pretty individually and stunning as a whole from early summer to frost. The cheery 3½-inch flowers feature nearly flat rays. Lakota™ Fire was 15 inches tall and wide last year and won't get much larger.
3. Luminescent 'Golden Skipper' from the Butterfly™ series has sunny lemon yellow rays and yellow-gold cones from early summer to frost. I'm a big fan of yellow coneflowers unless they're brassy yellow—isn't that what black-eyed Susans are for? It has 3-inch flowers and will ultimately be 18 inches tall and 24 inches wide.
4. Last summer I was impressed with Kismet® White (E. 'TNECHKW'), which is the best white coneflower I've seen in some time. The bushy compact habit is crowned for over three months with an abundance of pure white flowers with green cones. The ray florets are held flat and fade with a yellowish tinge. Kismet® White was 16 inches tall and 13 inches wide its first summer and should only get a tad taller at 18 inches.
5. The sultry vermilion flowers of Sombrero® Sangrita (E. 'Balsominita') make me swoon. The eye-catching flower show, with scores of 3-inch single flowers, energizes the summer garden right up to frost. Bushy, red-stemmed plants (20 inches tall and wide) complete the vibrant picture.
6. Kismet® Yellow (E. 'TNECHKY') also put on an amazing show with scores of vibrant golden yellow—not brassy—flowers from early summer to frost. The Kismet® Series offers heavy flower production, reliable first-year bloom, and compact habits.
7. 'Sensation Pink' was one of the very best coneflowers in 2019, notable for vibrant magenta-pink flowers held on purple stems and a robust habit to 14 inches tall and wide. It blooms bountifully from early summer to frost; the flowers hold their color for a long time before fading to a pretty lavender-pink.
---
---
Richard Hawke is plant evaluation manager at the Chicago Botanic Garden in Glencoe, Illinois.
Photos: Danielle Sherry