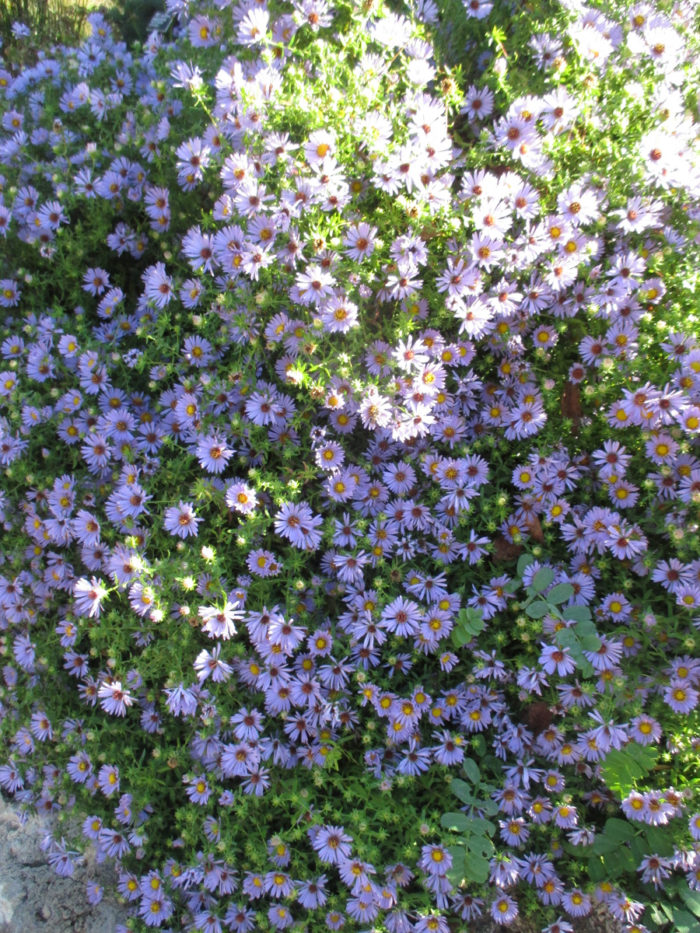 The year was 2012, and I was wandering around Boerner Botanical Gardens in Hales Corners, Wisconsin (just south of Milwaukee) on a crisp, early October morning. We hadn't had a hard frost yet, but fall colors were evident and autumn was in full swing. In the distance, I noticed low drifts of something flowering in a wonderful shade of sky blue. I figured it was an aster but was amazed by the bloom coverage on the compact, billowing mass of foliage that could hardly be seen due to so many blooms. Thankfully, the label was clear. That was my first introduction to 'October Skies' aromatic aster (Symphyotrichum oblongifolium 'October Skies', Zones 4–8).
While they may appear nearly indistinguishable at first, 'October Skies' (right) has a more compact and dense habit and slightly bluer flowers than 'Raydon's Favorite' (left). Photos: Mark Dwyer

| | |
| --- | --- |
| | |
Origin and Prominent Features of Asters
Since that day, I have planted, grown, observed, and recommended this variety dozens of times as a premiere compact aster selection with heavy flowering in late September to mid-October. Reaching 18 to 24 inches in height, this aster was bred by the Primrose Path nursery in Pennsylvania as a "sister seedling" of 'Raydon's Favorite' aromatic aster (Symphyotrichym oblongifolium 'Raydon's Favorite', Zones 4–8), which is also excellent. Although they are similar, 'October Skies' is a more compact, denser selection that features a multitude of blooms even bluer than 'Raydon's Favorite'. As an aromatic aster, 'October Skies' has a sweetly scented fragrance that comes from the foliage, not the flowers. However, the sky-blue flowers with conspicuous yellow centers are as attractive to late-season pollinators as they are to gardeners.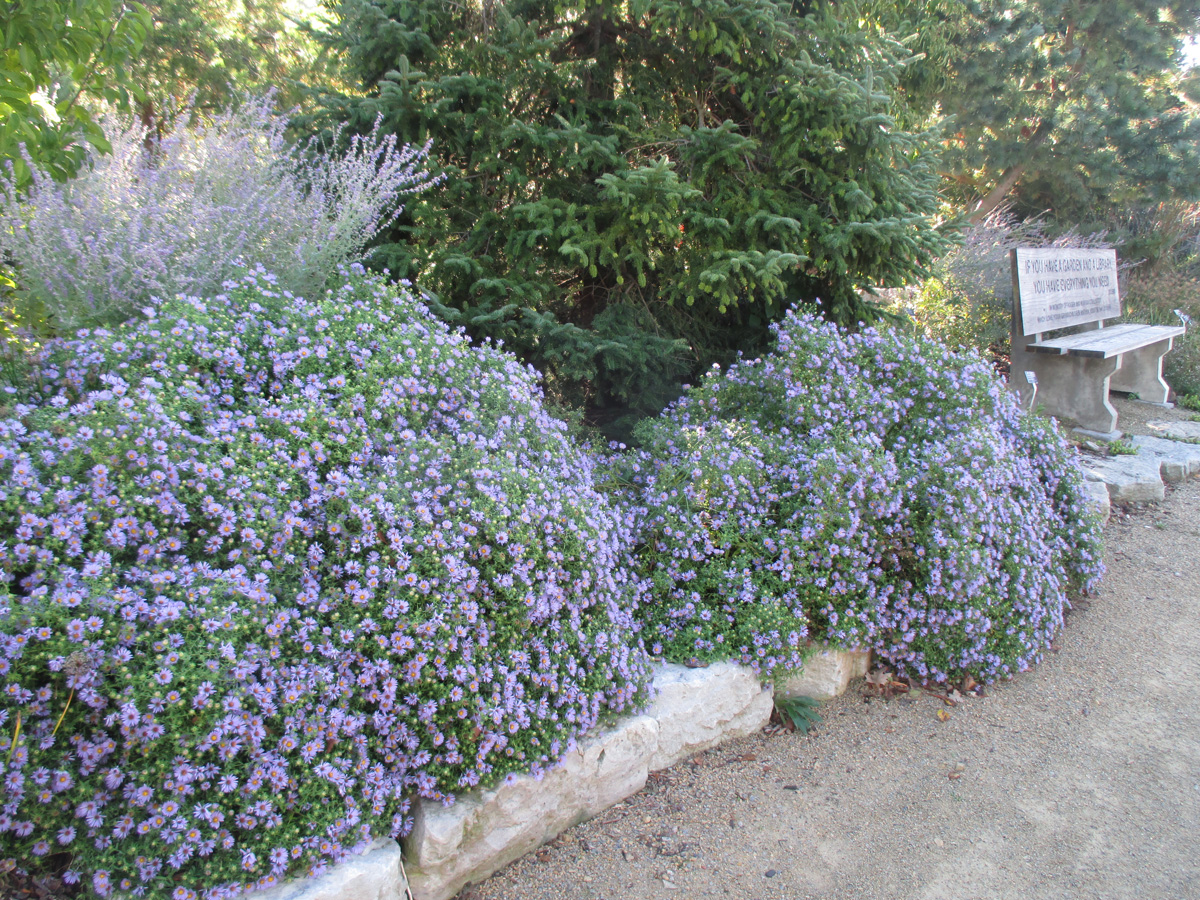 Pick the Perfect Spot for Your Aster
Preferring full sun, this bushy selection tolerates dry to lightly moist situations and thrives in a range of soil types from sandy to clay. In areas where this selection is in richer soils and/or receives supplemental watering, it will achieve the taller end of the height range. Well-drained soils are preferred, as is placement where air circulation is sufficient to help prevent mildew. This species is also drought and salt tolerant and can be planted near walnut trees (Juglans spp. and cvs., Zones 3–9). While many asters are delicious for deer and rabbits, this species is not their favorite, so it might be avoided.
 Deep yellows bring out the vibrant blue of 'October Skies' and vice versa. Consider threadleaf bluestar (left), 'Little Henry' coneflower (center), and 'Fireworks' goldenrod (right). Photos: Mark Dwyer

| | | |
| --- | --- | --- |
| | | |
Design Ideas for Asters
'October Skies' is beautiful when incorporated throughout the landscape in areas where that late-season, blue-flowering contribution will be appreciated. This species is frequently used in water-wise combinations and in low-maintenance plantings. Pinching the stems back prior to early July (as is done with many asters) will result in an even more compact plant with minimal flopping that will feature more flowers. This selection is fairly stem-sturdy already and normally creates a nice, dense mass. In a combination, 'October Skies' is destined to be a late-season hit. It looks wonderful paired with 'Little Henry' sweet coneflower (Rudbeckia subtomentosa 'Little Henry', Zones 4–10), 'Fireworks' rough-stemmed goldenrod (Solidago rugosa 'Fireworks', Zones 4–9), or the late-season golden foliage of threadleaf bluestar (Amsonia hubrichtii, Zones 5–8).
—Mark Dwyer, former director of horticulture at Rotary Botanical Gardens in Janesville, Wisconsin, operates Landscape Prescriptions by MD.