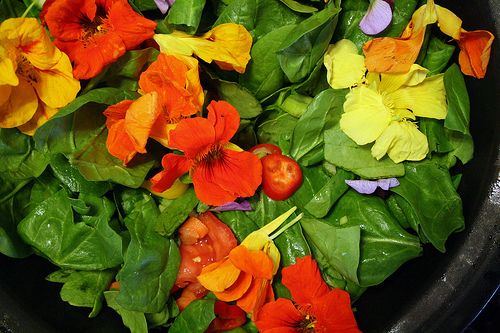 I've always loved garden nasturtiums in my flower beds. Oh, I know they're touted as ordinary, and flowers that are easy to grow often get a pretentious sniff. The simple flowers in cottage gardens don't get much press these days.
As much as I love the currently favored gardens like the Japanese themes (and I adore Japanese gardens) the cottage garden still holds the most magic for me (it's where the fairies dance naked, after all). So it stands to reason that I fancy the old-fashioned charmers like nasturtiums (Tropaeolum majus).
That said; there might be a couple of surprising things you don't know about this underappreciated annual. If you don't use them for companion planting for other plants, you're missing out and if you've never thought of them as food, you really need to get out more.
Nasturtiums as food
You may not see them sold in the grocery store as food, but nasturtiums are used as a peppery addition to salads and sandwiches right along with dandelions, purslane, borage, and calendula. They're beautiful as a garnish and contain oodles of vitamin C.
Herb spreads can be made with a combination of mayonnaise and the herbs of your choice such as nasturtium flowers. A common spread recipe is 1-2 TBSP of mayonnaise with an equal amount of nasturtium petals, spread on toasted rye bread.
Nasturtium seeds can be used as a substitute for capers, as well. Just pick the nasturtium seeds while they're still green and haven't hardened. Put them in a glass bottle or jar and cover them with vinegar. You can use them after three days of them soaking in the vinegar and they don't need refrigeration.
Nasturtiums as companion plants
Companion planting is defined as plants you plant among other plants that you value such as roses or a vegetable crop that attract beneficial insects, repel bad guys, or trick the bad guys with scent disguise. Nasturtiums fit nicely into the companion plant category by attracting hoverflies, which will destroy aphids on your prize roses or in your vegetable garden.
Nasturtiums are super-duper easy to plant, in fact the only way they'd be easier is if they hopped out of the seed pack for you. This makes them ideal for kids because the seeds are easy to handle and almost always germinate. You can choose climbing, dwarf, trailing, or traditional nasturtium varieties. They do well in nearly every zone and come in both single and double flowers. Garden nasturtiums bloom in creamy white, red, red-brown, orange, yellow, and maroon.
They prefer sandy soils but do fine anywhere as long as it's a well-draining area. Usually the poorer a soil is, the more flowers you'll get. Full sun to part shade is the best exposure for nasturtiums. Plant nasturtiums in the early spring and by June you'll have blossoms for salads. Plant them and don't be a snob.