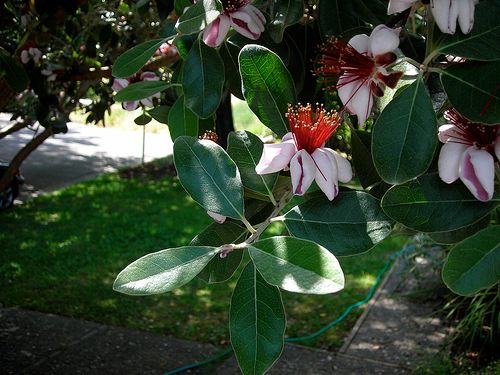 Pineapple guavas (Feijoa sellowiana or Acca sellowiana) are unsung heroes as far as I'm concerned. For the life of me, I haven't been able to figure out why this plant is so underutilized—especially for edible landscaping.
I've become its number-one fan, especially because our house sits smack dab in the eye of some major deer country. All luscious plants eventually fall victim to these otherwise-lovely eating machines. OK, that's dramatic. Maybe not all plants are devoured; just the ones that I truly want in my yard and garden.
With the exception of all but the toughest plants, most have to be protected behind fences that are 6 feet tall or taller. My brave pineapple guavas are one of the exceptions. They stand proud and challenging right in the face of a bazillion mule deer.
And they're promptly ignored. Blessed are the pineapple guava.
Let it be known that they're anything but a one-trick pony. Aside from the fact that deer ignore them, let me give you other great reasons to plant some of your own.
1. Interesting and attractive foliage
Pineapple guava is a handsome shrub with thick, oval, silvery-green foliage. I should have mentioned right up front that these bad boys are evergreen. This is extremely important to someone who likes some texture and color year-round (namely, me). There's nothing wimpy going on here. It's a substantial plant that can be pruned into tree form or double as a boundary hedge.
2. Beautiful (and interesting) flowers
In the spring the flowers arrive and put on a pretty fabulous show. The passion-floweresque blossoms are some of the most interesting I've seen. Sugary pink petals are pulled back and down over the stem, allowing rose red stamens with gold tips to fan out. I'm not alone on this; bees, butterflies, and birds appreciate them as much as I do.
3. Edible fruit (and flowers!)
Yes, those fabulous flowers are completely edible. You can eat them right off the plant, toss them into a salad (imagine that presentation), add them to iced tea, or use them to make jelly. They have a fruity-sweet-with-a-little-tang flavor. The fruit will show up in the fall and is ripe when they drop off of the shrub.
It's a simple task to cut the little fruits in half and scoop out the fleshy insides with a spoon. I think they have their own flavor, but I've heard it described as pineapple-ish, minty-ish, or . . . like a guava.
4. Carefree
This is one unfussy plant. Still, it has its preferences. Pineapple guava does well in Zones 8–11. It enjoys full sun, but if you're in an area that has extremely hot summers, afternoon shade is necessary.
Once established, these plants are quite drought tolerant, but you'll have better fruit if you give them a deep watering weekly. They're self-fruitful, but fruit tends to set better if there's another plant nearby. For the most part, pests seem to ignore them as much as the deer. (Can this get any better?)
5. Container friendly
That's right, these guys have no problem living in containers, so a small-space garden is a nonissue. In fact, even if you have plenty of gardening space, if you live in a cold zone (where they won't winter over), you may opt to plant yours in a container so it can be brought indoors during the cold months.
6. Did I mention that this plant is deer resistant?