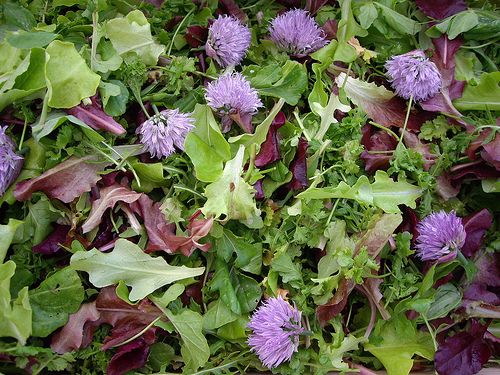 It's sold as specialty produce at fancy grocery stores with an impressive price tag on it. You've seen it printed on the menus at restaurants that are suspiciously without listed prices. For many, mesclun remains a curious mystery of the salad world. We'll I'm going to shed some light on the rare and exotic ingredients of mesclun so that you may also serve it with a pretentious little sniff at your own luncheon or dinner party with your in-laws.
The definition of mesclun is simply any combination of young, tender baby greens. This can include (but is in no way limited to) arugula, Swiss chard, endive, fennel, chervil, spinach, mustard greens, chicory, sorrel, cress, dandelion, and any of the various lettuces. By the way, this idea isn't modern or new. Like everything else edible or architectural, Europeans have been doing it since the stone age. Mesclun comes from the French word "mescla" or "to mix".
The primary focus when creating mesclun is to not only blend the flavors of the greens in such a way that the palate is pleased. But to also enchant the eye with color and textures. Serving food should be about delighting all of the senses (the French taught me that – or least someone who said they were French). So, don't forget tabout the frilly or deeply-colored lettuces.
For the most part, lettuces and greens enjoy cool weather seasons, so planting the seeds of various greens in the late winter or early fall is your best bet. That said, this week I'm planning on planting hot-weather lettuces to see how they fare. Broadcast as many different greens as you desire and don't forget to try a couple of things that may have never crossed your mouth before such as dandelion greens (which contain oodles of vitamin c, calcium and iron) or mustard greens. Ideally, you'd like the little greens to be 4′- 6″ apart, but the stars never seem to align themselves for me in that way.
If you just can't bring yourself to plant dandelions on purpose, you can always harvest them from another crop bed on your property; say, your lawn for instance. It'd be best if you didn't harvest greens from an area where you've used herbicides or fertilizers, as well, but I digress. After you plant your first crop of mixed greens, it's never a bad idea to plant them again the next week and yet again the week after that. This is called succession planting and this practice will keep salad on your table for months.
Harvest begins a mere few weeks after you tossed those first seeds out there. Just take a pair of small scissors and cut off the little greens about 1/2 " from the ground. You could pull them up, but if you leave the root intact you'll be rewarded by another crop as the bases resprout.
It's just short of a felony to smother mesclun with anything rich or creamy. It's like pulling those tags off of pillows (just know you've been warned). My favorite dressings on these babies are the lighters ones. Raspberry or cranberry vinaigrette are tops on these flavorful salads – or try a lemon vinaigrette.
Your imagination is the only thing limiting you in creating meclun for you and yours. Try blending in other plants such as herbs and don't forget the edible flowers for en extra colorful touch. One last thing. Don't forget you neighbors, folks. As a gardener who's always trying to find new gardening addicts, one of my favorite ways is to hand it out for free. That's right. Give the candy (or salad) away for free and soon they'll be hooked and come around again begging for more.