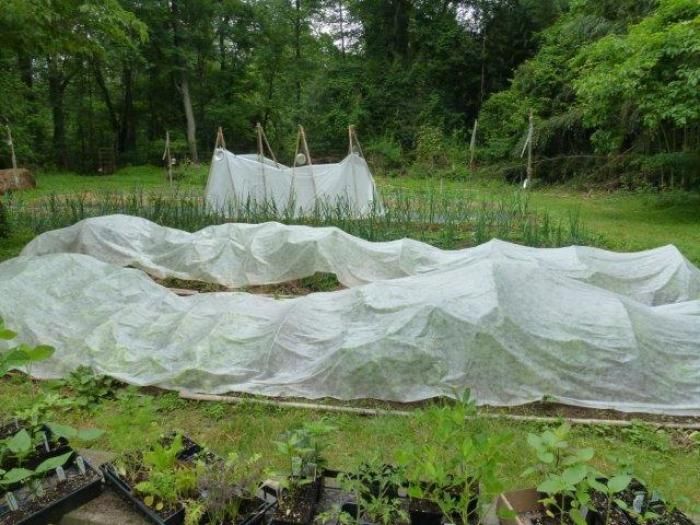 Although Memorial Day always falls at the end of May and summer solstice isn't until June 21, I always feel that this weekend is the real start to summer. By now, we gardeners have been digging and sowing and transplanting, and of course weeding, for months now.
In my zone 7 garden, we have planted out the last of the finicky-don't-like-cold-weather-plants like the tomatoes, peppers, eggplants and basils. In fact, our whole vegetable garden is planted and we really don't have any more room. Once we harvest some more of the lettuces and other greens, we will have more space for sowings of cilantro and dill, and can stick in a few extra plants which are sitting around crammed in market packs or plant cells. By the end of June the garlic will be ready to dig and so once it is harvested we'll have a bit more space to cultivate.
It is hot already—in the 90s most days—so plants are blooming and a few are setting fruit. Using the floating row cover is helping to keep insect damage down. Although the peas are pushing the row cover up so that it no longer meets the earth and some varmints have been sneaking underneath and snacking on the sweet, tender, flowering plants. We have had lots of rain and the weeds are growing fast. Early morning and evening are best times for weeding, out of the blazing sun. It is also time to put down straw mulch now that the plants are growing taller.
When I planted the basils, I cut all of them back just above the bottom two sets of leaves: be sure to do this so that you have plenty of basil to harvest and it doesn't flower so soon. For more info on this see my video How to Harvest Annual Herbs. I used the basil with some arugula, sorrel, green garlic and olive oil to make a delectable sauce for steamed asparagus, beets and new potatoes. Yum.
Today I had the pleasure of visiting a mentor, colleague and dear friend, Dr. Jim Duke. I went to his home, the Green Farmacy Garden, with a fellow Herb Society of America member Pat Kenny. Earlier this month we attended the HSA annual conference in Austin, Texas, where I accepted the Gertrude B. Foster Award for Excellence in Literature on behalf of Dr. Duke. Way to go Jim–we are so proud of you!
Here are some photos of the garden this week. Happy summertime!