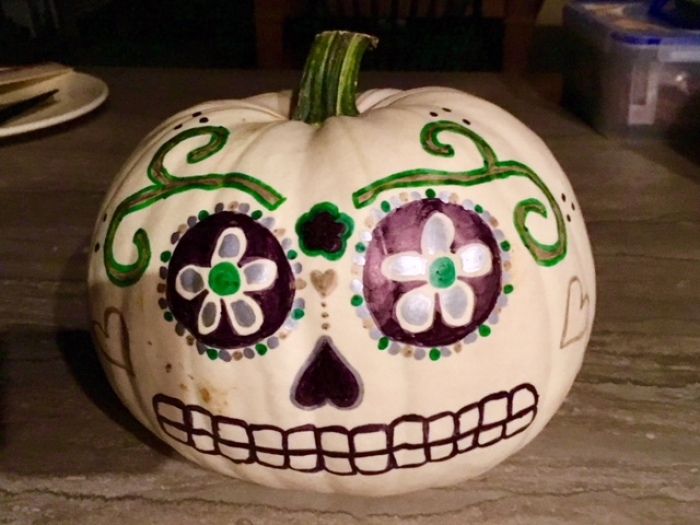 We have had our frost warning in my zone 7 Maryland area and I went out the day of the prediction and gathered all of the green tomatoes still on the vine and harvested a large number of chile peppers still hanging on the plants. The chiles still need to be processed; I will dry some of them, make salsa and hot sauce with some and of course eat them every day with every meal. I cut annual flowers and herbs and filled the house with bouquets of zinnias, nicotiana, marigolds and nasturtiums and basil-all of them will turn black with a frost. 
I spent two days cleaning up all of the outside plants in containers, pulling out leaves and weeds and trimming them back and carrying them into the greenhouse.
The leaves have been swirling down rapidly. I can stand outside and hear them falling. We did get a rain which made some of the foliage change color overnight. Since we had such a dry late summer and fall, the leaves are not as colorful-there is a lot of brown. However they still make a wonderful scuffling sound, especially in the woods, as I plow through them in my garden boots. Amongst the trees, there is a huge understory of spicebush (Lindera benzoin) and it is a mass of golden yellow. Most of the red berries are gone-the birds heading south, stop and feast upon them.
October 31 is all Hallow's Eve and there will be lots of dressing up in costumes and trick-or-treating. I like to see the cornstalks, straw bales, brightly colored chrysanthemums, winter squash, gourds and occasional scarecrows decorating porches, yards, fences and lampposts. I have pumpkins and mums and gourds near about and on my back porch and this year instead of carving my pumpkin, I used permanent markers and drew a Day of the Dead-inspired design.
In Ireland, October 31 is also a celebration called Samhain (pronounced sow-en). This day starts the new yearly cycle for the Celtic people and celebrates the harvest season moving in to the death and rebirth of the earth; it is a time of quiet waiting and introspection.
Whatever you might be celebrating-happy Halloween, happy Samhain-and happy harvest season!