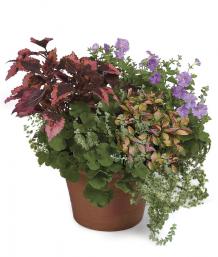 Here's some exciting news for gardeners: Alternantheras (Alternanthera spp. and cvs.), a group of colorful and fast-growing tropical plants, are gradually making their way into nurseries. Like coleus (Solenostemon scutellarioides cvs.), Persian shield (Strobilanthes dyerianus), and other popular tender foliage plants used as warm-season annuals, alternantheras contribute tantalizing foliage colors—shades of yellow, white, red, pink, and even orange—from the moment they're planted in late spring until fall frost finishes their season. I've been quick to embrace their colorful presence, because their laid-back lifestyle meets the demands of my long gardening season.
Besides being beautiful, alternantheras are easy to grow. Average garden soil of moderate fertility produces excellent results. Though they don't tolerate extreme drought very well, alternantheras require no more water than do most hardy perennials. They suffer no pest or disease problems that I've seen, except for the occasional case of leaf rot when too crowded or leaf spot while overwintering in a cool, damp greenhouse. They make spectacular container specimens but are also at home in the most stylish of mixed borders. Best of all, alternantheras thrive in full sun without needing SPF 50 sunscreen, while also adapting to half-day light. Typically, brighter light equals brighter tones in plants, but long periods of triple-digit temperatures may actually dull alternanthera's colors for a time, so consider a little mid-day shade for gardens in the Deep South. The only thing an alternanthera won't do is prosper in dense shade—fair enough, I suppose, for an otherwise agreeable garden guest. Five selections in particular have proven to be reliable growers through my hot, humid summers and long, glorious falls.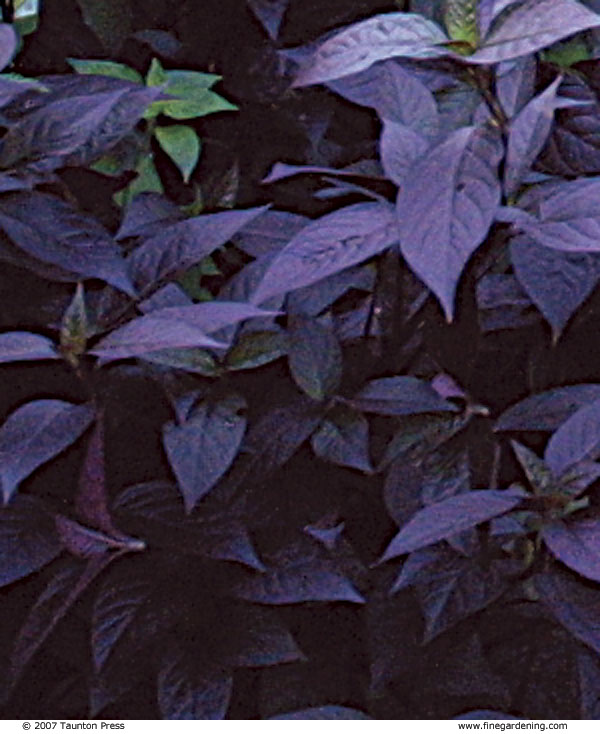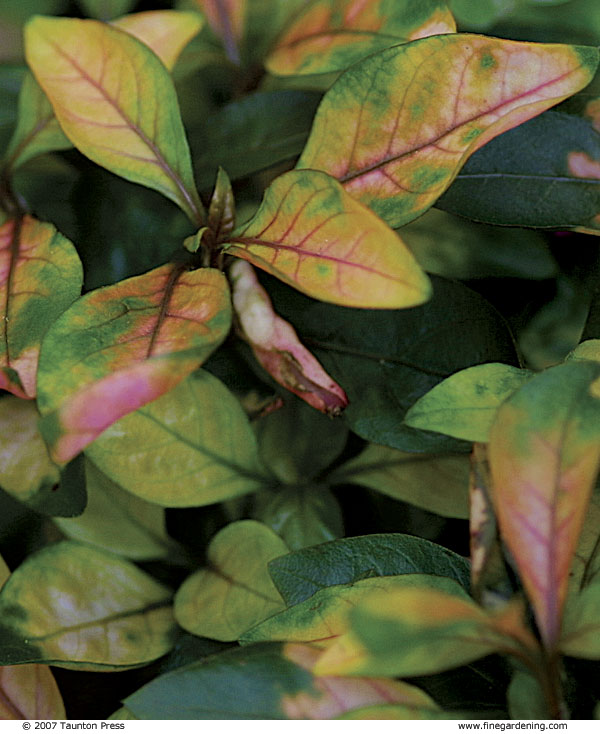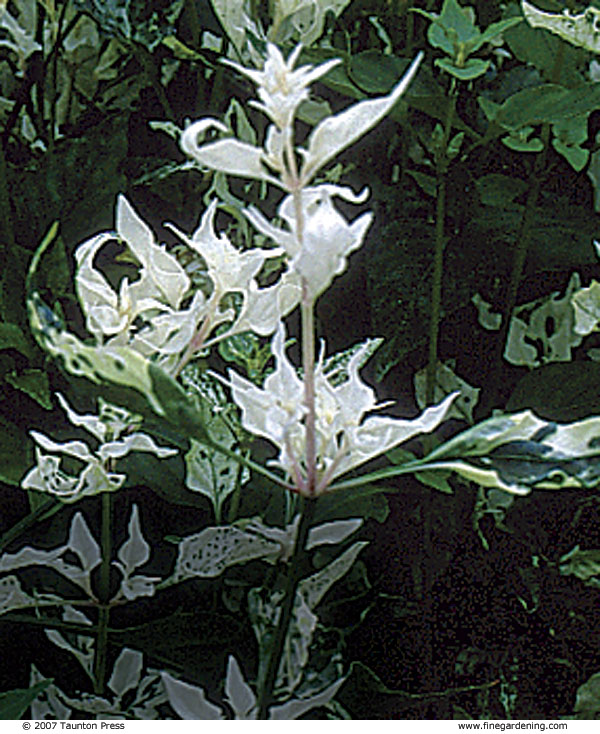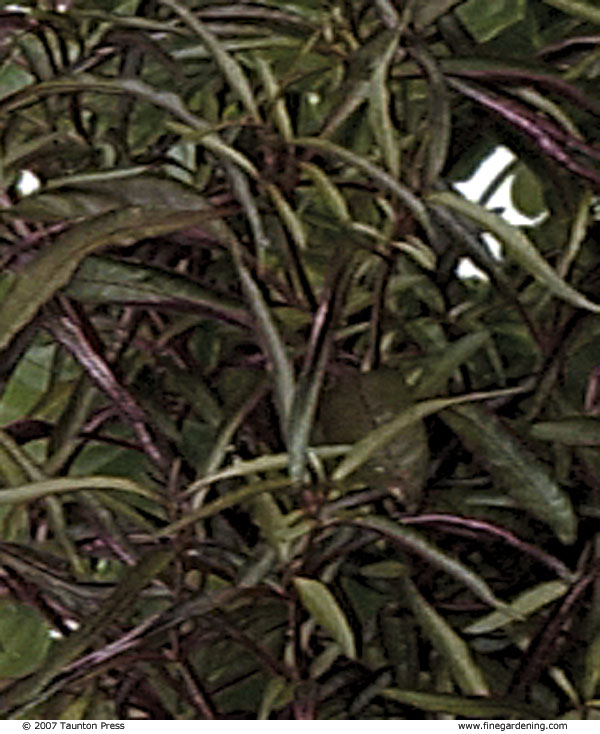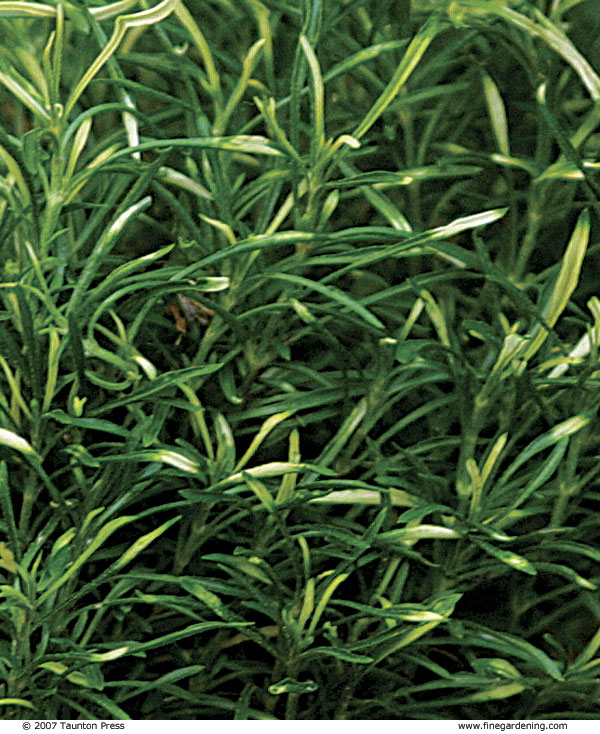 Try This Bold Weaver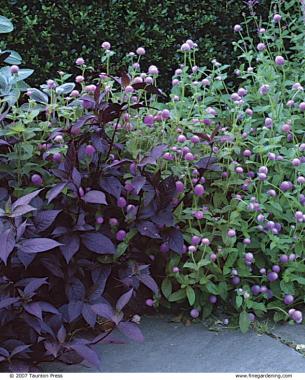 The largest alternanthera I've grown is A. dentata 'Rubiginosa' (syn. 'Marco Polo'). It can grow to 18 to 30 inches in height and generally grows wider than tall. 'Rubiginosa' definitely deserves to be called bloodleaf, one of its common names, for the entire plant, leaves and stems alike, is colored the richest possible burgundy. Another of its common names, Christmas clover, reflects its winter bloom time, though you can enjoy the papery ivory blossoms only if you've brought the plant indoors for winter. The flowers resemble those of clover or annual globe amaranth (Gomphrena globosa) and are enthusiastic self-sowers.
The branches of 'Rubiginosa' reach out, not up, as they weave through neighboring plants, creating a unified whole. Its enticing deep-burgundy hue can bring the trombone's anchoring depth to flutelike pastel compositions, a strong bass beat to silver's brighter cadence, and a low, rumbling baritone sax note to jazzy oranges and golds.
One border combination I especially love joins 'Rubiginosa' with a deep-pink yarrow (Achillea millefolium 'Montrose Rose', USDA Zones 3–9) and the whitest silver-leaved plant I've ever grown, Centaurea gymnocarpa 'Colchester White' (Zones 7–9). In containers, I've been dazzled by 'Rubiginosa' winding its way through wine-colored Salvia vanhouttii (Zones 9–10) and the ruffled firestorm leaves of flame-red-and-yellow 'El Brighto' coleus (S. scutellarioides 'El Brighto', Zones 9–11).
Create Carpets of Foliage
A. ficoidea 'Red Threads' (syn. 'Red Fine Leaf') and 'Golden Threads' (syn. 'Yellow Fine Leaf') are two slender-leaved selections that caught my eye several years ago and have remained among my favorites ever since. While 'Rubiginosa' wanders, both of these cultivars stay put, forming a textured carpet in shades of deep burgundy ('Red Threads') and banana-yellow laced with green ('Golden Threads'). A single plant makes a mound about 8 inches tall and 14 inches wide.
Though these selections bloom off and on all year, you may never notice. The small, pale flower buttons are held in the leaf axils, where they are nearly indistinguishable from the foliage unless you're paying close attention.
I use 'Red Threads' and 'Golden Threads' at the base of taller plants in the border to provide vibrant color echoes or contrasts. 'Red Threads' looks lovely with ruby-red 'Little Wine Cup' daylily (Hemerocallis 'Little Wine Cup', Zones 3–10), while 'Golden Threads' gives off bright sparks among sultry purple-spiked speedwell (Veronica spicata cvs., Zones 3–8) or mealycup sage (Salvia farinacea and cvs., Zones 8–10).
If you have extra space, mass plantings of either form will meld into undulating sweeps of shimmering color. Or take a tip from Victorian gardeners and create lively knot-gardens, interweaving lines of red and gold into intricate patterns. In containers, allow them to trail over the side and combine their delicate forms with broader-textured companions. You can also use the "thread sisters" to match or contrast with any of the many coleus selections, or to accompany fancy-leaved geraniums like Pelargonium 'Vancouver Centennial'.
Bringing the color indoors
Once you've fallen for alternantheras, what do you do when frost threatens them? Take cuttings, of course.
Tip cuttings 2 to 3 inches long root easily. I use powdered rooting hormone on mine, though it may not be necessary, and stick them in a blend of soilless potting mix and sand. I've also heard of cuttings being rooted in water, but I haven't tried it myself. I've found that A. ficoidea selections root fairly well even if they're in flower, but it's best to take cuttings of A. dentata 'Rubiginosa' before it enters its winter bloom cycle in late autumn. Seeds of 'Rubiginosa' are ready to collect by late winter, and they germinate easily, offering another method of producing plants that are true to color.
Do you know that propagation rule of always sticking to the best-variegated cuttings? Break the rule with white wisp. The whitest pieces will root, but six months later you'll still have a 2-inch-tall plant that fails to get any bigger. Root the least-variegated stems—they make vigorous plants that later develop showy white shoots.
Potted plants do best when kept for the winter in a warm sunporch or in a greenhouse above 45°F at night. Water them when necessary but not to excess. Feed lightly until your last spring frost date, when it's safe to set alternantheras back out into the garden.
They Make Great Companions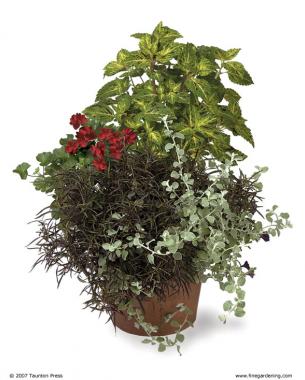 I am quick to admit that I prefer hot colors to cool, so perhaps that's why I took an immediate liking to parrot leaf (A. ficoidea 'Bettzichiana', syn. A. bettzichiana), also known as Joseph's coat and calico plant. How could I not adore this petite 12-inch-tall plant whose inch-long, cupped leaves boast shades of orange, salmon, hot pink, chocolate, and deep green?
Parrot leaf's radical colors allow me to cut loose with creativity and choose equally wild-looking companions. Plants like Acalypha wilkesiana 'Obovata' (Zones 10–11), with its hang-dog, chocolate leaves edged in hot coral, and 'Neon' coleus (S. scutellarioides 'Neon', Zones 9–11), a hot little number done up in spicy pink and orange, are a perfect match. Since all three plants are tender, this trio can serve either in an open space in my border or in a summer container.
I also like parrot leaf at the base of peachy daylilies, especially those like 'King's Grant' (Hemerocallis 'King's Grant', Zones 3–10), which change from peach to salmon-pink as the day progresses. Search your own garden—I guarantee you'll find plenty of plants that can reverberate with one of the hues in parrot leaf's colorful pattern.
While parrot leaf forms a small mound, my other favorite A. ficoidea selection, 'Sessilis Alba', rockets straight up. It's so different from the other alternantheras that the first time I saw it I thought I was looking at a 30-inch-tall columnar shrub—a very white shrub. It was so pale, in fact, that I was puzzled at its vigor.
'Sessilis Alba', nicknamed white wisp and white calico plant for its sheer delicacy, produces many albino branches, as well as plenty of white-and-green variegated ones, from which it photosynthesizes. Though it looks as pale as a Goth girl, even the milkiest leaves never burn in full sun. Its welcome in white gardens is secure, but I prefer white wisp with a splash of fire-engine-red Verbena 'Red Blaze' lapping at its ankles.
Whether you opt for a mass planting or a single stellar specimen, the clear, crisp colors and exciting textures of alternantheras make them remarkable new additions to summer gardens. Let's give these festive south-of-the-border tropicals a hearty welcome.