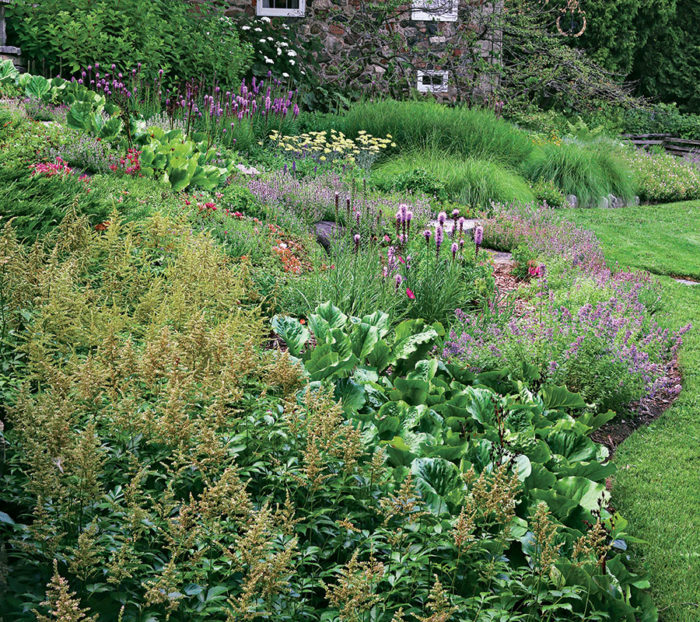 When you're first designing your mass plantings, it can be hard to envision how many plants to include and how close to install them. This garden is located at Afterglow Farm in Ozaukee County, Wisconsin. The bed seen above was originally designed by Judith Stark about a year before I came to Afterglow Farm. Although it has changed quite a bit since then, it's a good example of what the masses in one area of the garden look like in a planting plan (below) and what the garden looks like all filled in several years later. See more of this garden and get more ideas for planting in large groupings of plants in Give Your Garden Mass Appeal.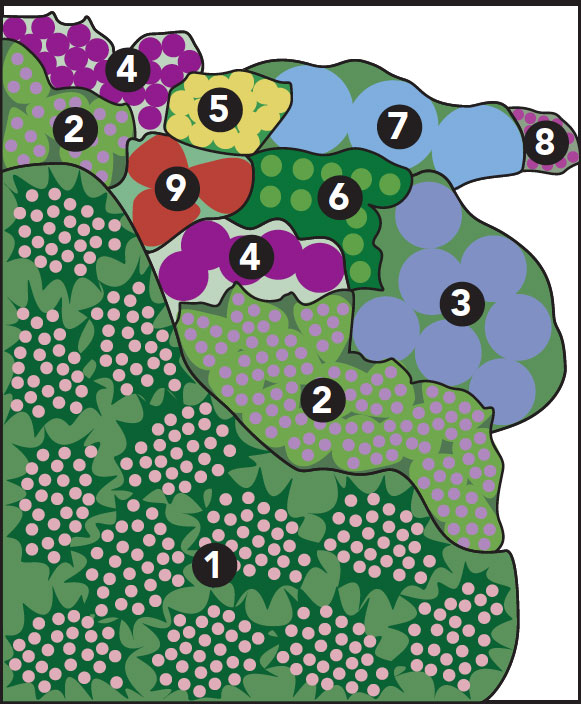 1. 'Peach Blossom' astilbe
(Astilbe × rosea 'Peach Blossom', Zones 4–9)
12 plants
2. Winter Glow bergenia
(Bergenia cordifolia 'Winterglut', Zones 4–8)
First group: 15 plants; Second group: 5 plants
3. 'Blue Wonder' catmint
(Nepeta racemosa 'Blue Wonder', Zones 3–8)
7 plants
4. 'Kobold' blazing star
(Liatris spicata 'Kobold', Zones 3–8)
First group: 5 plants; Second group: 21 plants
5. 'Moonshine' yarrow
(Achillea 'Moonshine', Zones 3–8)
15 plants
6. Prairie dropseed
(Sporobolus heterolepis, Zones 3–9)
11 plants
7. Blue star
(Amsonia hubrichtii, Zones 5–8)
3 plants
8. Bloody geranium
(Geranium sanguineum, Zones 3–9)
15 plants
9. 'Brookside' geranium
(Geranium 'Brookside', Zones 5–9)
3 plants
---
Dean Wiegert is the head gardener at Afterglow Farm in Wisconsin.
Photos: Danielle Sherry
More on mass planting