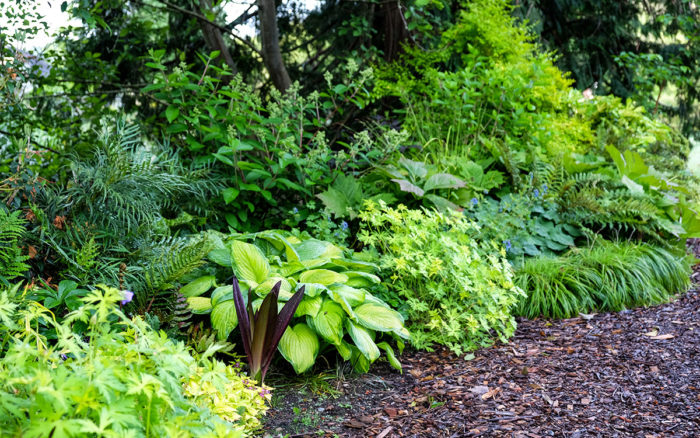 While walking along a forest path today, I stepped over Douglas fir cones (Pseudotsuga menziesii, Zones 4–7) all around the base of a tree—a sure sign in the Pacific Northwest that fall is here. All around our region, plants and animals are getting ready for the dormant season. Right now, my planting beds are hanging on and are still full and lush. Fall interest plants are coming into their own, and structured plants are starting to gain notice again after a colorful, riotous summer.
When I plant in my garden beds, I have one overriding mantra: stuff it. I'm always thinking about color, texture, seasonality, and size, but a big thing with me is maintenance. Looking around at successful, beautiful gardens, I notice that dense plantings are a reoccurring trait. There's not a lot of brown dirt or mulch showing. Garden design is about layers and focal points, but it is also about the dirt. Open areas of the ground are bound to get weeds in them. Unplanted soil can also be lost to erosion. Fully packed soil can actually grow plants instead of weeds. The solution is stuffing—or planting densely.
The blueprints of dense planting schemes
The bones of the garden are usually trees or large shrubs that create a framework to support the next layer. The next layer fills in the middle section and, with the shade and competition, will solve some of the weed problem. The last, lower layer can be a little finer-tuned and should be planted densely. Personal preference can come into play here, but I love a good mixture of unusual plants and ground covers. For this article, I will be focusing on four design ideas for stuffed garden beds.
This collector's garden features unusual plants with rotating seasons of interest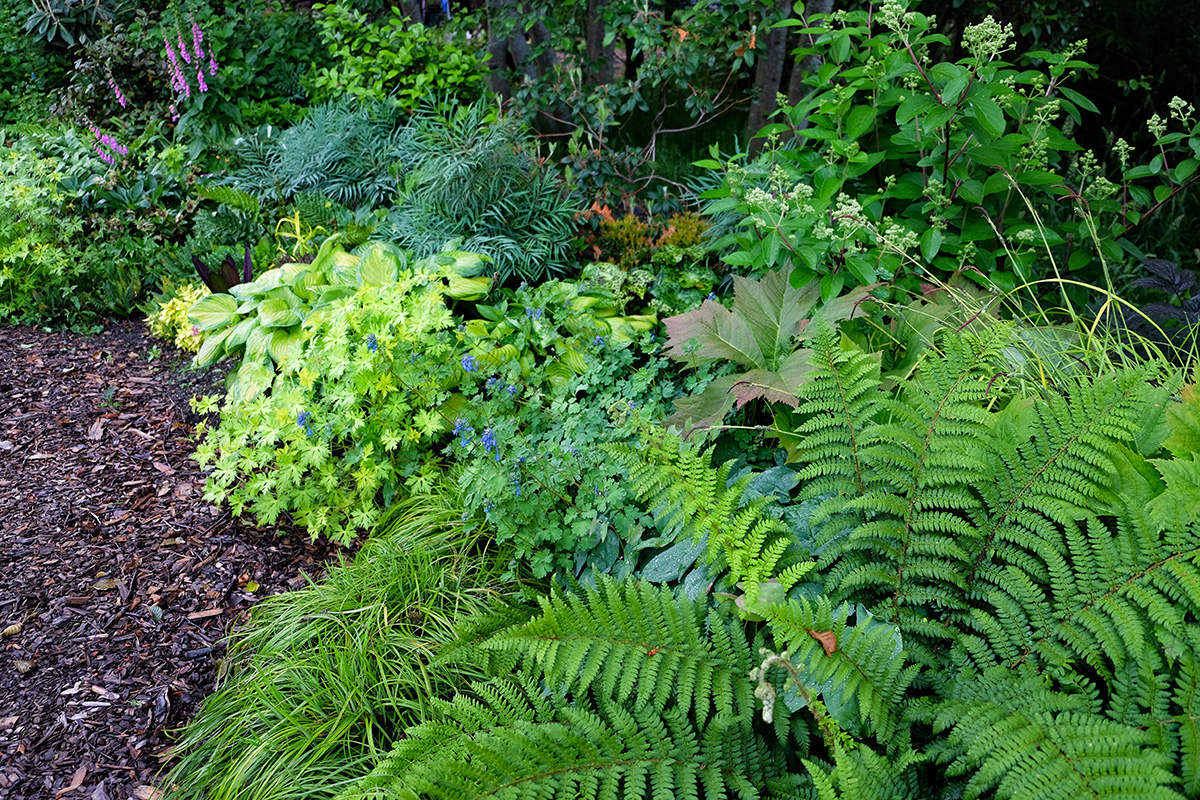 Top layer
'Fragrantissima' rhododendron (Rhododendron 'Fragrantissima', Zones 8–11)
'Black Magic' camellia (Camellia 'Black Magic', Zones 7–9)
Little Quick Fire® panicle hydrangea (Hydrangea paniculata 'SMHPLQF', Zones 3–8)
'Soft Caress' mahonia (Mahonia eurybracteata 'Soft Caress', Zones 7b–11)
Middle layer
'Stained Glass' hosta (Hosta 'Stained Glass', Zones 3–9)
Spilled Wine® weigela (Weigela florida 'Bokraspiwi', Zones 4–8)
Japanese tassel fern (Polystichum polyblepharum, Zones 6–8)
'Rotlaub' rodgersia (Rodgersia podophylla 'Rotlaub', Zones 5–8; fills in and provides summer interest)
Bottom layer
Chinese butterfly orchid (Bletilla ochracea, Zones 6–9)
Snowdrops (Galanthus spp. and cvs., Zones 3–8)
'Ice Storm' hardy impatiens (Impatiens omieana 'Ice Storm', Zones 6–9)
Toad lily (Tricyrtis macrantha subsp. macranthopsis, Zones 6–9)
Blue Sunrise® geranium (Geranium 'Blogold', Zones 5–9)
'Blackberry Wine' corydalis (Corydalis 'Blackberry Wine', Zones 5–8)
This last layer can be made up of your special interest plants such as orchids, spring bulbs, late-blooming plants like 'Ice Storm' hardy impatiens, or just plain weird selections like Tricytris. These should be right where you can see them, along with spilling plants to cover the areas where they are planted when these special interest plants go dormant. I like to use Blue Sunrise® geranium and 'Blackberry Wine' corydalis as spillers to cover the bare ground when spring-bloomers are dormant.
These formal garden designs incorporate masses of just a few plants for a chic, structured look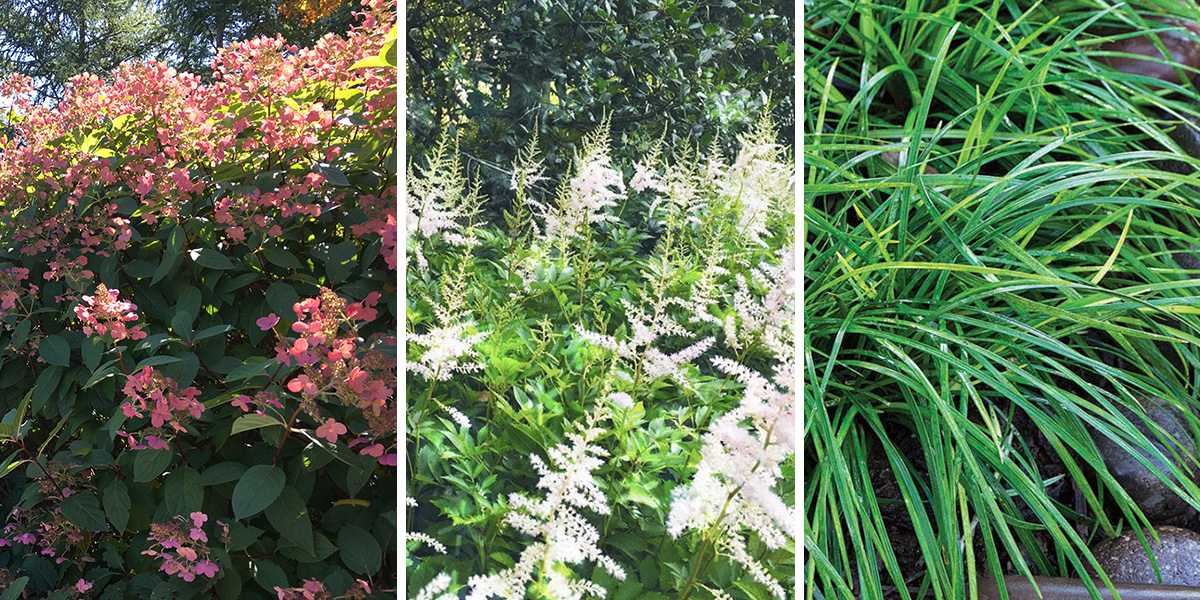 Top layer
Hydrangeas (Hydrangea spp. and cvs., Zones 4–9)
Middle layer
'Eden's Twinkle' astilbe (Astilbe 'Eden's Twinkle', Zones 4–9)
'White Nobility' azalea (Rhododendron 'White Nobility', Zones 4–7)
Bottom layer
Taiwan mondo grass (Ophiopogon formosanum, Zones 7–9)
More formally styled plantings with masses of one plant and borders of other plants can also help to reduce weeds. The competition from mass plantings of hydrangeas planted at the lower end of their recommended spacing (i.e., planted at 3 feet apart instead of 6 feet) will keep weeds out. Yes, some pruning may be required after a few years, but that is better than weeding every few weeks. The middle layer can be 'Eden's Twinkle' astilbe or a low azalea such a 'White Nobility'. Add a border of evergreen Taiwan mondo grass and this dense, formal garden is ready to go to work making maintenance easy.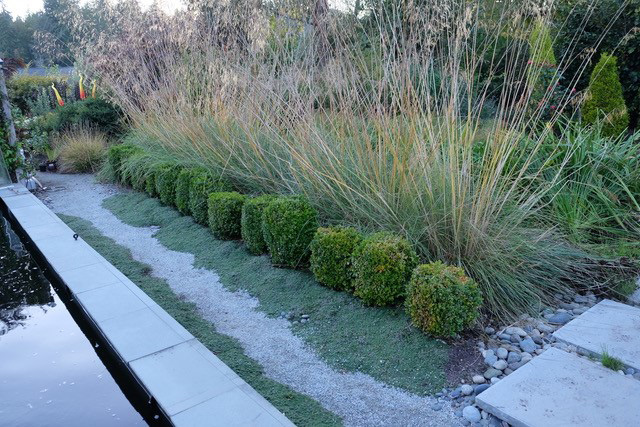 Top layer
Giant feather grass (Stipa gigantea, Zones 6–8)
Middle layer
English boxwood (Buxus sempervirens, Zones 6–8)
Bottom layer
'Elfin' creeping thyme (Thymus serpyllum 'Elfin', Zones 4–8)
Another formal planting centers giant feather grass, which is surrounded by English boxwood and 'Elfin' creeping thyme.
A full-sun, centrally located garden must have year-round color and blooms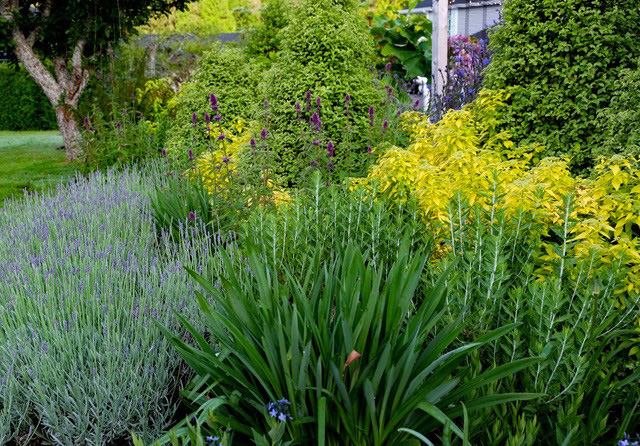 Top layer
'White Gold' spirea (Spirea japonica 'White Gold', Zones 4–9)
'Dark Knight' bluebeard (Caryopteris × clandonensis 'Dark Knight, Zones 5–9)
'Howard McMinn' manzanita (Arctostaphylos × densiflora 'Howard McMinn', Zones 7–10)
'Tasman Ruffles' pittisporum (Pittisporum tenuifoium 'Tasman Ruffles, Zones 7–10)
Middle layer
'Blue Leap' agapanthus (Agapanthus 'Blue Leap', Zones 7–10)
'Storm Cloud' agapanthus (A. 'Storm Cloud', Zones 7–10)
'Black Pantha' agapanthus (A. praecox subsp. orientalis 'Black Pantha', Zones 7–10)
'Graskop' agapanthus (A. inapertus subsp. pendulus 'Graskop', Zones 7–10)
'Blue Boa' agastache (Agastache 'Blue Boa', Zones 5–10)
Bluestar (Amsonia tabernaemontana, Zones 4–9)
Bottom layer
'Hidcote' English lavender (Lavendula angustifolia 'Hidcote', Zones 5–9)
Bachelor's buttons (Centaura simplicicaulis, Zones 5–9)
'Mersea Yellow' pineleaf penstemon (Penstemon pinifolius 'Mersea Yellow', Zones 4–9)
This planting, which incorporates an agapanthus collection, including the late-blooming 'Graskop' agapanthus, has stuffed beds with plenty of action throughout the year. Evergreen (or ever-gray) color from 'Hidcote' English lavender and bachelor's buttons adds to the year-round interest.
Dense plantings add room for more perennials and dispense with the need for annuals
The added advantage of stuffing your garden beds is added space to grow more plants. That is always a goal for me. There is no need for annuals to fill in the gaps with these designs, and gardens look interesting enough without them. Spring looks one way, then plants change and summer looks different. Take a look around at well-designed and maintained gardens. You will notice this planting style over and over again.
Think about stuffing your garden. You can divide plants you have in the garden in fall and move them around, add bulbs into established beds where there is spring dormancy or fall bare spots, and shop sale tables at a local nursery. Online ordering is one of my favorite ways to purchase plants during the winter or when going to the nursery is not possible.
—Susan Calhoun is the owner of Plantswoman Design in Bainbridge Island, Washington.