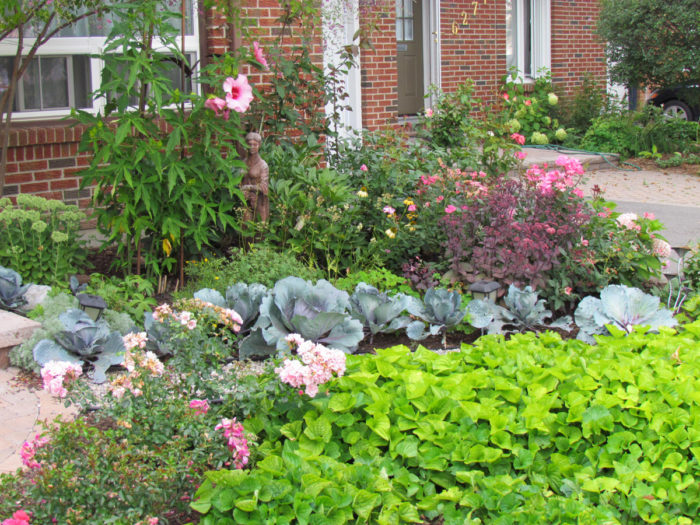 Today's photos are from Maria Fleming. We know Maria–she's Quiltingmamma, and she's shared a couple of her gardening travels with us, taking us on a photo tour of both Versailles (HERE) and Monet's garden (HERE). She has more gardens from her travels to share, I just haven't posted them yet–stay tuned. But today we get to see HER garden!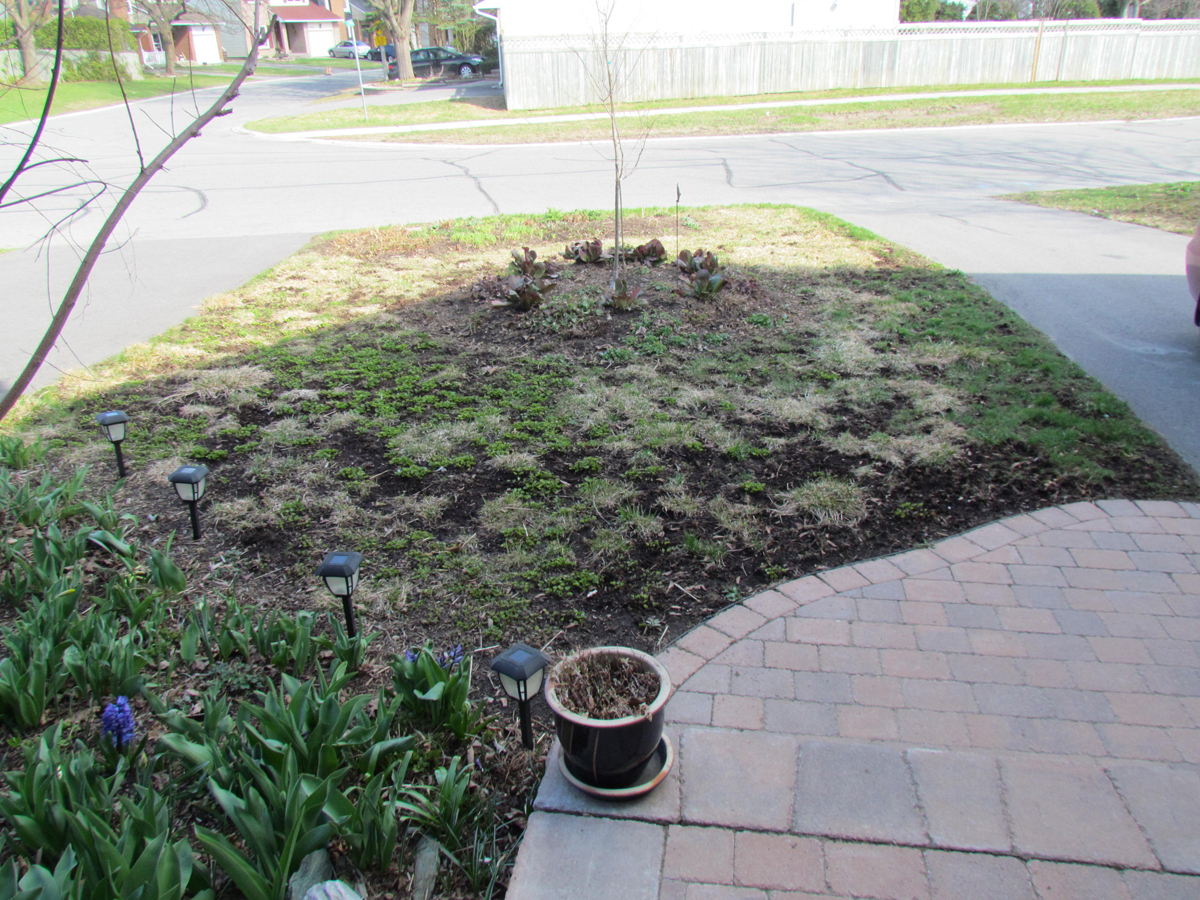 Maria says, "I live in Ottawa, Ontario, USDA Hardiness Zone 3, I think. I work full time, so my garden needs can feel overwhelming at key seasons and cut into the fun part of gardening, so my 'theory' in my garden labors is to make it easier on myself in future years. This year had several projects, the main one being the removal of grass in the front yard, replacing it with mulch and an assortment of herbs and native plants.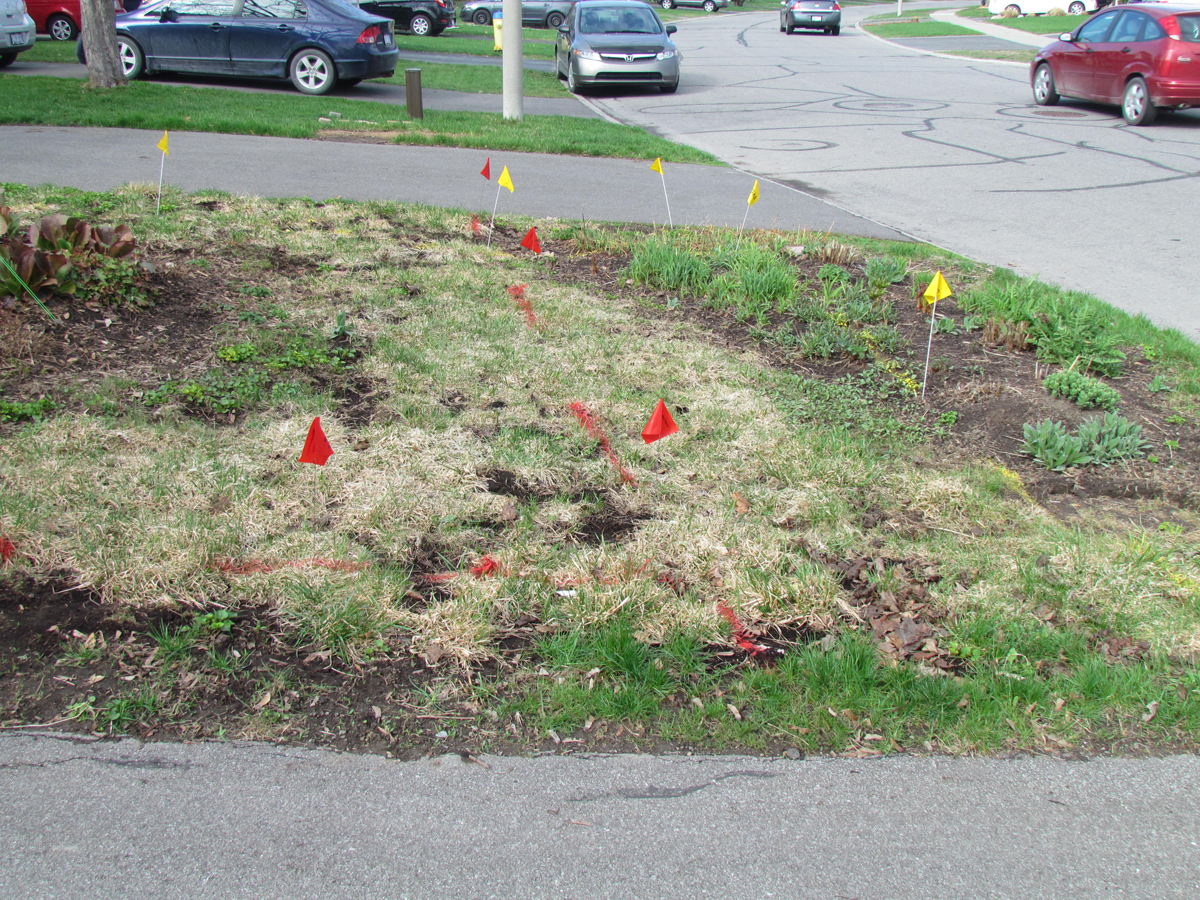 "I have been an organic gardener from the get-go and as the City has banned pesticides and dangerous chemicals, the maintenance of a Kentucky Blue lawn is a labor intensive battle. Up until now I have been satisfied with a green lawn despite it having a blend of grasses and broadleaf weeds. Last August, however, killed off all the grasses and left me with a really ugly mess. Rather than start a new lawn from scratch, I decided to eliminate it and create something I actually love rather than something I resent.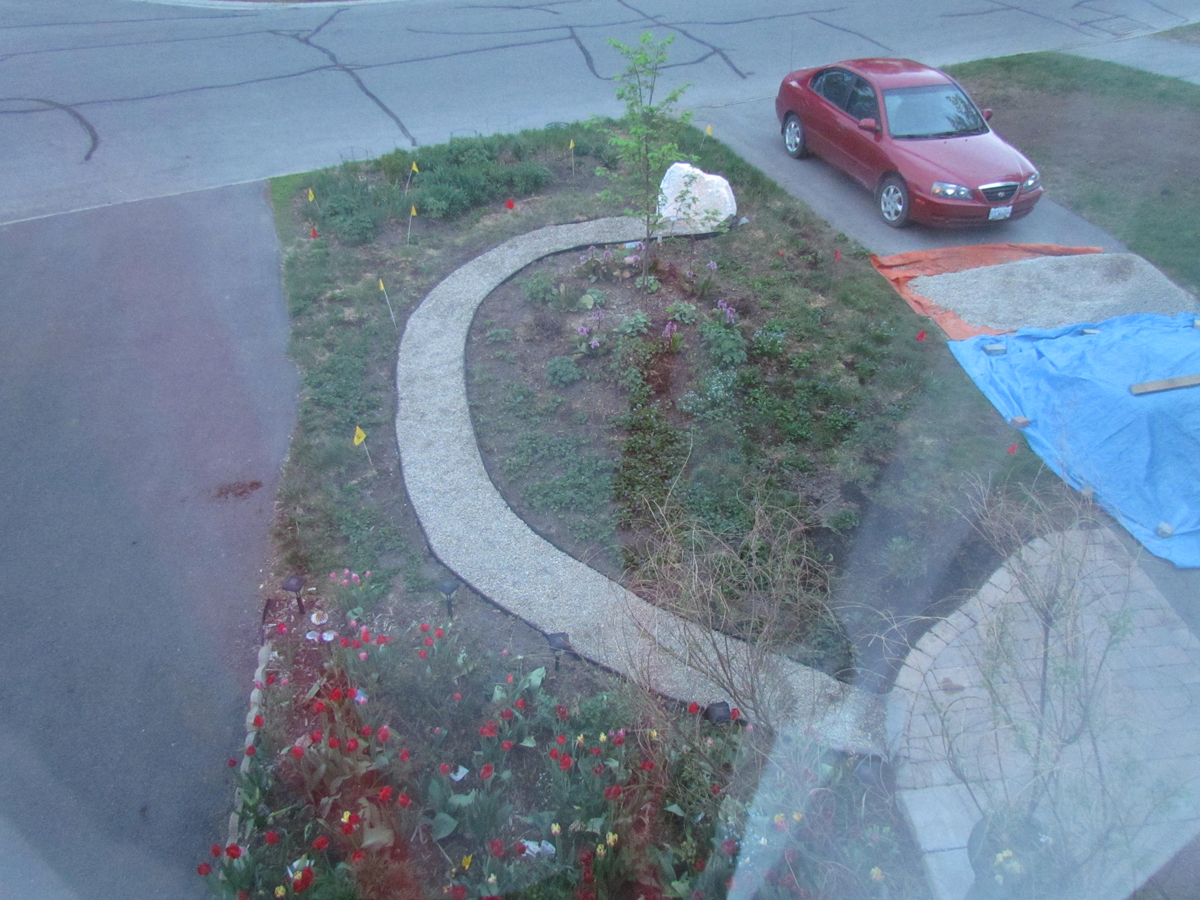 "The existing garden beds were left in place, a gravel path was laid, and a signature rock was added for interest. I get a LOT of comments on that boulder. Thankfully positive, as it is not something easily removed. The intent was to leave the violets to spread to give a lower lawn illusion, but they have grown taller than anticipated. Time will tell whether thew will be left, or replaced by other ground covers. I have introduced thymes and a native pussy toes to start as low ground cover. An extension of the street bed holds local native plants that the pollinators love. These all add up to a low maintenance, drought tolerant, environmentally friendly front yard.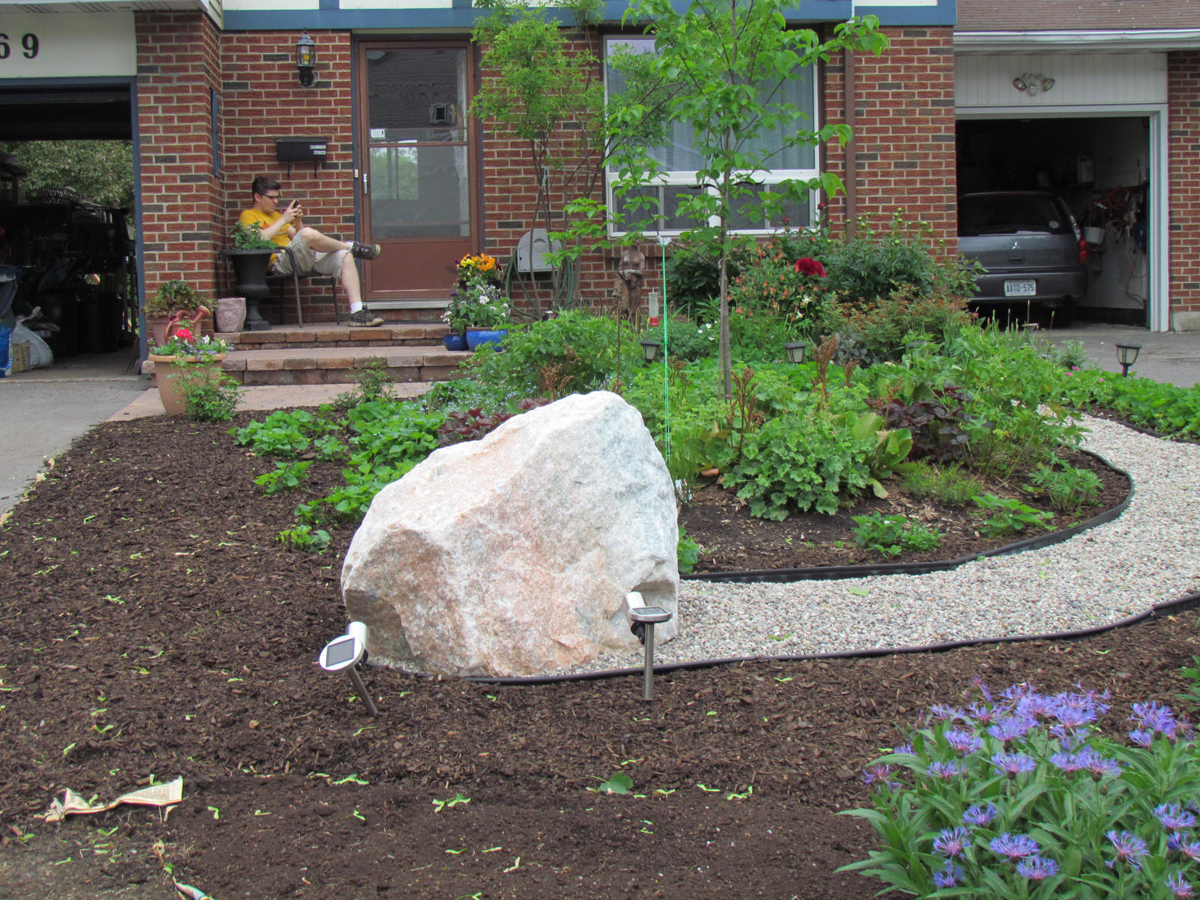 "There are some areas for improvement, and I would love some suggestions on how to finish the mulch edging that the garbage men pull into the street; taking into account snow plows, utility lines, and high street salt use."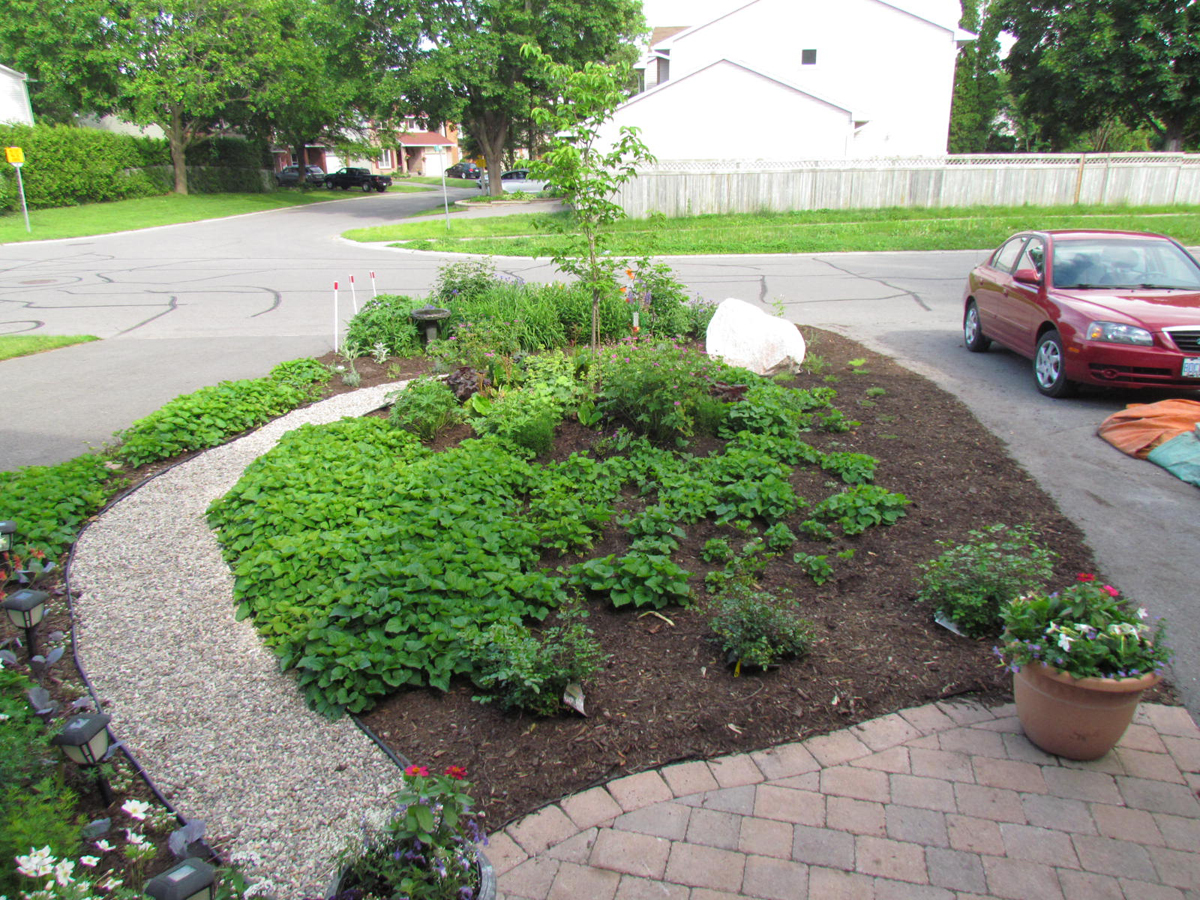 Wow, what a transformation, Maria! I'm so glad you took photos along the way so that we can see how much work went into this gem of a bed. Yay for less mowing!