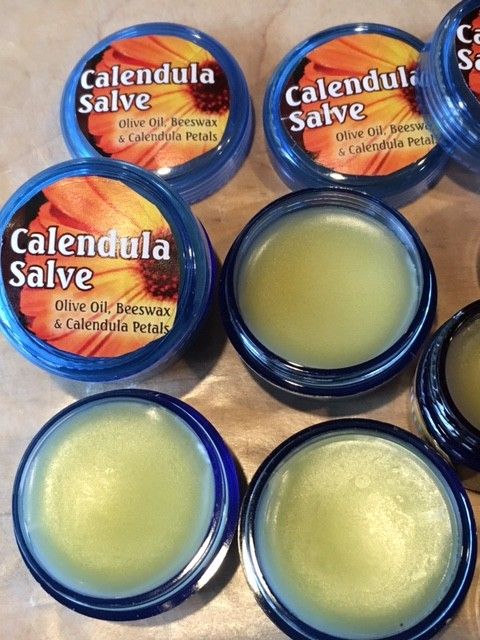 Today is the last day of November (already!)–it's that time of year where we need to think about holiday gifts–and what better than a useful, homemade gift? Calendula salve is easy to make once your dried calendula petals have infused in oil and it makes a wonderful herbal salve. As a gardener, I use it regularly, however it is great for anyone's chapped lips, hands and dry skin and it is gentle enough to be used in preparations for babies.
Give a gift that will be appreciated and used–this one is thoughtful, homemade and healing! Besides, it is a lovely way to spend a winter afternoon–creating your own herbal products–with herbs that are homegrown and organic. This recipe first appeared in the creative herbal home by Susan Belsinger and Tina Marie Wilcox, herbspirit, 2007. If you haven't grown calendula before, be sure to put it on your seed list for this coming gardening season since it is a delightful flowering plant to have in the garden.
Calendula Salve
Basic salve recipes use about 1 cup oil to 1/4 cup beeswax; this gives you a soft salve. To test the consistency, dip a metal spoon into the heated salve, place the spoon in the fridge and check it after a few minutes to see if it is firm and about the right consistency. If you want it a little firmer-add a little more beeswax-to make it softer increase the oil slightly.
I use the following salve for dry rough skin and skin conditions that plague the gardener. I use calendula oil (from infusing my homegrown, dried calendula petals in olive and/or almond oil; ratio about 1 part dried herb to 2 parts oil) since I have had successful results using it on chapped lips, hands and heels, and in massage oils. I also prepare chickweed oil (use the same method as for calendula oil using dried chickweed instead) since it soothes skin discomforts and is abundant in our gardens and yard. This salve can be prepared with just almond or olive oil and calendula oil or it can be combined with chickweed oil. The vitamin E oil is optional; it helps prevent oils from becoming rancid so it prolongs the shelf life. EOs are optional-lavender and chamomile are nice in this salve.
Makes about 6 to 8 liquid ounces; fills about four 1 1/2-ounce containers, six 1-ounce or twelve 1/2-ounce containers
1/2 cup calendula oil
3 packed tablespoons grated natural beeswax or 1/4 cup loose beeswax pastilles
2 teaspoons vitamin E oil, optional
3 to 6 drops essential oil, optional
Gently heat the oil in a saucepan over the lowest heat possible. Add beeswax to the warm oil and stir until melted. Test for consistency. Remove from heat and stir in the EOs and/or vitamin E oil, if desired. Immediately pour the salve into clean containers, let cool completely without lids; put lids on once absolutely cool and label.
Happy December–and here's to a jolly holiday season–creating your own homemade gifts!