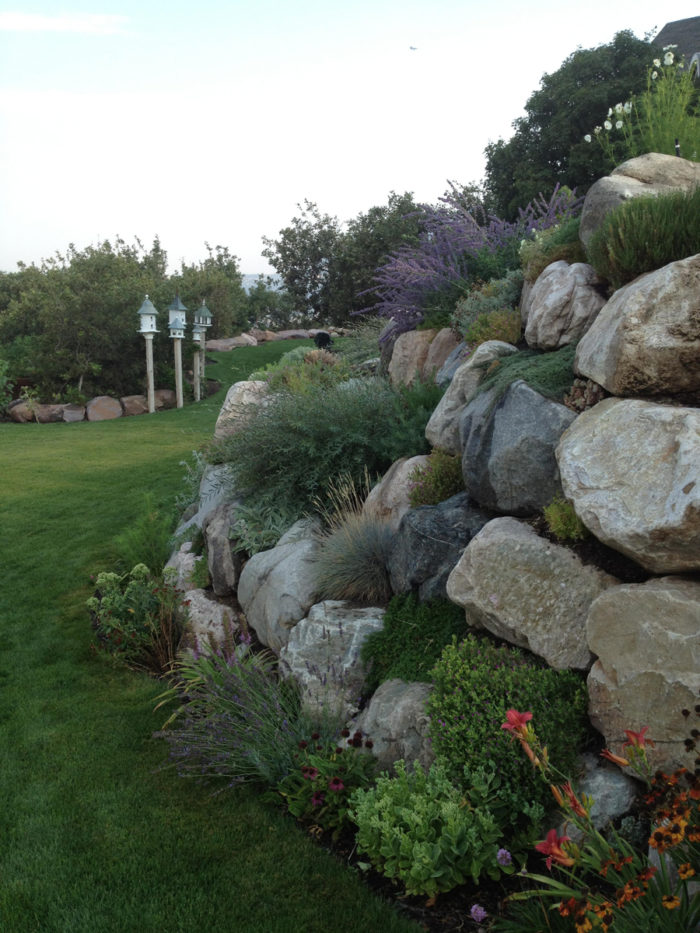 Welcome to day 2 in Lori's garden In Layton, Utah. Lori says, "In the foothills of the Wasatch Mountains here it is quite common to see rock walls used as retaining walls. These walls can be a challenge because weeds can be very tenacious and you sometimes literally have to become a rock climber to garden on them!
"In addition, where we live, there is a constant fear in the back of my mind that I will put my hand in a crevice of a rock to pull out a weed and find a rattlesnake! Despite the challenges, our rock retaining wall plays a significant part in our backyard landscape and I was determined to do a good job with ours. Here are a couple of the before photos and few afters. I focused on planting the steps with lots of varieties of thyme and succulents which will fill in the spaces between the rocks to help keep the weeds down." Beautiful, Lori! Definitely a successful venture.
*** DON'T FORGET THIS WEEK'S BOOK GIVEAWAY!! ***
Here's how it works:
You send in photos of your garden to [email protected], along with a brief description. You know how much you like to read everyone else's garden stories–now it's time to tell yours!
At the end of the week I'll compile a list of names of everyone who sent in photos and choose 5 names randomly from a hat (perhaps a flower pot…). The first person gets first pick, second person gets second pick, etc. I'll email you if you get picked.
After all the winners have chosen, I'll tell everyone who won, probably the following week.
Here is a list of the books:
Pick of the Bunch: The Story of Twelve Treasured Flowers by Margaret Willes
Ginkgo by Peter Crane
Gardening Vertically: 24 Ideas for Creating Your Own Green Walls by Noemie Vialard
World's Fair Gardens: Shaping American Landscapes by Cathy Jean Maloney
Seeing Trees: Discover the Extraordinary Secrets of Everyday Trees by Nancy Ross Hugo
The Vertical Garden: From Nature to the City by Patrick Blanc
Now get cracking! I can't wait to see what's happening out there. But no worries if winter is still hanging on in your area. Send photos from last year!
Want us to feature YOUR garden in the Garden Photo of the Day? CLICK HERE!
Want to see every post ever published? CLICK HERE!
Want to search the GPOD by STATE? CLICK HERE!
**Check out the GPOD Pinterest page, where you can browse all the post in categories…fun! CLICK HERE!**