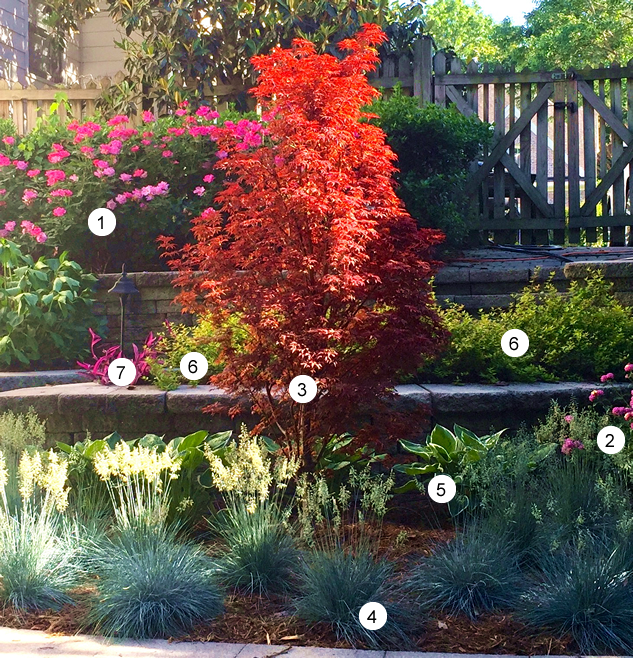 A big thanks to Herb Ritter from Cary, NC (Zone 7b) for not only sharing his favorite spot in his garden, but telling us what is planted there!
While I have many areas in my Cary, NC (Zone 7b) garden that I love, this particular spot is one of my favorites."
(1) Knock-out roses (Rosa x in the back and the (2) Ham and Eggs Lantana (Lantana camara 'Ham and Eggs') on the right nothing else is blooming yet the area has so much color.
The centerpiece is the (3) Japanese maple (Acer Palmatum "skeeters broom'). I love this Japanese maple because it keeps its eye popping red color spring through fall. It will also not over power the space as it should only grow to 6' tall by 4' wide.
The blue foreground is provided by a mass of (4) blue fescue (Festuca glauca 'Elijah Blue').
Behind the Japanese maple is a mass of (5) hosta (Hosta 'Francee'). The combination of the fescue, maple, and hosta provide a ton of color and texture.
The second tier behind the Japanese maple brings in an additional color with another favorite of mine, (6) Kaleidoscope abelia (Abelia x grandiflora 'Kaleidoscope'). This abelia is great because it's compact, has gold, cream, green, and red foliage, and is evergreen.
To the left of the abelia is just a small touch of purple provided by a (7) purple heart (Tradescantia pallida 'Variegata').
Keep sending in photos, everyone! Whether you've never shared before or you've been featured multiple times, we want to see your garden! Email a few photos and the story behind your garden to [email protected].