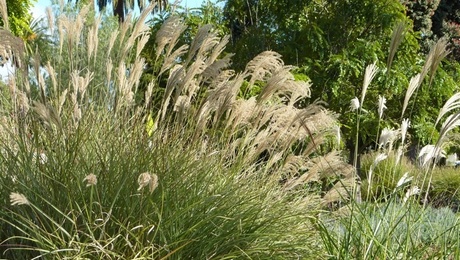 Close your eyes. (Bad move – now you can't read this. Change of plans…OPEN your eyes. Drat! What if you don't see that I just typed "open your eyes"?)
Sorry, let's start over. Imagine that you're looking out the breakfast nook window when an 18-wheel tractor-trailer jumps the curb, it's back-up beeper piercing the  early morning calm. Air brakes hiss and the engine revs. The bed tilts skyward. As the tailgate creaks, a river of ping-pong balls floods your front yard.
"What the…?!?"
You spring from the breakfast table as the truck pulls away. Tying your robe, you and your bunny slippers shuffle outside to inspect this curious cargo.
Words are printed on each shiny orb: Miscanthus 'Morning Light' reads one, Cotoneaster dammeri, Artemisia schmidtiana 'Silver Mound', on and on, each sphere bearing the name of a different plant that grows in your region.
I don't know about you, but that's what it seems like when I start a new design project for a client – the realm of all possibilities. My Sunset Western Garden Book boasts "Over 8,000 Plants".
That's a smidge too much variety for the average residential lot. So how on Earth does an adventurous but rational gardener winnow all those tempting choices down to a manageable palette?
The Logic of Logic
Simple. Pop an old episode of Star Trek into the Blu-ray and unleash your uber-logical Mr. Spock. Shut down the "oh-but-it's-so-cute-with-its-sexy-maroon-leaf-bordered-with-a-darling-crinkly-chartreuse-leaf-margin" lobe of your brain. Delay your aesthetic gratification.
If being called a Trekkie by the cool kids is too much to bear, use this logical four-step process to sort through all those plants and create a palette that rewards you with a beautiful, functional, sustainable garden.
Step 1 – Plant With Purpose:  Analyze your property and consider whether any of the plants in that pile can help you. Perhaps you need shade to make the yard more comfortable, or want to block an eyesore. Plants can also make effective barriers and reduce erosion on hillsides. Make a quick sketch of your property and jot down situations where plants might lend a hand (or branch).
Step 2 – Size Matters:  Next, sort the plants into four categories: trees, tall (higher than eye level), medium (knee-high to eye-level), and low (ground level to knee-high). Right now, I don't care if they have purple polka dot leaves, plaid flowers or if they play Werewolves of London on a kazoo – I just want to know how big they get so I can put them to work.
If your patio would be more comfy without the sun beating down, sort through the sea of ping-pong balls and create a separate pile of just trees.
If you're desperate to block the sight of a billboard for drive-thru dental services, make another pile of large shrubs, or vines you can train on a trellis. A dense waist-high boxwood hedge will steer the neighbor's incontinent wiener dog away, and deep-rooting ground covers might do a good job of stabilizing a slope.

Step 3 – If It Won't Thrive, It Takes A Dive:  A truly sustainable garden means using plants that really want to be in your garden – plants that won't just get by, but will thrive with little or no care from you. (Who has time to keep a wimpy little, mealybug-ridden perennial on life-support?) There are dozens of plants that would just love to come running all waggy-tail and lick your face when you pull in the driveway.
Now comes the time when you have to be ruthless, choosing only the plants that match the growing conditions where you want to plant them. You'll need to do your homework and learn more about each plant you're considering. Fine Gardening has a great database of plants in their on-line Plant Guide. Take it for a spin.
A convenient way to know which plants will do best in your yard is to look at what's kicking butt in your neighborhood. What could be easier than observing which plants work nearby and which don't?
Step 4 – Make It Drop-Dead Gorgeous:  By now, you've likely rejected a few thousand ping-pong balls that didn't make the cut. The fun begins when you don your artist's beret and get creative. My advice is to pull out all your back issues of Fine Gardening magazine, thumb through the pages and pick out the pictures you drooled on – they'll be slightly discolored and easy to find.
Consider the style of the garden that attracts you, and whether it makes sense with your home. Notice how the designer exploits the color of the flowers, but also considers the more permanent attributes like the plant's overall form, foliage color, and seasonal traits like bark and fruit. Then plagiarize!
By applying a bit of Vulcan logic to plant selection, you really can have it all – a garden that enhances outdoor living, helps you avoid the drudgery and real-dollar cost of excessive maintenance, is gentle on the planet, and looks like a million bucks.
Yo! Scotty! Beaming time…