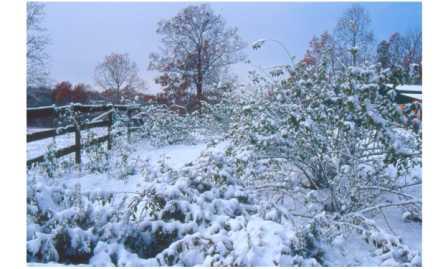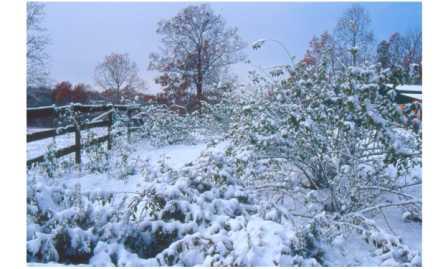 The great snowfall predicted for the Southeast did indeed come. We had about eight inches on our farm here in the upstate of South Carolina. I realize that isn't much by Buffalo standards, but for us it's enough to send the local news cameras out on the roads in the hope of catching some spinning motorist who doesn't grasp the fact our local governments don't have fleets of snow removal vehicles on hand.
Since this is not normal for us, and for many others, I've been getting questions about what to do when there is snow on the roses.
The answer quite simply is nothing.
A dear friend the late Mike Lowe who lived and grew roses in New Hampshire, told me he welcomed the snow in winter. It acts as an insulator for the roses and anything else underneath it for that matter. He told me the act of water freezing creates friction in the molecules and that creates heat. Because of this the temperatures underneath the snow never get below 32 degrees. Thusly the snow acts just like a nice blanket and protects whatever is beneath it.
That's why citrus farmers spray their trees with water before a freeze. The ice, like snow, actually insulates it.
So if it snows on your roses don't worry about. Look at it like a nice blanket protecting them from those cold temperatures and winds. And as it melts, Mother Nature's own drip irrigation system!
So let it snow!