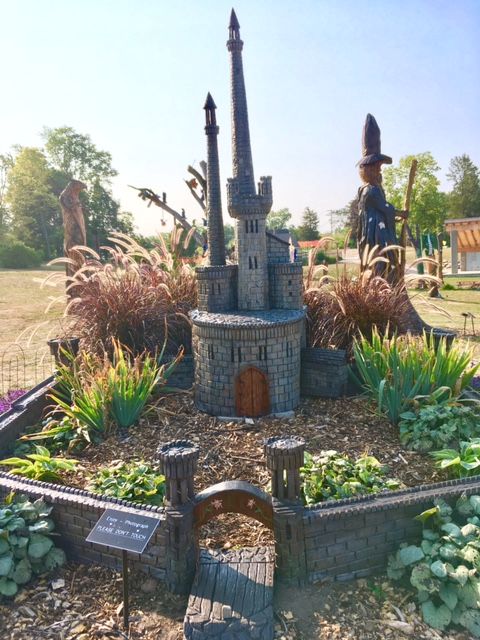 On a recent road trip to Michigan, we happened upon the Leila Arboretum–and what a find! If you are in the neighborhood–go check it out! Wonderful gardens and a great place for kids; this is one not to miss.
After a jolly-good IHA conference at the Kellogg Center in Michigan, I packed up with my traveling companions, Pat Kenny and Tina Marie Wilcox, and we set out for the 9-to 10-hour journey back to Maryland. The day was gorgeous and we were cruising through the scenic countryside–probably had been on the road about 15 to 20 minutes–and out of the corner of my eye I saw a sign that said "Leila Arboretum" (and I thought nah, I'm not mentioning this to them) and then we passed what looked like a garden of totem poles. All three of us craning our necks to see them as we whizzed by and then a brightly painted botanical fence and that read "Kaleidoscope Children's Garden". I was like "should we stop?" And they were like "yeah!" and I replied "well we have a 10-hour drive, we probably shouldn't–we should just keep on going" and everyone got real quiet and about a mile down the road, I pulled a U-ey (as in U-turn) and everyone woohooed! 
So after turning into the entrance to the arboretum, and finding a parking place under a shade tree, as we're scrambling out of the car we make a pact that we can't stay longer than an hour… well maybe an hour and a half… And then we head for the Fantasy Forest, a field full of phantasmagorical sculptures like we've never seen. Here is a brief story taken from their facebook page–you can go there and see before and after shots of artists creating their sculptures.
 "The 2015 Fantasy Forest Art Competition was an amazing display of artistic talent and creativity, which resulted in transforming a grove of 100-year-old Ash trees (which had been killed by the Emerald Ash Borer) into stunning works of art. The Fantasy Forest at Leila Arboretum, in Battle Creek, MI, is now filled with wizards, castles, dragons, and other mythical creatures." https://www.facebook.com/all.creatures.wood.and.tall/
We found this information out from a group of volunteers, who maintain the Fantasy Forest, who arrived while we were there with their pickup trucks, ladders, buckets of shellac and brushes.
After wandering around the creative and amazing sculptures for nearly half of our allotted time, we dragged ourselves away and went to look at the Horticultural Training Center, which was closed, however we could view the vegetable garden through the fence. It was arranged in tidy rows and the peppers and tomatoes were laden with fruit.
Right across from this building was another garden with a big yellow sign stating Urbandale Community Vegetable Garden. There were folks watering their garden plots and a sign on the gate that said we could enter… and so of course we did. The garden was full of raised plots with all sort of crops planted. We noticed a lot of ethnic foods like Hibiscus sabdariffa, culantro, a huge variety of greens from tat soi and Chinese cabbages to kale and lettuces, lots of herbs, bitter melon, beans and much more. Very impressive community project, however… time was ticking and we headed for the Kaleidoscope Children's Garden… where we became kids again.
What an absolutely wonderful kids' garden. The brilliantly colored fence painted with giant flowers and insects that borders the garden is an indication that something fun is inside. Even though this is a childrens' garden, the plantings were done with thought and care, so very aesthetically pleasing with many benches and sitting places for adults, or weary children, that were in full view of the action. This is a place where kids are free to runabout and discover without a lot of rules. Everywhere we turned there was something special to look at, and we were constantly exclaiming "oh come look at this!" and "come over here!" and "wow!" From the painted concrete displaying parts of plants and how they grow to the array of sculptures of children to the grass maze and plant tunnel and the worm bin and the building blocks from tree slices to the jumping stumps–all were alluring and fun.
The photo ops were amazing and we had the entire place to ourselves so it was very hard to tear ourselves away… however we had been there at the Leila Arboretum for well over two hours and needed to get on the road. As we headed back to the van, we could see gardens in the distance that lured us, however we resisted and loaded up, whooping with garden joy and delight and so happy that we stopped!
 (Little did we know that there was a Peace Labyrinth, Native Flower Garden, Hemlock Forest, walking trails and an overlook and more–so we'll just have to go back someday–another one to put on the list of gardens to visit.) Plan to spend a whole day and pack a picnic lunch! https://leilaarboretumsociety.org/