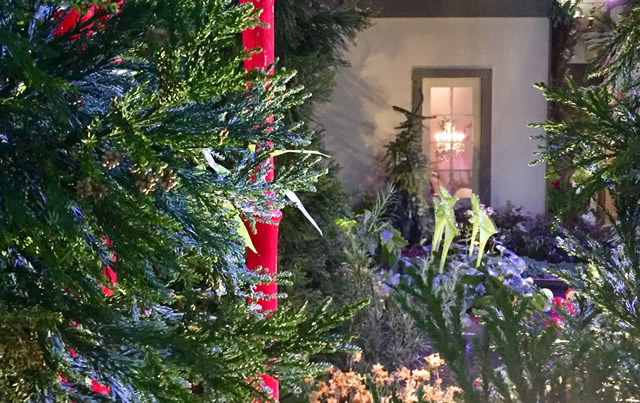 Jay Sifford showcases the iconic elements of the Pacific Northwest in this unique installation.
"My crew and I just completed the installation of our show garden at the 2017 Southern Spring Home and Garden Show in Charlotte, NC. The show theme is "America the Beautiful". I chose to design a contemporary woodland garden that could easily be found in the Pacific Northwest, and called it "Left Coast Garden Magic", as I'm currently all about magic, illusion and art in my garden designs.
This garden is a deconstructed and reconstructed garden, so the iconic or stereotypic elements that one thinks of when thinking of the Pacific Northwest are represented here: rain, water, islands, conifer forests, ferns, moss and glass art. They are pulled apart so that they can be studied on their own, then they are put back together in the left half of the garden.
A "levitating" tree branch is plumbed so that it "rains" into the reflecting pool, which is host to 22 floating glass spheres. The "island" is a stainless steel rectangle that hosts 5 blown glass calla lilies and numerous farfugium.
The electric lime portal leads to a triptych of crimson blown glass bamboo which integrate well with the live black bamboo. The path then disappears behind one of 5 large cryptomerias. Sixty pots of daffodils flood the path with color, and a stone leaf mosaic and red camellia petals lead the eye down the pathway to the red glass bamboo."
Have a garden you'd like to share? Email 5-10 photos and a brief story about your garden to [email protected]. Please include where you are located!
Have a mobile phone? Tag your photos on Instagram or Twitter with #FineGardening!
You don't have to be a professional garden photographer – check out our garden photography tips!
Do you receive the GPOD by email yet? Sign up here.
Follow us: @finegardening on Twitter | FineGardeningMagazine on Facebook | @finegardening on Instagram