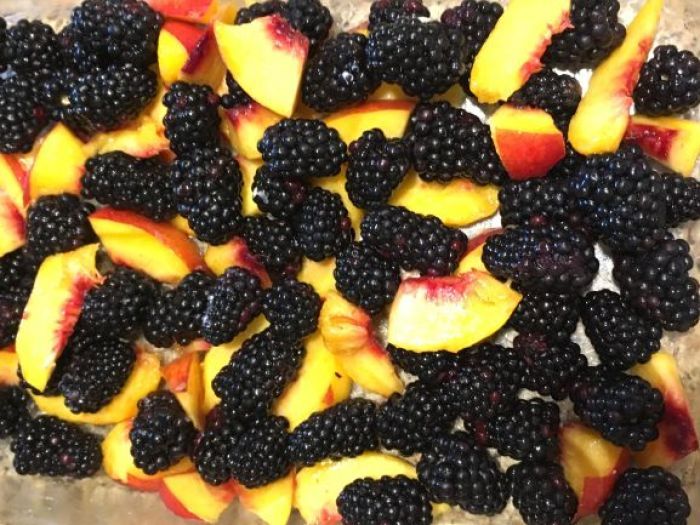 The seasonal fruits of summer are at their peak and I've been enjoying wild and domestic berries, a variety of stone fruits and many melons. I've been slurping up juicy melons, dead-ripe peaches, nectarines, plums and plump berries and cherries–I delight in fruits that squirt and run down your chin and drip from your hands. Just talking about them makes my mouth water. They are refreshing besides being so delicious, not to mention good for you. Eating them out of hand is best… or more civilized on a plate is an alternative. However, now is the time to make some splendid simple desserts, syrups, preserves and conserves. It is worth heating up the kitchen.
I'm especially enjoying making some syrups to use for fruit spritzers, libations and to drizzle over just about anything from yogurt to pancakes. And I've been adding all sorts of fruits to my water kefirs for tasty, invigorating, thirst-quenching beverages.
On a recent trip to South Carolina, I happened upon some green and dark purple muscadines (also called scuppernongs–and the woman I bought them from told me her family called them scuffnongs). I ate some of them–they are sweet inside with a grapelike flavor and seed and the outside is very tart (made me pucker) rather like a plum–contrast of sweet flesh and sour skin. The skins were tough and so I decided to make a syrup. I barely covered them with water and cooked them in a covered saucepan until they were popped open and soft. Then I put them through a sieve to remove skins and seeds and to this thick puree I added just a little pure maple syrup and oh boy–it is scrumptious. I could just eat it with a spoon. Last night I strained off my water kefir grains and added some scuppernong syrup to it and golly day what a flavor sensation; you can't get this anywhere else unless you make it!
I've been researching brambles extensively, since Rubus will be Herb of the Year 2020. I have wineberries (very similar in flavor and appearance to raspberries) growing wild everywhere and so I harvested quite a lot of them. Right now I have a number of berry infusions underway: wineberries in vodka for a cordial, wineberries in apple cider vinegar for a shrub, and wineberries and vanilla beans in white wine vinegar for one of my most favorite and luscious vinegars.
Once the raspberries and wineberries finish, the blackberries start to ripen. So right now, in my neck of the woods, blackberries are in the peak of their season–and so are peaches–put them together and you have a winning flavor combination: juicy sweet and tart! Here is a recipe for a simple and easy fruit crumble, which you can vary in many ways with whatever fruit you have on hand. Enjoy!
Peach and Blackberry Crumble
There is nothing to compare with fresh, ripe peaches at the height of the summer. And they just happen to be in season when blackberries are peaking. I like combining the sweetness of peaches or nectarines with the tartness of the blackberries for a tasty fruit dessert. You could also use plums, apricots, cherries or any other berries that you have. Adding a lemon herb is a lovely accent to the fruit, though optional if you don't have fresh herbs. I used walnuts here, however pecans or almonds are also good. I like maple syrup, though you could use organic sugar or honey if preferred. Gluten-free flour works easily in this crumble topping. Serve with vanilla ice cream or lightly whipped cream for a delightful dessert, or with yogurt for breakfast.
Serves 8
About 3 ripe peaches and/or nectarines, peeled and sliced, about 1 1/4 pounds
1 quart ripe blackberries
1/4 cup pure maple syrup
1/8 cup chopped lemon verbena, lemon balm or lemon basil leaves, optional
3/4 cup whole-wheat pastry flour or unbleached flour
1/4 cup cornmeal
1/2 cup oats
Few pinches salt
Generous 1/4 teaspoon cinnamon
Few grindings of nutmeg
8 tablespoons unsalted butter, chilled and cut into pieces
1/4 cup organic brown sugar or maple syrup
Preheat oven to 400° F and butter a 2 1/2-quart baking dish.
Combine the peaches or nectarines with the blackberries and transfer them to the baking dish; drizzle the 1/4 cup maple syrup over them. If the fruit is tart, add a little more syrup.
Combine the flour, cornmeal, oats, salt, cinnamon and nutmeg in a bowl and stir to blend. Cut just 6 tablespoons of the butter pieces into the crumble ingredients with a pastry blender until just blended. Spread the mixture over the fruit and then sprinkle the top with chopped walnuts. Scatter the brown sugar overall or drizzle with syrup and dot with the remaining 2 tablespoons of butter.
Bake in preheated oven for about 25 to 30 minutes, until the crisp is golden brown and the fruit is bubbling. Serve warm or at room temperature.